Entriamo nel vivo. La seconda metà di questa stagione di True Detective si apre con If You Have Ghosts, episodio migliore in assoluto finora per la capacità massima (già presente negli altri, ma enfatizzata qui) di unire l'azione a parole scottanti, la riflessione a confessioni tragicamente reali. La penna e la telecamera di Nic Pizzolatto ci tengono incollati per quasi un'ora davanti allo schermo, iniziando a dare risposte importanti ai quesiti precedenti e fornendoci spie che alimentano ulteriori teorie. Attenzione, seguono spoiler per la quinta puntata di True Detective 3.
In questo episodio scopriamo finalmente chi è il destinatario della condanna di cui parlano fin dal pilot, condanna che viene messa in discussione dal Dipartimento proprio nel 1990. Ma andiamo con ordine. Nel 1980, si scatena il pandemonio alla dimora dell'indiano Woodard, che uccide tutti i membri della comunità che lo perseguitavano e, suo malgrado, anche qualche poliziotto che aveva raggiunto la sparatoria. La sua fine è decretata dal proiettile che Hays gli pianta in testa: se quell'uomo avesse mai saputo qualcosa sul caso Purcell, non lo sapremo mai. Qualche giorno dopo, vediamo che alcuni agenti trovano sotto le macerie dell'ingresso della casa lo zainetto di Will e il giubbotto di Julie: scopriamo, infatti, che Woodard aveva ricevuto una condanna postuma per l'omicidio di Will e il rapimento di Julie. Ma c'è qualcosa che non torna.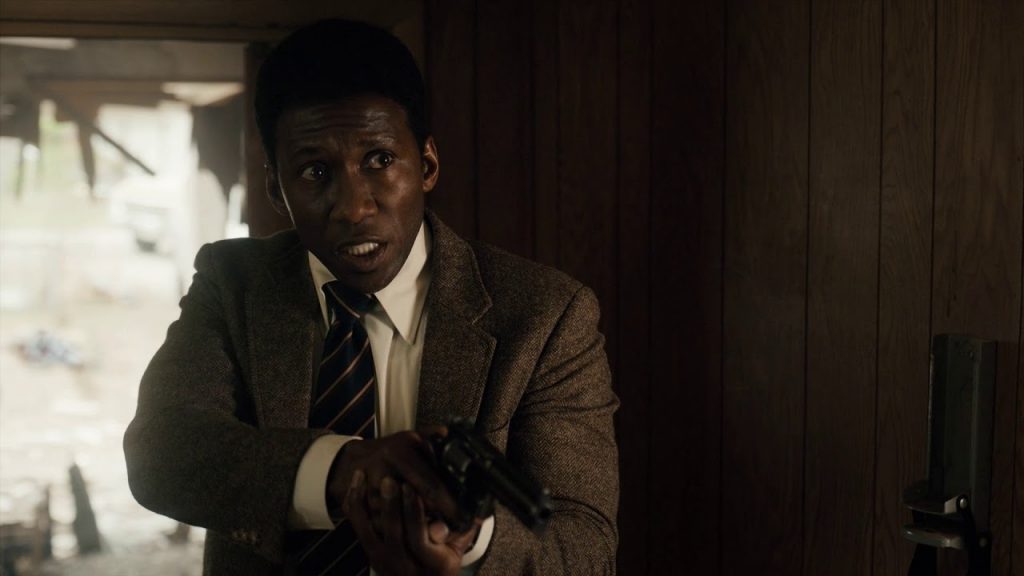 Innanzitutto, nel 1990 viene chiesto che la condanna venga ritirata.
Inoltre, da un'analisi fatta da Wayne sulle fotografie delle due prove citate sopra, emerge che esse erano troppo pulite e intatte per essere sopravvissute all'esplosione avvenuta in quella casa il giorno della sparatoria. Qualcuno le aveva dunque messe lì successivamente, ingannando le forze di polizia. Cominciano, inoltre, ad emergere nuovi dati dalla seconda indagine di Wayne e Roland. Interrogando un ragazzo che potrebbe aver avuto contatti con Julie (senza saperlo) negli anni precedenti, emerge che effettivamente c'era una Mary Julie nel gruppo di bambini in cui viveva, che affermava di essere "una principessa nelle stanze rosa" e che fosse alla ricerca di suo fratello.
Memori del "Re giallo con la faccia bruciata e le orecchie verdi" della prima stagione, dobbiamo provare a ragionare in quel modo per dare significato al rosa di queste presunte stanze?
Le orecchie verdi del serial killer della prima stagione erano così a causa della vernice che l'uomo usava quando pittava le case che gli venivano commissionate. Cosa sono queste stanze rosa?
Non abbiamo risposte a queste domande ma senza dubbio sappiamo che in questa storia c'è più di qualcuno che mente. Una prova ci è fornita dalla chiamata alla stazione di polizia nel 1990 da quella che sembrerebbe la Julie intravista nel supermercato. Le sue parole? Eccole:
"Julie non è il mio vero nome. […]. Dite all'uomo che finge di essere mio padre di lasciarmi in pace".
Questo è un colpo di scena notevole, che potrebbe avvalorare la teoria esposta nell'articolo del precedente episodio (la trovate qui), secondo cui Tom non sia il padre di Julie e il "rapimento" della ragazza sia avvenuto ad opera del cugino di Lucy, Dan O' Brien, potenziale vero padre. Questo discorso trova ulteriore riscontro dal momento che, nel 2015, Wayne legge per la prima volta il romanzo della moglie e trova una spaventosa corrispondenza tra ciò che c'era scritto sul biglietto alla famiglia del secondo episodio e quello che Lucy dice ad Amelia quella volta che l'insegnante andò a trovarla a casa:
"I bambini dovrebbero ridere".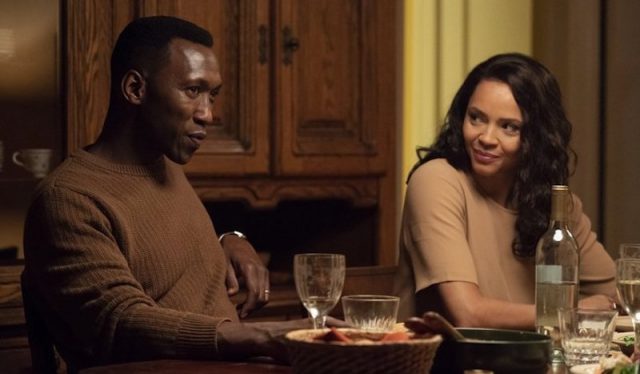 Ma il secondo fulcro di questa puntata di True Detective è senza ombra di dubbio l'incontro fra Wayne e Roland nel 2015.
L'ex tenente, infatti, è ancora vivo. Ma è solo. Alcolizzato. Triste. Quando Wayne lo va a trovare, emergono molti punti che ci risultano oscuri al momento. I due non si sentivano da 25 anni e West è arrabbiato con Hays per un torto che afferma aver subito dal collega nel 1990 (durante la seconda indagine, dunque).
Inoltre, tutti e due parlano di "quello che hanno dovuto fare", riferendosi all'omicidio di un uomo. Non sappiamo ancora nulla di tutto ciò. La rabbia di Roland è tuttavia presto sostituita dalla tristezza: è solo, senza moglie, senza figli e senza vecchi amici. L'aspetto più tragico di tutto ciò è che Wayne non ricorda cosa ha fatto all'amico. Gli chiede scusa e gli propone di risolvere il caso che sta ripercorrendo.
Il fatto che siano due settantenni allo sbaraglio si pone come ottimo presupposto per un'eventuale soluzione del caso. Ma come faranno? Wayne cita, inoltre, la famiglia Hoyt, i proprietari dell'industria alimentare in cui lavorava Lucy, la madre dei bambini. I due detective hanno tralasciato parecchie cose, e devono sperare che non sia ormai troppo tardi.
Infine, questa puntata di True Detective ci fornisce un'altra piccola spia sulla poca affidabilità dei racconti di Wayne. Anche nel '90, infatti, sembra che l'uomo avesse visioni.
Questo ben si collegherebbe a una delle prime frasi nell'interrogatorio al poliziotto nella prima puntata: "Lei ha problemi di memoria, signor Hays". E se l'affidabilità di Wayne fosse labile non solo da anziano, ma già nel 1980 e nel 1990? I riferimenti al Vietnam, e al modo in cui i soldati tornano traumatizzati, potrebbero suggerire che Wayne non è mai stato veramente lucido dopo la guerra.
Il mistero si sta restringendo. Le domande si riducono. E il titolo del prossimo episodio sembra essere una perfetta descrizione di ciò che i due ex detective si apprestano a essere: "Hunters in the Dark". Cacciatori nell'oscurità. Vedremo se la luce inizierà a vincere, stavolta.