The Hour and the Day è il quarto episodio della terza stagione di True Detective, il primo che vede alla regia lo showrunner Nic Pizzolatto. La serie continua a sollevare interrogativi ma ci fornisce, col contagocce, informazioni disseminate qua e là nelle diverse fasi temporali, che ci permettono di unire alcuni puntini finora rimasti sconnessi. La tematica della memoria, preminente nei primi tre episodi, comincia a cedere il passo in maniera sempre più definitiva alla tecnica del mistero: il detective Hays, infatti, continua a essere enigmatico. Quanto è affidabile il personaggio di Mahershala Ali? Proveremo a darci delle risposte. Intanto, attenzione: seguono spolier per la 3×04 di True Detective.
Interessante, in prima battuta, è notare come nel 1980 i detective Hays e West seguano un vero e proprio percorso a ostacoli che li conduce da un uomo nero con una cicatrice a un occhio. Si recano, infatti, all'inizio dal prete che ha celebrato la prima comunione e scattato le fotografie che ritraggono il piccolo Will esattamente nella stessa posizione in cui era stato trovato morto. Il prete, alla vista delle foto delle bambole, li manda da una dolce vecchietta, che le fa in casa: qui la donna, con un tono razzista così automatico da non risultare in malafede, spiega ai detective che ad acquistare 10 bambole era stato un uomo nero, con una cicatrice a un occhio. La descrizione corrisponde spaventosamente con l'indicazione data dal contadino che, nella puntata precedente, aveva parlato di una berlina marrone con un uomo nero e una donna bianca all'interno.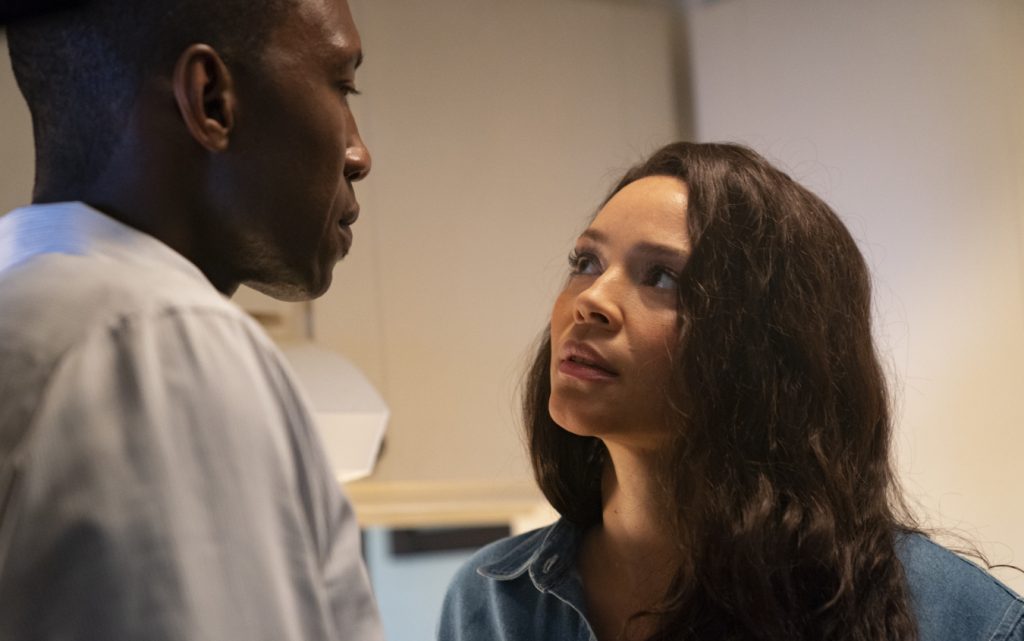 Questa caccia li porta tuttavia a un nulla di fatto.
L'uomo nero che rintracciano nella comunità ghettizzata sembra essere infatti estraneo ai fatti. I fatti, appunto. Fino a che punto ciò che vediamo è la verità? Ci sono momenti in cui più di ogni altra cosa può capitare di pensare che la verità sia relativa. Tuttavia, in questo episodio, iniziamo ad avere qualche notizia in più.
Nel 1990, infatti, notiamo come i due poliziotti sono riuniti nella nuova ricerca di Julie, riapparsa ormai ventunenne in un supermercato dell'Oklahoma. Nell'incontro con quello che è diventato il Procuratore Distrettuale, però, cogliamo due importanti notizie che erano state solo accennate nelle puntate precedenti. Innanzitutto, nel 1980 fu individuato un colpevole per l'omicidio di Will e la scomparsa di Julie (condanna che, sappiamo dal primo episodio, la famiglia Purcell chiede venga modificata con la riapertura del caso). Poi, sempre il Procuratore afferma che la carriera di Hays all'epoca fu stroncata per un suo "coinvolgimento". Cosa mai possono significare queste parole?
Ma le domande non finiscono qui. In questo altro caso, invece, le fasce collegate sono 1980-2015. La questione è duplice. Da un lato l'incontro che Amelia ha con la madre dei bambini, Lucy, nel 1980. Dall'altro una scoperta che Elisa, regista del programma True Criminals, condivide con l'anziano Hays nel 2015. Andiamo con ordine: in un momento di debolezza, Lucy confessa ad Amelia che ha tradito il marito Tom più volte, anche in quella stessa casa. Poco dopo chiede perdono a Dio per le "cose spregevoli che ho fatto".
Ma nel momento in cui Amelia le suggerisce di andare a parlare con la polizia, la donna subito si chiude a riccio e la caccia di casa, urlando che lei non ha nulla da dire alla polizia.
Nel 2015, invece, Elisa mostra a Wayne la foto dei resti del cugino di Lucy (che avevamo visto nelle scorse puntate come l'uomo che aveva dimenticato nella stanza di Will alcune riviste Playboy), dicendo che dopo essere stato rintracciato nel '90 se ne erano perse le tracce, e adesso da qualche tempo si è scoperto il cadavere. Perché queste due scene potrebbero essere collegate?
La mia teoria è che Lucy intrattenesse una relazione clandestina con suo cugino. Sospetta infatti potrebbe essere la frase relativa al fatto che abbia tradito il marito in casa, dal momento che sappiamo che in alcuni periodi suo cugino andava a vivere da loro. Lucy è morta di overdose nel 1988, non sappiamo invece con precisione quando sia morto l'uomo.
Ma il punto è: tutta questa pietà nei confronti di Tom da parte di Lucy, non può essere dovuta al fatto che anche la donna lo vede come una vittima? Magari del fatto che la piccola Julie, in realtà, non sia sua figlia, ma il vero padre sia il cugino di Lucy?
E che la sparizione non sia proprio una sparizione, considerando la sospetta ricomparsa della ragazza nel 1990, ma un ricongiungimento forzato? Forse Tom potrebbe avere a che fare col cadavere del cugino di Lucy. Armiamoci di pazienza e aspettiamo, per ora queste rimangono speculazioni.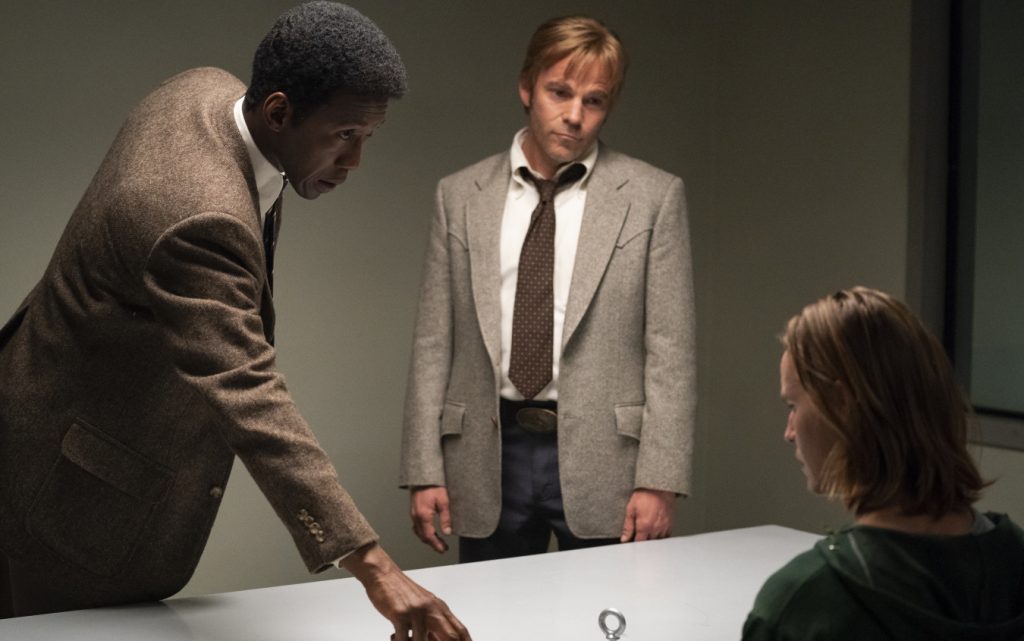 La verità dovrà venire a galla. Ma, come detto, i dubbi sul concetto di verità aumentano di puntata in puntata. Il detective Hays del 2015, infatti, non fa altro che sollevarcene altri. Interessante come, a inizio puntata, dica al figlio che lui sta scrivendo e ascoltando i suoi resoconti su entrambe le volte in cui ha lavorato al caso, 1980 e 1990. Un altro messaggio diretto all'audience, per farci capire che è suo il punto di vista narrativo.
Continuano, inoltre, le allucinazioni. Questa volta, mentre registrava un audio di scuse rivolto ai figli nel suo studio, compaiono tanti Viet Cong che lo circondano nella stanza, tra cui un uomo in giacca e cravatta con la testa piegata. Non riusciamo a identificarlo, ma quando si alza Hays nota una macchina fuori e sospetta di essere spiato: è vero o è solo nella sua testa?
L'uomo del 2015 è paradossalmente più attivo (ma non meno tormentato) di quello del 1990. Una frase di Amelia, che potrebbe ricollegarsi al più generale discorso della filosofia di questa stagione di True Detective, è indicativa:
"Stai in piedi solo per abitudine".
Nella seconda puntata, Hays aveva detto nel 1980 all'indiano Brett che lui non si chiedeva quale fosse il significato di alzarsi per andare a lavorare la mattina: lo faceva e basta. True Detective è giunto a metà stagione ormai, e prosegue il suo cammino. Noi, con i protagonisti che a tratti ne sanno quanto il pubblico, siamo curiosi di capire dove ci condurrà.