The Young Pope sta impressionando un po' tutti: la serie di Paolo Sorrentino ricalca le caratteristiche principali del regista, in una grande unione fra impeccabile regia (che piaccia o no, è in questo la chiave del successo di Sorrentino) e incredibile scelta di cast, dai protagonisti ai personaggi secondari.
Capiamo fin da subito di trovarci in un'opera di Sorrentino, perché The Young Pope cerca immediatamente di bloccare il tempo, attraverso le inquadrature mozzafiato, i giochi di luce e le riprese in slow-motion che immortalano scene la cui forza risiede nelle parole pronunciate da Pio XIII nella sua prima omelia, quella sognata e non realmente recitata.
I dialoghi, appunto: insieme alle movenze e agli atteggiamenti, le parole pronunciate dal giovane Papa sono l'aspetto che inquieta maggiormente; inquietudine, disagio, sensazioni strane. Tutto ciò è The Young Pope: ma cerchiamo di capire perchè.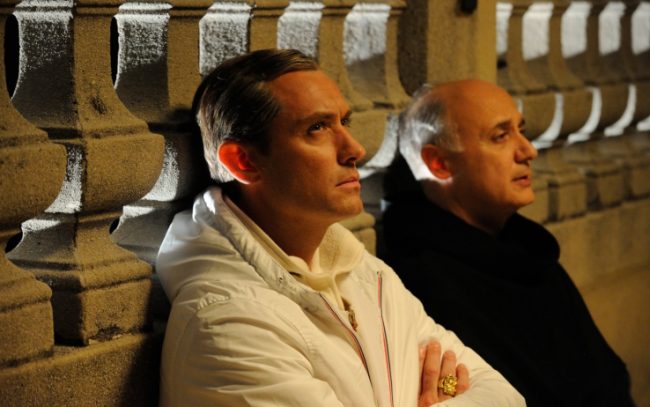 Punto di partenza di questa importante caratteristica della serie è sicuramente la sigla; in particolare, la sigla per come l'abbiamo vista nelle ultime due puntate. Se la tendenza è quella mostrata finora, la sigla e i titoli di testa varieranno nella composizione ogni due puntate; tornando a quella del terzo e del quarto episodio, la scena che si presenta è la seguente: con un sottofondo di musica rock, Jude Law percorre al rallentatore un corridoio la cui parete è, ovviamente, ricoperta di quadri (tra cui è impossibile non notare "La conversione di San Paolo" di Caravaggio), ed è seguito da una stella cometa che attraversa i suddetti quadri, diventando sempre più luminosa e infuocata.
Sorvolando il fatto che la musica rock che accompagna la camminata del Papa è già di per sè ossimorica, lo sviluppo più inaspettato arriva verso la fine della sigla: la stella cometa ha ormai preso completamente fuoco e incendia le chiese dell'ultimo quadro in cui entra, mentre l'obiettivo stringe sul primo piano del Papa che, con un sorrisetto malizioso, fa l'occhiolino nella telecamera, rompendo la quarta parete.
È evidente, dunque, che fin dalla sigla non possiamo aspettarci niente di ordinario, o perlomeno niente di ciò che sarebbe lecito aspettarsi da un Papa: ma questo non è un Pontefice qualsiasi, è un Young Pope.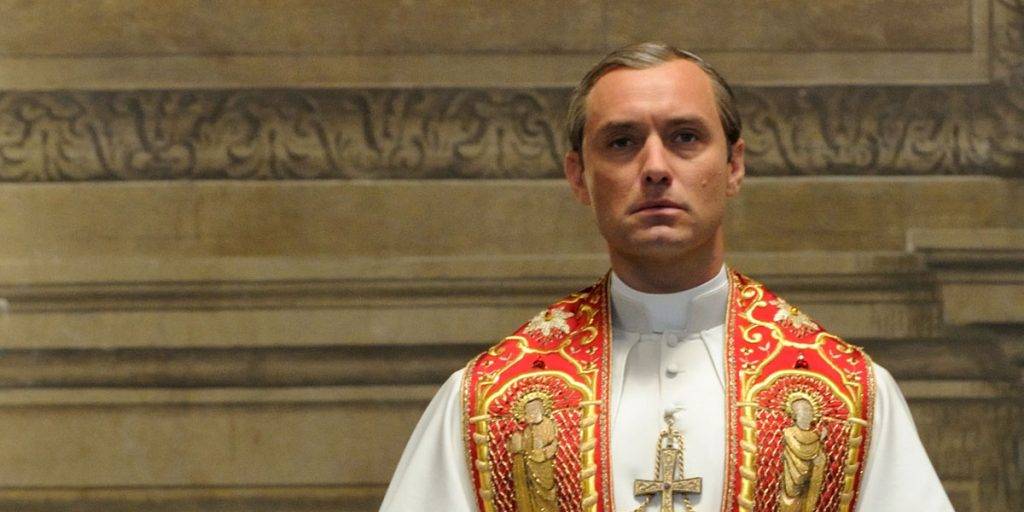 Aspetto centrale e decisivo è invece la caratterizzazione che al personaggio del Papa, attraverso Jude Law, si è voluta dare e si sta dando; questo Papa, oltre ad essere molto giovane, rompe tutti gli schemi che normalmente si crede un Pontefice rispetti o almeno non ignori completamente. Pio XIII, infatti, non ha nessun problema a dire parolacce (ci può stare che sfugga, ma si evince che sono caratteristica del suo lessico, come quello di Spencer e di Suor Mary), a spingere all'infrazione del segreto della confessione (si pensi a don Tommaso e a come viene sfruttato), a fumare anche in luoghi in cui è espressamente vietato (esemplare la scena in cui Voiello gli fa notare che Giovanni Paolo II aveva da tempo vietato di fumare in quelle stanze, annotazione puntualmente ignorata dal Papa), e ad utilizzare specifiche parole che non si addicono affatto al suo ruolo (si pensi all'uso dell'espressione "morbosa curiosità" mentre parla con la rappresentante della Groenlandia).
Ma non è tutto. In The Young Pope, la caratterizzazione del personaggio comprende anche la sua incredibile e insopportabile vanità ("Sono molto bello, lo so", ancora nell'incontro con la rappresentante della Groenlandia), la forte domanda sull'esistenza di Dio (il Papa crede in Dio? Il fatto stesso di porci questa domanda la dice lunga) e infine l'oscuro background dell'infanzia di Lenny, causa e base principale della sua odiosità e complessità da adulto.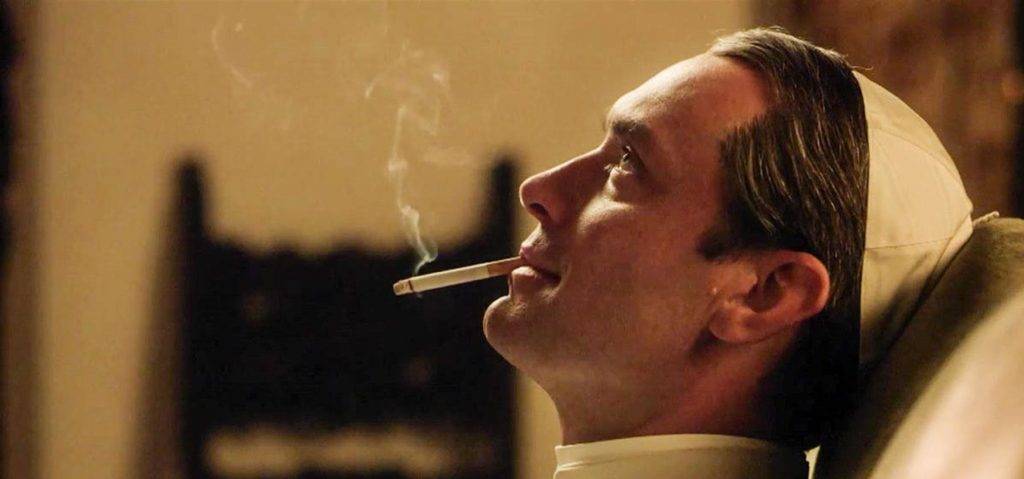 Cosa comporta tutto questo per lo spettatore? Perchè disagio, stranezza, inquietudine? La risposta è molto semplice: The Young Pope rompe tutte le catene in cui il Papa si dovrebbe legare nel nostro immaginario, ponendoci il grande metaforico interrogativo: quanto c'è di vero in quello che vediamo nella nostra Città del Vaticano?
Lenny Belardo è volutamente un Papa che non potrà mai esistere, proprio per come si pone con i fedeli (distacco, disprezzo, lontananza): siamo invece sicuri che non sia mai esistito un Papa che nelle mura vaticane sia un'altra persona rispetto a quella mostrata all'esterno? La risposta la darà Sorrentino, mostrandoci quanto ha voluto spingere la Chiesa e questo Papa oltre ogni limite.