Attenzione: evitate la lettura se non volete imbattervi in spoiler sulla 1×03 e l'1×04 di The Young Pope.
Ma che freddo fa, in Groenlandia. Ma che caldo fa, in Vaticano. Un vento rovente che si scontra col gelo della vecchia Chiesa allo sfascio, creando la tempesta perfetta. Quella che imperversa dalla prima omelia di Pio XIII. Ma che caldo fa, Lenny. Vuole cambiare la Chiesa riportandola indietro di centinaia di anni. Non ha un piano, ancora. Il mondo si domanda chi diavolo sia e cosa voglia e lui si nasconde dietro un silenzio assurdamente assordante. È l'uomo delle contraddizioni, il giovane papa. E la 1×03 e la 1×04 di The Young Pope l'hanno confermato, spiazzandoci ancora.
Un filo rosso che unisce tutti i personaggi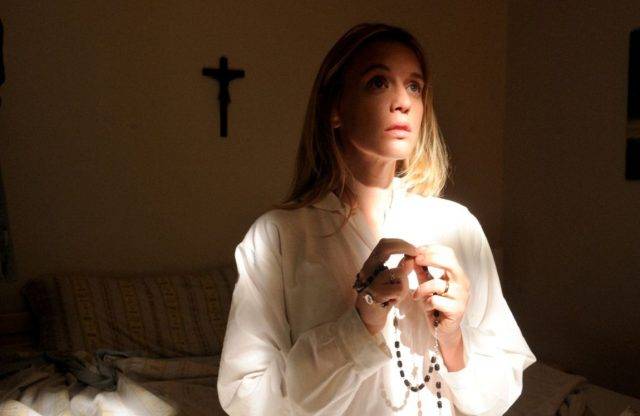 Lenny Belardo non è solo, ora. L'uomo delle contraddizioni ha intorno a sé una schiera di personaggi dai contorni estremamente ambigui. L'idea di compromesso tra le necessità di un ruolo e gli impulsi di un uomo non è contemplata dalle personalità che sono emerse nei primi quattro episodi di The Young Pope. Voiello incluso, colui il quale dovrebbe farne una chiave politica centrale. In effetti lo fa, ma quando anima e azioni entrano in contrasto, persino lui viene assorbito dal vortice. Il cardinale napoletano, apparentemente disumano nel suo cinismo, mostra invece una sensibilità che si fonda sulla sua fede, sorprendentemente sincera. Voiello, condannato all'Inferno dalla sua missione politica, cerca un riscatto che lo porti in Paradiso attraverso gli occhi di un giovane disabile. Intanto, però, ricatta mezzo Vaticano e costringe una giovane moglie a sedurre il Papa.
Già, una giovane moglie. Esther è stata la grande protagonista dei due episodi. La donna, sterile e incapace di far coesistere le sue passioni umane con l'amore che prova per Dio, è vittima innocente e carnefice consapevole. Vittima di Voiello, messa al centro di un piano che potrebbe salvare gli equilibri della Chiesa. Carnefice di se stessa, peccatrice pentita ma non per questo salva. L'empatia con Pio XIII è evidente e potrebbe avere delle conseguenze devastanti. Le ultime sequenze che la vedono coinvolta nella 1×04 e lo sguardo pensieroso di Belardo fanno immaginare un futuro prossimo ancora più ambiguo. Voiello, ovviamente, non aspetta altro.
L'unico che sembra aver accettato un compromesso è Michael Spencer. Il mentore di Pio XIII, un Papa in pectore allontanato dal soglio di Pietro dal suo delfino, potrebbe aver messo da parte le ambizioni personali in nome di un disegno più grande. Il peso di Dio grava ora sulle spalle dei cardinali più navigati, e sostenere incondizionatamente il nuovo pontefice è al momento l'unica soluzione possibile. Capiremo nei prossimi episodi se si è trattato di un bluff o meno.
Un sovrano assoluto. Un pessimo sovrano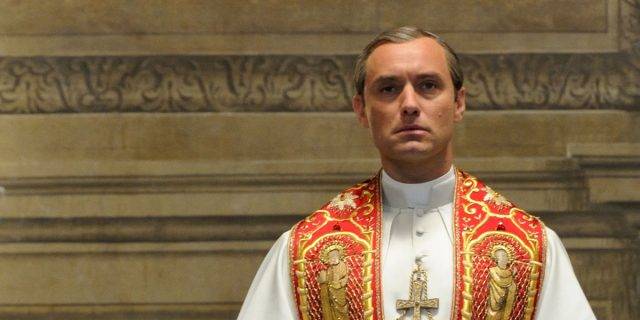 E poi c'è lui, the young pope. Le basi gettate nei primi due episodi della serie tv creata da Paolo Sorrentino hanno trovato continuità nella 1×03 e nella 1×04. Lenny Belardo continua a contraddirsi. Da un lato c'è il piccolo orfano che si è trovato tra le mani un giocattolo difficile da gestire, un sognatore disilluso che non smetterà mai di cercare Dio. Magari a Venezia, altro che Orione. Dall'altro c'è il despota, un sovrano assoluto che dovrebbe prendere qualche lezione da Frank Underwood. Il potere risiede anche nell'arte del compromesso vero o presunto, ma lui non l'ha ancora capito. Un uomo è potente nella misura in cui è accettato dagli altri come tale. Persino se si parla del Papa. Della rivoluzione di Pio XIII, conservatore integerrimo che sogna la notte un posto al sole per gli omosessuali, non resterà altro probabilmente che l'estetica dell'esercizio sterile di un ruolo ingombrante.
Voiello, apparentemente sconfitto, sta vincendo la guerra. Lenny Belardo è solo, ora. Si fida di pochissime persone, lo spettro di Giuda è sempre dietro l'angolo e il nuovo pontefice non è certo un Cristo. Forse è più bello di lui, ma non è in grado di fare miracoli. Le manie d'onnipotenza lo portano ad invidiare un allevatore che gioca a fare il santone. Il narcisismo lo porta ad incantarsi in un loop che non gli permette di aprire gli occhi ed inserirsi in modo efficace nel contesto in cui è inserito.
Lenny Belardo è un uomo senza un perché. Tutta la vita gira infinita senza un perché e tutto viene dal niente. Nada, a quanto pare amatissima in Groenlandia, non parlava certo di un Papa, ma sembra aver capito tanto del protagonista di The Young Pope. Ma che freddo fa, fedeli: il sogno americano si è trasformato in un incubo medievale immerso nelle contraddizioni dei nostri giorni. Un incubo che rischia di distruggere tutto. Soprattutto chi l'ha originato.
Antonio Casu
Un saluto agli amici di The Young Pope Italia!