The Young Pope ha riempito le serate di ottobre e novembre, con 10 puntate estremamente e incredibilmente autentiche: a tratti lente, a tratti avvincenti, sicuramente non banali.
In molti, sicuramente, non hanno però ancora visto quello che è stato dai più definito uno dei migliori prodotti televisivi italiani di sempre ed è dunque tempo che rimedino perché ne vale assolutamente la pena.
The Young Pope, come è noto, è la serie scritta e diretta da Paolo Sorrentino, prodotta da Sky e HBO, con protagonista Jude Law, nei panni di un giovane e pericolosamente arrogante Papa americano.
Il primo motivo in assoluto per cui dovete iniziare questa serie è la storia che viene raccontata e soprattutto il modo attraverso cui viene raccontata.
Qui si apre una inevitabile parentesi: il modo di fare regia di Sorrentino non è da tutti apprezzato in egual maniera; per molti è semplicemente lezioso, inevitabilmente lento e vanitoso.
Per me invece, quella che molti chiamano leziosità è precisione e la lentezza è osservazione: sul fatto che sia vanitoso, invece, niente da dire, è effettivamente così.
Fatta questa precisazione, anche in questa opera Sorrentino fornisce una grande prestazione, coadiuvando la maniacale cura dei dettagli con una storia interessante e soprattutto piena di rotture con la convenzionalità, visto e considerando che si parla di un Papa.
Infatti, ciò che rende intrigante quello che viene rappresentato, è proprio il contrasto del profano che veste i panni del sacro, e del percorso di rivalutazione umana e sociale che questo Papa compie nel suo percorso, combattuto tra sindrome dell'abbandono e dubbi sulla fede in Dio.
La colonna sonora, inoltre, vive la sua massima espressione nella sigla iniziale, una delle più belle mai viste in televisione.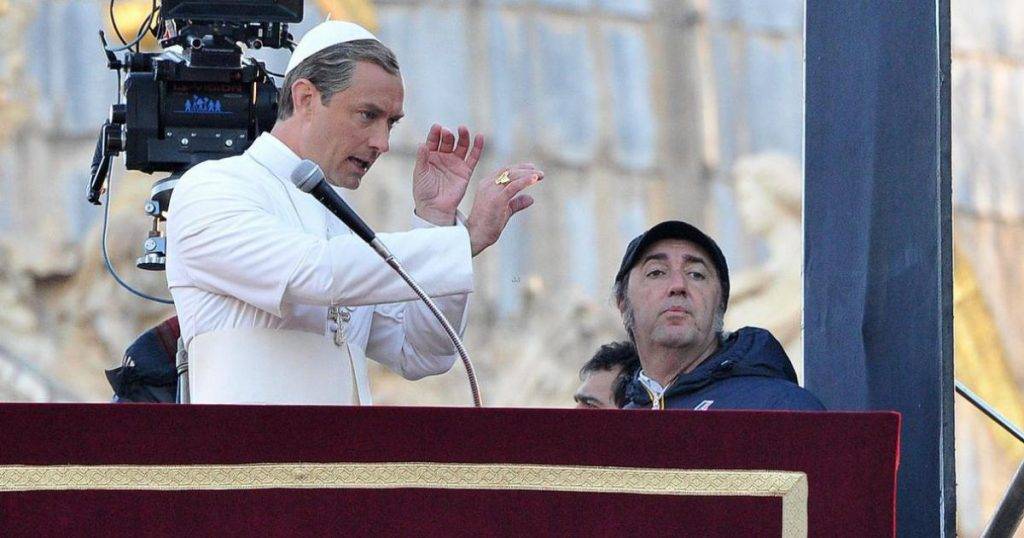 Il Papa della storia, Lenny Belardo, è interpretato da un Jude Law a dir poco magistrale; personalmente, avevo ammirato alcune sue performances in altri film, senza però convincermi del tutto della sua bravura.
Adesso, visto ciò che fa in The Young Pope, posso senza alcun dubbio affermare che la sua interpretazione è di sicuro il valore aggiunto della serie.
Riesce a rappresentare la disarmonia dei 40 anni, unita alla durezza del suo carattere e ai dubbi esistenziali che mai ci si aspetterebbe da un Papa, con una capacità di cambiare postura ed espressione talmente intensa da lasciare a bocca aperta lo spettatore, che riesce ad odiarlo e amarlo in due momenti diversi della stessa scena.
Jude Law (e Sorrentino che lo ha scelto) ha fatto centro: di sicuro questa sua interpretazione non passerà inosservata, ed è certamente meritevole di candidature a premi importanti.
Questo è dunque l'altro rilevante motivo.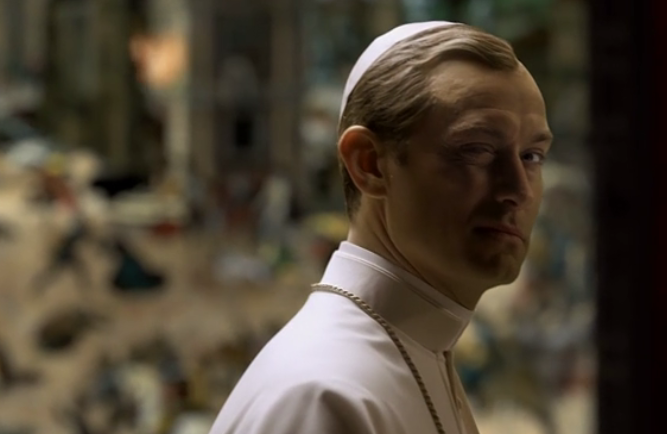 Al di là di Jude Law, il resto del cast principale è di tutto rispetto: infatti troviamo Diane Keaton nei panni di suor Mary (incredibile come qualsiasi ruolo attribuito a questa attrice sembra essere fatto apposta per lei); James Cromwell in quelli del Cardinale Spencer, mentore di Lenny nonchè candidato al Papato; e Silvio Orlando nelle vesti del Cardinale Angelo Voiello, Segretario di Stato, la più importante figura politica in Vaticano dopo il Papa.
Per Silvio Orlando vanno spese due parole in più: l'attore napoletano, da anni considerato tra i migliori che il panorama italiano fornisce, si supera in un'interpretazione bilingue (italiana e inglese), incarnando con forza le contraddizioni della Chiesa Cattolica e del suo enorme potere politico, spesso dilaniato tra il fare il bene di pochi e il bene di tutti.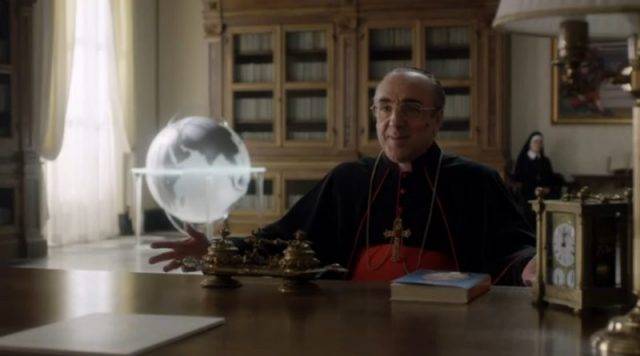 Infine, non può sfuggire questo importantissimo motivo:
The Young Pope vi farà emozionare
Trasmette un brivido, una commozione, una riflessione.
Una Serie Tv che ha qualcosa da dire e che tocca il cuore degli spettatori è sempre una serie che merita una chance.