ATTENZIONE: questo articolo contiene spoiler sull'ottava stagione di The Walking Dead.
The Walking Dead tornerà sui nostri schermi il 7 ottobre con la nuova stagione. Tempo fa era già stato rilasciato il poster ufficiale della serie che nascondeva diversi dettagli in merito ai nuovi episodi. Una nuovo foto rilasciata dalla AMC potrebbe fornirci ulteriori informazioni su uno dei plot twist che più sconvolgerà la serie: l'addio a Rick Grimes (Andrew Lincoln).
Dopo diversi rumor, Andrew Lincoln e Robert Kirkman hanno confermato che per Rick Grimes la nona stagione di The Walking Dead sarà l'ultima. Si tratta di un grosso cambiamento rispetto ai fumetti, dove Rick è ancora vivo (così come Carl).
Nella nona stagione di The Walking Dead Rick seguirà Carl nella tomba o si staccherà dal gruppo per proseguire in solitudine?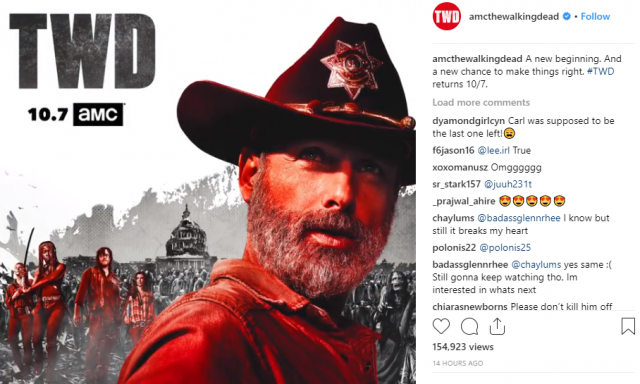 Nel poster Rick è in primo piano e i suoi amici si ergono sulle rovine di una civiltà. Sullo sfondo c'è anche la Casa Bianca completamente distrutta, a conferma del già sicuro viaggio a Washington D.C.
Per quanto riguarda Rick e il suo addio alla serie, è certamente sconcertante vedere l'uomo illuminato dalla luce rossa: anche i suoi amici lo sono, ma la distanza dal gruppo non sembra essere casuale. Questa separazione suggerisce un allontanamento di Rick dal gruppo, in caso di morte o per scelta.
Il secondo campanello d'allarme arriva dal cappello da sceriffo: per la prima volta dopo molto tempo Rick indossa quel cappello ormai associato a Carl. Il figlio lo ha indossato anche durante la sua morte.
Se Rick indossa il cappello da sceriffo, recentemente appartenuto a Carl, significa che presto potrebbe raggiungerlo.
Oppure, se vogliamo essere meno tragici, potrebbe semplicemente essere un omaggio al figlio. O ancora, un ricordo del passato in memoria del periodo pre-apocalittico. Questo ritorno al passato potrebbe anche riferirsi al vecchio amico di Rick, Shane Walsh, ucciso nella seconda stagione. L'attore che lo interpreta, Jon Bernthal, comparirà infatti nella nona stagione di The Walking Dead (ne abbiamo parlato qui): si tratterà di un sogno o di un flashback?
La AMC ci sta sicuramente lasciando degli indizi per scoprire il destino di Rick. L'ipotesi più probabile è che il personaggio morirà, ma non è certo l'unica possibilità. Per sapere davvero cosa accadrà non ci resta che aspettare il 7 ottobre!