# #
Iniziare queste recensioni di The Walking Dead sta diventando sempre più difficile. Le cose da dire sono così tante e collegabili le une alle altre che è difficile tenere saldo un filo conduttore.
# #
La 7×12 di The Walking Dead è come una danza o come una boccata d'aria fresca. Quell'aria fresca che solo chi conosce un mondo che non ha mai smesso di cadere a pezzi può conoscere.
Partiamo dal titolo che, sia nella versione originale 'Say yes', sia nella versione italiana 'E' giunto il momento', ci regala un attimo per pensare a che cosa stiamo facendo riferimento. Il 'dì sì' in questa settima stagione di The Walking Dead sta diventando ricorrente. Prima Negan, poi Rick quando si rivolga a Spencer diventando egli stesso Negan, poi Jadis e poi di nuovo Rick.
Questa ripetizione d'imperativo non è casuale. E' come se in qualche modo si volesse sottolineare che l'ultima parola spetta comunque a Rick. E' lui, in fondo, a dettare i termini di un trattato. E' lui a stabilire una linea guida di comportamento. E' lui che può ricostruire quel mondo così imperfetto. E' Rick Grimes.
# #
La frase 'è giunto il momento' invece è come un nuovo punto di partenza. E' tempo di tornare a casa anche se cercare provviste e godersi la quotidianità dell'apocalisse non è poi così male. E' tempo di guardare una bambina e capire che per garantirle un futuro degno una bugia può essere arginata. E' tempo per Tara di parlare con Rick di Oceanside. E' tempo per Rosita di chiedere aiuto a Tara, a Gabriel, a Sasha, a tutti in modo diverso. E' giunto il momento di parlare dei rischi che la guerra contro i Salvatori porterà con sé.
E' giunto il momento di pensare che tutti sono importanti e fondamentali, ma nessuno è davvero indispensabile. Perché? 'Perché non si tratta più solo di noi, si tratta del nostro futuro'. 
Il richiamo al rito della prima puntata della terza stagione è evidente. Ve lo ricordate? La terza stagione di The Walking Dead si apriva con l'occhio di uno zombie intrappolato in una casa e presto vittima di un consueto assedio di Rick, Carl, Daryl, T-Dog e il resto del gruppo. La meccanicità dei gesti, i silenziatori nelle canne delle pistole, la perfetta coordinazione di ogni movimento dell'una e dell'altra persona ci fanno letteralmente tuffare nel passato.
Un passato in cui Carl sembrava dover crescere troppo in fretta, in cui Rick non riusciva più a guardare negli occhi Lori. Un passato in cui sembrava non esserci via d'uscita da quella vita in cui ci si poteva accontentare di cibo per cani in scatola (altro riferimento alla prigionia di Daryl?).
Rick non poteva accettarlo allora (infatti scaraventò via la lattina in un silenzio snervante). Non poteva perché doveva rifiutarsi di credere che quello fosse l'unico modo di sopravvivere. Non poteva per sé, per il gruppo, per Carl e per la bambina che Lori portava in grembo. Come potrebbe quindi accettarlo adesso che tocca con mano la speranza di una vita più luminosa?
La perseveranza gli da ragione. Per quanto i ricordi degli amici e di tutto ciò che ha perso lo tengano sveglio di notte, di giorno può permettersi di non accontentarsi di due pistole, maglie da football e qualche scatoletta ammaccata.
C'è una costante che sta accompagnando The Walking Dead non solo da questa stagione, ma anche da alcuni episodi della precedente. La costante è il disprezzo tangibile che gli autori vogliono suscitarci nei confronti dei Salvatori.
Non si parla ovviamente solo degli schieramenti opposti della guerra, si tratta di che interesse possono suscitarti le persone che si incontrano di puntata in puntata. Questa è una delle grandi novità che The Walking Dead sta introducendo: non lasciare alcun dubbio su chi meriti di restare vivo e chi no.
Basti pensare ai tempi del Governatore. Chi non avrebbe visto volentieri Martinez combattere al fianco di Daryl? O Milton imparare da Hershel e Maggie l'arte del curare le altre persone? Chi non ha provato empatia per Gareth e soci a Terminus? Chi non ha creduto fino in fondo alla redenzione de I Lupi dopo l'attacco ad Alexandria?
Cosa ci lasciano invece i Salvatori? Meritano una possibilità persone che giocando a golf parlano di un amico brutalizzato come di un 'peso morto'?
Non credo che questa scelta da parte degli autori di The Walking Dead di mostrarci ad ogni puntata un aspetto negativo delle righe di Negan sia messo lì a caso per tappare dei buchi. L'idea, quasi inevitabile, è che in qualche modo ci vogliano avvicinare sempre di più al gruppo di Rick e alla sua battaglia personale. Tante volte è sorto il dubbio su chi fosse il vero cattivo. Ora non credo che qualcuno se lo stia ancora chiedendo.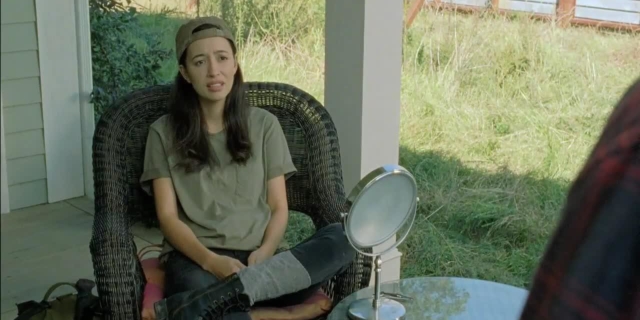 'Tienilo, ti servirà per la cicatrice'/'Tienilo tu, ci servono le armi. Io vado a cercarle'
Il dialogo fra Tara e Rosita è essenziale per capire la situazione che entrambe stanno vivendo. Da una parte c'è chi non ha vissuto il dramma della notte di Lucille, dall'altra chi non lo vuole dimenticare e deve rifiutare ogni pomata per curare quella ferita. Potrebbe andare avanti, esattamente come ha fatto mille volte. Rosita però non vuole. Rifiutare l'aiuto di Tara non è solo uno dei tanti gesti di stizza che abbiamo visto in queste puntate. Negare di volersi è curare è il negare di voler voltare pagina. E' la perfetta frase per rendere un concetto semplice: 'io non voglio aspettare, io non voglio scuse, io voglio solo uccidere Negan. Non mi interessa il resto'.
Perché in fondo è così. Non importa quanta rabbia la ragazza abbia accumulato, quanto si sia lasciata trasportare dalle parole di Padre Gabriel, quanto abbia esitato prima di sparare a Negan. La sua vita non le interessa più se è costretta a servire il tiranno che le ha portato via le persone più importanti della sua vita. Non importa perchè Rosita non vuole guarire. Vuole le armi. 
Ciò che è successo davvero in questa puntata di The Walking Dead è racchiuso in tante piccole e brevi immagini significative. Non si parla solo dei rifornimenti ottenuti, di un'altra piccola vittoria giornaliera. Si tratta di amore, fedeltà e sacrificio.
Parlare con il cuore sembra semplice quando si è sempre sul punto di morire, ma non è così. Rick ci mette giorni ad accettare che quella 'luna di miele' potrebbe essere l'ultima volta che ride e dimostra a Michonne quanto ci tenga a lei. Cerca di rimandare il ritorno a casa non per via di vizi, ma per assaporare ogni istante di quei momenti che potrebbero non tornare più.
E' vero che ognuno di loro può perdere l'altro. E' vero che gli amici non torneranno più indietro. E' vero che Rick non potrà mai restituire il favore a Glenn. E' vero che altri moriranno. E' vero che la guerra sarà vinta e il nuovo ordine mondiale stabilito, ma nessuno sa chi ci sarà a portare avanti quel progetto.
In fondo non conta se un sacrificio è legato ad un gatto di metallo, a 20 armi, ad un braccialetto regalato ad una bambina, ad una lattina colpita al luna park o ad un cervo. Ciò che si è disposti a fare per costruire il futuro di Judith, del figlio di Maggie…questo è quello che conta davvero. 
Penso a quello che abbiamo perso, penso ai miei amici. Glenn mi ha salvato all'inizio di tutto e io non sono riuscito a salvare lui. […]. Noi li affronteremo. Ecco cosa succederà. E perderemo delle persone. Forse molte, forse ci perderemo a vicenda, ma anche allora ne sarà valsa la pena. […] Sei stata tu a chiedermi che razza di vita avremmo avuto se ci fossimo arresi. Non si poteva chiamare vita. Quello che abbiamo fatto lì prima, quello che stiamo facendo ora, creare un futuro per Judith e per il bambino di Glenn e Maggie, combattere la battaglia. Questo è vivere. Me l'hai fatto capire tu. Puoi perdermi. Io posso perdere te. Possiamo perdere i nostri amici, le persone che amiamo. Non si tratta più di noi ormai, si tratta di un futuro. E se sarò io a non farcela tu dovrai portare avanti gli altri perchè sei l'unica che può farlo.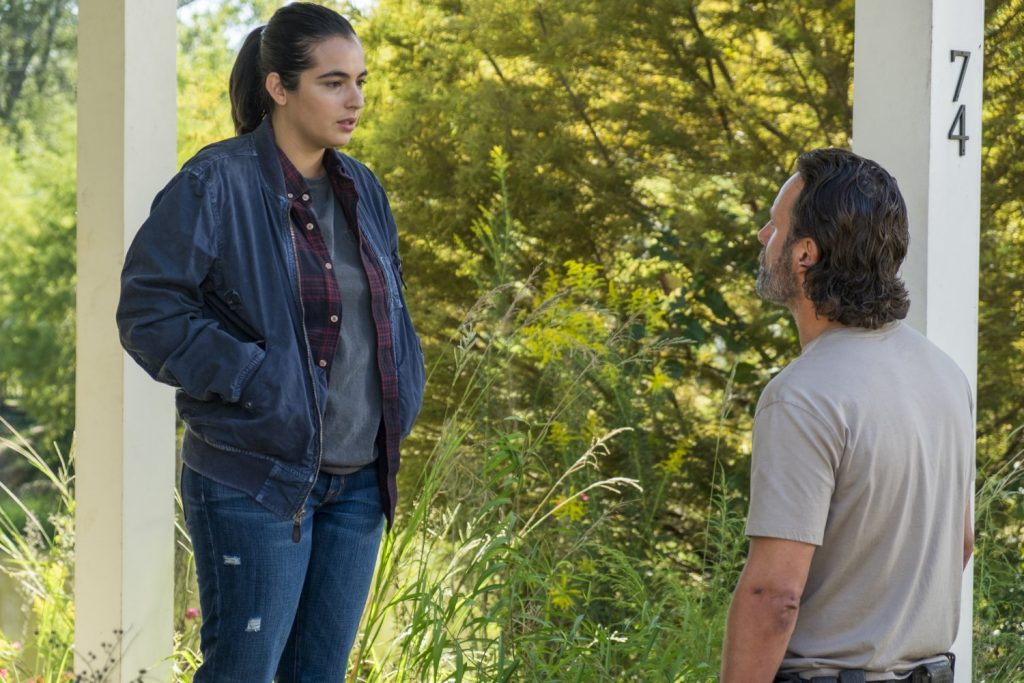 Non dimenticatevi di passare da qui: Norman Reedus Italia, The Walking Dead ITA , The Walking Dead-Italy , The Walking Dead Italia , TWD – Am I the only one Zen around here? Good Lord. , Caryl Italia, Andrew Lincoln Italy, Daryl Dixon ITA e FIGHT the Dead. FEAR the living – The Walking Dead gdr, The Walking Dead Pagina Italiana ! In più vi consigliamo un canale YouTube di un nostro affiliato Don't Open Dead Inside !