Un altro appuntamento con The Walking Dead che ci fa entrare ancor di più nel vivo della preparazione alla guerra.
Non c'è un attimo di respiro nei giorni dei protagonisti di The Walking Dead. Non c'è pace per una piccola vittoria, né il sollievo per un accordo perché bisogna subito pensare al passo successivo. Sono sempre in battaglia, come afferma Rosita, per prendere, dare, rubare, difendere, cacciare, scovare.
L'episodio 7×10 si apre con il consueto incontro tra i Salvatori e i maggiori esponenti de Il Regno. Gli scambi tra i due gruppi sono sempre più roventi e delicati. Da una parte emergono le provocazioni e la voglia di affermare la superiorità, dall'altra il senso di frustrazione dettato dall'impotenza e il pensiero di non poter reggere a lungo.
Ezekiel, Gavin, Jared, Morgan e Richard sono solo alcuni degli esponenti di questi scontri fatti da parole e sguardi. Ognuno con le sue idee e le sue convinzioni. Ognuno con la sua voglia di cambiare le cose o farle rimanere tali. Lasciando perdere per un momento le ambizioni personali, ciò che distingue i due grandi filoni, gli uomini di Ezekiel e i Salvatori, è soltanto una piccola cosa. Tra le righe di Negan ognuno lotta per sé e per i pensieri che gli si ricorrono in testa, tra le fila del Regno invece la battaglia di uno è la battaglia di tutti.
Richard ascolta l'ordine di Ezekiel, Morgan lo difende e Benjamin stende Jared. Senza contare che quando Morgan richiede il bastone, da una parte e dall'altra si ritrova due compagni fidati a fargli da scudo. Con Jared questo non accade. I suoi compagni rimangono a fissarlo e nessuno muove un dito quando egli cade rovinosamente a terra. L'unica frase di consolazione che gli arriva è un sonoro 'Jared forza in piedi' ('Jared get the hell up!' nella versione originale).
E' questa la continua differenza di The Walking Dead. Chi pensa solo a sé e al suo obiettivo e chi combatte per qualcosa in più. Che sia un amico, un ideale, un'amica o un Regno non importa. L'importante è avere qualcosa per cui valga la pena mettersi in prima linea a lottare,  o per cui valga la pena mentire al momento necessario.
E' lo stesso motivo per cui Daryl non approva a occhi chiusi il piano di Richard.
Ad occhi chiusi ucciderebbe i Salvatori e gli uomini che vivono negli avamposti. Ad occhi chiusi difenderebbe le persone che ama e morirebbe per loro. Ad una sua azione di guerra però vorrebbe corrisposta una risposta che colpisca solo lui, non altri. Ancor prima di sapere che il sacrificio sarebbe rivolto ad una donna, ancor prima di aver il sospetto di aver ragione sulla sua identità, ancor prima di sentire il suo nome uscire dalla bocca di Richard, Daryl tentenna.
Non accetta di attaccare la diligenza dei Salvatori (mossa avventata suggerita anche dal disegno sulla facciata laterale del camion ambientato nel vecchio West). Non accetta di condannare una persona innocente solo per far cambiare idea ad Ezekiel. Non accetta di mettere in pericolo Carol per una vaga possibilità di riuscire nel piano di uno sconosciuto. Sconosciuto che potrebbe essere un buon alleato (Daryl lo dimostra accompagnandolo e accettando la balestra come segno di fiducia) ma che non lo conosce e non sa cosa voglia dire puntare un'arma contro qualcuno del suo gruppo.
Da una piccola battaglia da combattere insieme si passa quindi ad uno scontro personale tra due modi di fare opposti, ma al tempo stesso molto simili. The Walking Dead ci ha abituati anche a questo.
Richard morirebbe per il Regno. Daryl morirebbe per la sua gente. Contemporaneamente però uno sarebbe disposto a sacrificare Carol, l'altro no. A parti invertite viene difficile pensare che Daryl avrebbe agito come Richard. Un conto è pensare di perdere persone in guerra, un conto è gettare qualcuno in pasto ai Salvatori per smuovere i sentimenti di Re Ezekiel.
Con una citazione che ricorda molto Il Padrino  Daryl declina, poco gentilmente, l'offerta condannando Richard al peso della sua promessa.
"Se le fanno del male, se muore, se le viene la febbre, se viene uccisa da un vagante o colpita da un fulmine, qualsiasi cosa. Qualsiasi cosa le accada ti uccido." (l'originale tratta da Il Padrino: "E se gli capitasse un incidente a Michael, o se si pigliasse una palla nella testa da parte di qualcuno della polizia, o se lo trovassero impiccato nella sua cella, e persino se fosse colpito da un fulmine, qualcuno dei presenti ne sarebbe responsabile. E allora io non perdono.")
La storyline di The Walking Dead cambia e ci ritroviamo in una discarica dove, con la ripresa dall'alto, sembra di vedere tante formichine muoversi con il solo scopo di rimettere a posto la tana, la gerarchia e un conto in sospeso.
Tra i tanti volti che compaiono, i numeri che ci confondono, i vestiti grigi che si mimetizzano con la tristezza del luogo, riusciamo a scorgere Rick e gli altri.
"Possediamo le vostre vite, volete ricomprarle?". E' così, con una domanda degna dei peggiori Salvatori, che Jadis entra nelle vite dei nostri protagonisti. Un gruppo affiatato a cui basta un gesto per obbedire e muoversi ordinatamente, un gruppo che vive in una montagna di immondizia, ma che sembra sapere il fatto suo.
Abbiamo la conferma del rapimento di Padre Gabriel e delle tracce fresche nella zona della barca e nei dintorni di Alexandria. La fiducia ispirata non è ai massimi livelli. Lo sappiamo noi e lo si legge negli occhi di Rick, ma bisogna affrontare un problema alla volta. 
Il primo è far vedere Gabriel ai suoi compagni. Rick non aveva dubbi che sul fatto che fosse stato preso, sul fatto che non li avesse traditi. Rosita, Aaron e Michonne erano più dubbiosi, quindi la prima dimostrazione il leader la dà proprio ai suoi compagni di gruppo. (Prima piccola vittoria).
Il secondo problema è farsi ascoltare da Jadis per conquistare sua alleanza. Rick ci riesce con l'aiuto di Padre Gabriel facendo proposte e puntando su ciò che avevano puntato anche negli accordi con Hilltop, Jesus e Gregory. Ci si gioca tutto sulla loro forza, sulla loro possibilità di vincere, sulle loro capacità. (Rick può fare qualsiasi cosa. Questo gruppo è riuscito a trovarmi, qui, così lontano da casa. Che ti serve? Diccelo e lo troveremo per te. Ti mostreremo quello che possiamo fare. Adesso.)
A volte le parole però non bastano. Quando le promesse non sono sufficienti serve una vera e propria dimostrazione di forza.
Superare la prova di Jadis è il terzo problema della giornata. A Sopra Sopra la leader della discarica chiede a Rick di salvarsi dove altri hanno fallito. Lo getta, letteralmente, in pasto a Winslow, uno zombie corazzato e, quasi, armato. Non temiamo davvero il fallimento del nostro leader, ma la sequenza è comunque emozionante. La ferita alla mano è simbolica: la destra viene trafitta da una lancia che fuoriesce dal corpo putrefatto del vagante.
La sua battaglia in quella piccola arena è la sua battaglia di questa settima stagione di The Walking Dead.
Crede di essere solo e atterrato da qualcosa di più grande di lui. Cade e si rialza, cade e si rialza senza trovare la soluzione che ha nel cuore, ma che ha bisogno di un aiuto per uscire. L'aiuto gli arriva dalla voce di Michonne (come quella sera ad Alexandria) e la prima parte della guerra contro lo zombie è vinta. Egli cade e una fune gli compare davanti. La sfida non è finita, anzi, la scalata vera e propria deve ancora cominciare. 
La fatica e il sudore di Rick mentre sale la montagna ci appartengono. La sua forza non vacilla perché l'obiettivo è sempre più chiaro davanti ai suoi occhi.
Non importa quanti morti ci siano in fondo alla gola, quante persone deve lasciarsi alle spalle, non importa quanto sia ferito e sanguinante. Alla fine contano solo il suo sorriso, la sua certezza di potercela fare, il suo 'abbiamo un accordo'. 
Con un 'dì sì' che ricorda molto l'imposizione di Rick a Spencer, l'alleanza tra Alexandria e il gruppo della discarica è assoldato in The Walking Dead. Un'altra piccola battaglia è vinta, ma l'ennesima è appena cominciata. Medicazione, consegna viveri, nuove ricerche di armi, il mantenimento della pace interna ed esterna al gruppo e la preparazione della vera guerra.
The Walking Dead va esattamente in quella direzione.
Un altro spezzone della puntata è dedicato a Carol.
Vediamo la donna indossare per l'ennesima volta la sua corazza alla nuova comparsa di Ezekiel e dei suoi uomini. La vediamo furba nell'ascoltare gli allarmi che ha piazzato, la vediamo sola nel leggere il suo libro. La vediamo storcere il naso all'omaggio programmato della crostata di Kevin, ma poi la vediamo sciogliersi e cadere a pezzi alla vista di Daryl.
Le loro confessioni fanno cadere qualunque maschera. Carol non può mentire a Daryl. Poteva farlo con Tobin e con gli altri abitanti di Alexandria, può farlo con Morgan, Richard e quelli de Il Regno. Non può farlo con chi la conosce dall'inizio e con chi ha combattuto ogni sua battaglia.
Carol chiama 'casa' Alexandria, chiede notizie delle persone che per lei contano davvero.
Sa perfettamente che qualcosa è andato storto e si affida a Daryl per ricevere la verità di cui ha bisogno. La sua bugia è l'unico modo che ha per salvarla anche questa volta. E' forse anche l'unico modo che ha per far rimanere a galla se stesso. Perdere Carol oltre a tutti gli altri, oltre alla sua casa, oltre alla sua dignità, potrebbe voler dire non potersi rialzare più.
Questa puntata di The Walking Dead è fatta di piccole vittorie in tante battaglie diverse.
Il sorriso sincero di Carol dopo tanto tempo è una delle più importanti. Daryl che ha ripreso una balestra e che può marciare di nuovo verso Hilltop sapendo che lei è al sicuro è un'altra. Una nuova alleanza, nuove verità che potranno essere usate come armi. Un gatto di metallo che Rick regala a Michonne come trofeo per la giornata. Lo stesso gatto che ricorda tanto quello che la ragazza prese per Judith nella sua prima uscita con Rick e Carl (episodio 'Ripulire' in cui rivediamo Morgan dopo la prima stagione). Una tigre che viene addomesticata con uno sguardo, la forza di aggrapparsi ancora ad un 'qualcosa' che accomuna tutti.
"Abbiamo vinto e questo è per rimpiazzare quello che hai perso."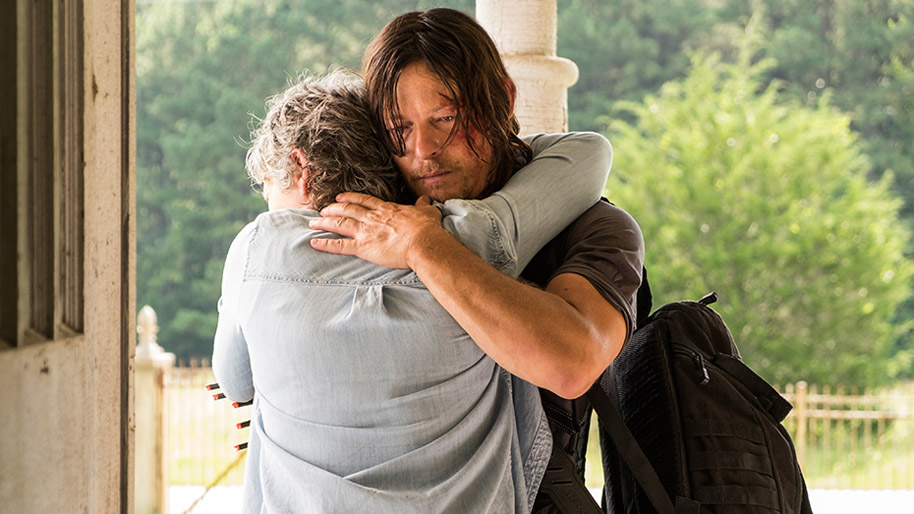 Volevo ringraziare Dario per i dettagli che non avrei potuto notare da sola e i miei sostenitori numeri uno (sempre loro, sì) Andrea e Davide pronti a commentarmi con la sincerità che serve in un team. 
Non dimenticatevi di passare da qui: Norman Reedus Italia, The Walking Dead ITA , The Walking Dead-Italy , The Walking Dead Italia , TWD – Am I the only one Zen around here? Good Lord. , Caryl Italia, Andrew Lincoln Italy, Daryl Dixon ITA e FIGHT the Dead. FEAR the living – The Walking Dead gdr, The Walking Dead Pagina Italiana ! In più vi consigliamo un canale YouTube di un nostro affiliato Don't Open Dead Inside !