Prima di cominciare, premessa d'obbligo. Noi di Hall of Series abbiamo congegnato per voi addicted un nuovo esperimento: sceglieremo un redattore che non ha mai visto nessuna puntata di una Serie Tv in particolare, e lo lanceremo 'allo sbaraglio' a guardare una puntata a caso di tale Serie Tv. Senza che sappia niente della storia, dei personaggi, di nulla. Il punto di vista espresso in quest'articolo, e nei prossimi che usciranno su questa falsariga, è solo ed esclusivamente il punto di vista di un autore CHE NON HA MAI VISTO PRIMA QUESTA SERIE, non ovviamente dell'intera redazione. Vogliamo provare a rendere 'scientifica' una cosa che sarà successa quasi a tutti voi: "Sai, ieri in Tv\a casa del mio amico ho beccato a caso una puntata di questa serie. Mi è piaciuta\non mi è piaciuta". Ovviamente, come al solito, col taglio ironico che ci contraddistingue. PRONTI? VIA!
——————————————————————————
Penso che scrivere questo pezzo su The Walking Dead sia la cosa più pericolosa che abbia mai fatto!
Questo non perché io non abbia mai compiuto gesta eroiche (innumerevoli le mie imprese), ma perché aver visto una puntata totalmente a caso di The Walking Dead e, soprattutto, mettermi qui ora a dirvi in tutta onestà cosa ne penso è rischioso come lo sarebbe entrare in una gabbia di leoni vestiti di bistecche. Prima di fare caos, cercherò di spiegarvi meglio cosa sto farfugliando da qualche frase a questa parte.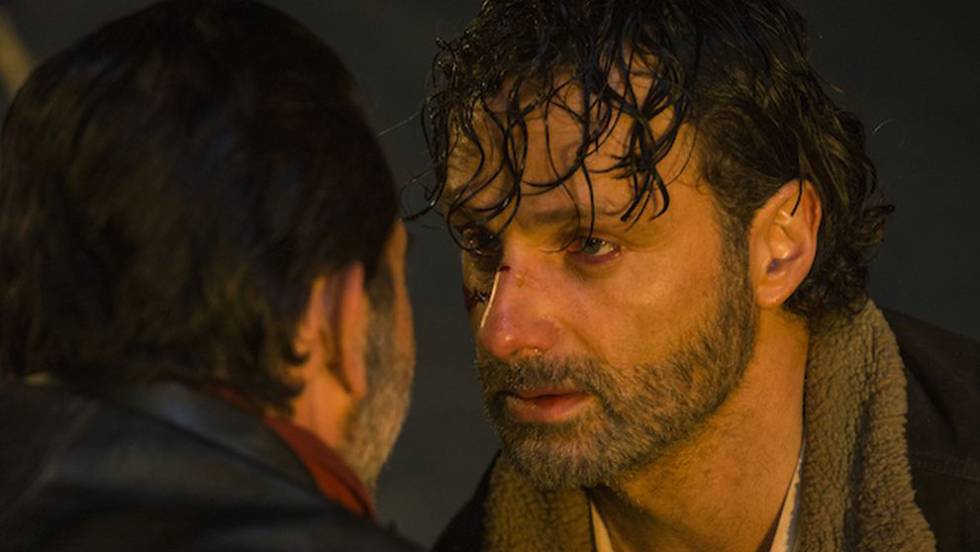 Io non avevo MAI visto – prima d'ora – mezza puntata di The Walking Dead (se siete dei fan abbiate pietà di me che le brutte notizie non sono ancora iniziate). Chiaramente sapevo di cosa si trattasse: è un fenomeno di massa di dimensioni tanto smisurate che è impossibile non averlo sentito almeno nominare. E allora perché non l'hai mai guardato? Vi starete chiedendo. Beh, le motivazioni sono semplici: sono molto pigra e perché io trovi la forza di recuperare una cosa come sei stagioni da circa sedici puntate l'una, deve trattarsi di Twin Peaks; in secondo luogo, su di me la  gente morta che però non è morta, ma è morta, non ha un grande appeal. Solo che poi mi sono detta che se The Walking Dead ha veramente la capacità di fare più proseliti della Chiesa Cattolica e così tante persone che stimo si sono sparati quel centinaio di episodi rimanendone ancora follemente innamorati, forse valeva la pena di darle una possibilità.
Un po' per fare un esperimento, un po' per conferire a questo assaggio seriale un tocco di mistero, ho inopinatamente deciso di aprire un episodio a caso. Alla fine con Gomorra mi era capitato di beccare una puntata a stagione già iniziata e di rimanerne tanto colpita da decidere di guardarmi tutta la serie. Sì, lo so, lo so: la consequenzialità cronologica degli episodi è insita nel concetto di serialità e guardare una puntata a caso è una cosa totalmente senza senso. Ma sapete cosa vi dico? Che è divertente sovvertire il sistema e che non è il caso che mi parliate di sensatezza voi fan di gente morta barcollante con le budella fuori al posto della cintura.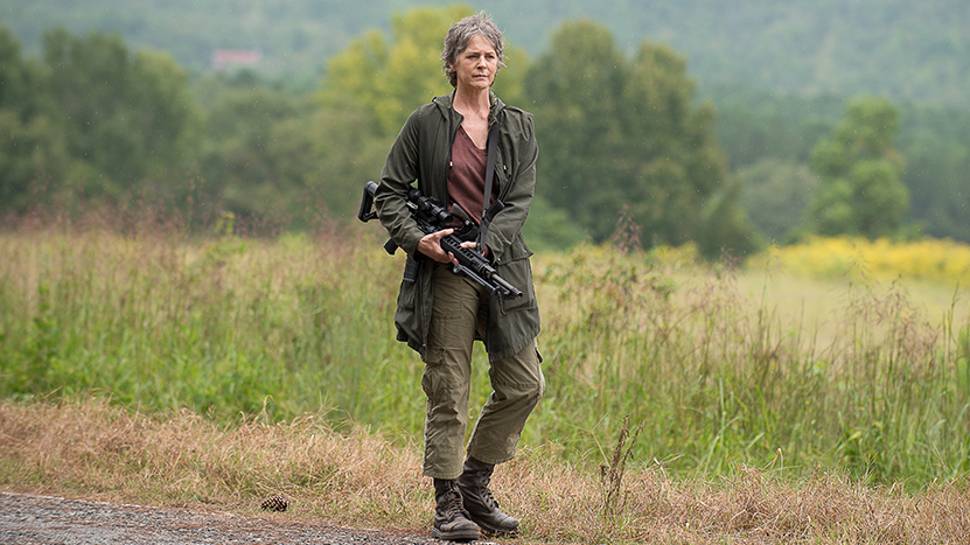 Ordunque, vi dirò che delirio di pensieri c'è stato nella mia testa prima, durante e dopo l'approccio a No Sanctuary (5×01) di The Walking Dead.
Le informazioni di cui disponevo circa la trama erano (e sono tuttora) veramente scarse: so che c'è uno sceriffo a cui sparano mandandolo in coma e al suo risveglio scopre che non è l'unico che si è risvegliato perché tutti i morti adesso deambulano in giro per il mondo e ammazzano la gente viva. Si noti che non ho usato la parola zombie perché un'altra delle sciocchezzuole di cui sono a conoscenza è che la parola zombie non viene mai usata nella Serie, anche se, di fatto, di quello si tratta. Poi non so altro, se non che lo sceriffo ha un figlio che assomiglia un po' a  Freddie Highmore da piccolo, che il tizio asiatico si chiama Glenn e che la tizia più tosta (almeno, questo è quanto intuisco dai commenti che leggo qua e là) si chiama Carol. Fine della fiaba.
Sapendo che si tratta di una serie horror-post apocalittica, ci si aspetta che sia violenta e splatter, ma devo ammettere che (molto probabilmente perché non ne sono abituata) non mi aspettavo di vedere in un macello umano. Una delle prime scene che mi trovo a dover affrontare ritrae sei o sette uomini inginocchiati con il capo chino dentro un vero e proprio mattatoio e, oddio, stanno per essere… non faccio nemmeno in tempo a finire di formulare la frase nella mia testa che il primo viene sgozzato. Riconosco lo sceriffo (Rick, si deve chiamare Rick, l'ho letto su Facebook) e Glenn. Davanti a quel fiume di sangue denso, scuro e umano che scorre in una specie di lavandino gigante, strabuzzo gli occhi.
Cercate di comprendermi: non ne ero abituata. Da lì in avanti, è tutto un susseguirsi di violenza e casino (Ci credo che non hai capito nulla, ti mancano giusto quattro stagioni, mi dice una cara amica, cultrice della materia). Quello che ho capito/ pensato è quanto segue:
1) Gli altri uomini vivi (il più tremendo è quello che viene fatto fuori dal tipo di colore che intuisco non abbia mai ucciso nessuno prima; insomma, una specie di ruminante di chewingum che vuole ammazzare quella che sospetto sia la figlia di Rick, tale Judith) sono peggio degli "ambulanti" (non a caso, il leitmotiv della puntata è: O sei il macellaio o sei la bestia);
2) Carol è effettivamente una crasi tra Hulk, Chuck Norris e MacGyver, con i capelli di Ellen DeGeneres più spettinati;
3) I morti viventi non si muovono molto diversamente da noi quando camminiamo guardando lo smartphone o da certa gente il venerdì notte quando rientra a casa;
4) A tutti importa solo di sopravvivere;
5) Chissà che problemi posturali gli vengono a camminare in modo tale che non gli scappi fuori tutto l'intestino;
6) Non posso andare avanti a guardare quei pezzi di uomo appesi nel macello;
7) Ma i miei amici e colleghi che guardano la serie sono figli illegittimi di Dario Argento?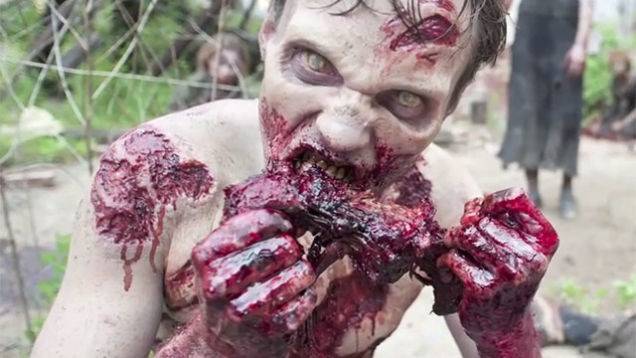 Scherzi a parte, non penso lo riguarderò mai più, più che altro perchè non amo il genere, ma mi è facile comprendere quanto possa essere forte il legame emotivo sviluppato nei confronti di alcuni personaggi e la potenza delle botte adrenaliniche che può dare una serie simile. Mi correggo, che può dare The Walking Dead , perché dubito esista una serie simile.
Un saluto agli amici di Seriamente Tv e non dimenticatevi di passare da qui: Norman Reedus Italia, The Walking Dead ITA , The Walking Dead-Italy , The Walking Dead Italia , TWD – Am I the only one Zen around here? Good Lord. , Caryl Italia, Andrew Lincoln Italy, Daryl Dixon ITA e FIGHT the Dead. FEAR the living – The Walking Dead gdr, The Walking Dead Pagina Italiana ! In più vi consigliamo un canale YouTube di un nostro affiliato Don't Open Dead Inside!