Tremate, tremate, le pagelle son tornate!
Sappiamo che le pagelle vi sono mancate, e per rimediare, facciamo un resoconto di tutti i personaggi che, in positivo o in negativo, ci hanno stupito dal secondo episodio di questa stagione fino al mid-season finale. In attesa del ritorno di The Walking Dead, previsto per il 13 febbraio, vediamo cosa hanno combinato i nostri sopravvissuti preferiti.
RICK 4 – Dopo la prima lunga chiacchierata con Negan, Rick non ha solo finto di sottomettersi a lui, per salvarsi e per salvare il suo gruppo (e il braccio di suo figlio). Rick ha praticamente appeso i suoi gioielli di famiglia al chiodo. Per molti episodi è un uomo inetto, che accetta ogni cosa Negan faccia e dica. Un leader che ha perso totalmente il merito di questo titolo. Solo nell'ultimo episodio, grazie anche alla panterona Michonne che lo riporta alla ragione, il bello addormentato si risveglia e decide di reagire. Speriamo in una ripresa, ma nel frattempo nelle nostre pagelle il voto che merita è questo.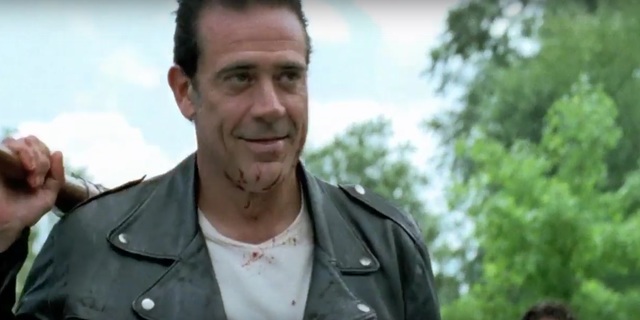 NEGAN 7 – Affascinante e sexy… fino a quando non si fa la barba. Tolta la barba, tolto l'80% del suo fascino e della sua credibilità di bad man. Un villain in The Walking Dead ci voleva sì, ma Negan è fin troppo presuntuoso e spavaldo. Tuttavia spezzo una lancia in suo favore, ringraziandolo per aver fatto fuori Spencer. Apparentemente sembra che Negan l'abbia fatto perché aveva intuito la sua poca utilità, oltre che il suo essere "senza fegato", ma la verità è un'altra. Negan stravede per Rick, e non darebbe il suo posto a nessun altro. Questo spiega anche perché non l'ha ancora ucciso. Basta vedere il palese corteggiamento di Negan per Rick e il modo in cui lo guarda. Dai ragazzi è evidente, per me può già partire la ship Rigan.