Nella vita è fondamentale porsi delle domande. Sempre.
Nel caso di un addicted, le domande in genere variano da "che ne sarà del mio futuro?" a "ce la faccio a guardarmi ancora un episodio prima di andare a dormire?", e sono tutte importantissime.
Anche perché ci sono alcune Serie Tv che di domande ne suscitano davvero tante, sia in senso positivo che negativo; beh, The Walking Dead è sicuramente una di queste: sembra strano, eppure proprio un telefilm dalla trama così lineare (ci sono i vaganti, il mondo è finito, cerchiamo di tirare avanti insieme agli altri superstiti però gli altri superstiti sono stronzi, combattimenti, sangue, dialoghi su quanto l'esistenza faccia schifo) per anni è stato capace di lasciarci sconcertati al termine di ogni puntata, e ci riesce ancora.
The Walking Dead è uno di quegli show che penetrano nella mente e cominciano a martellare i pensieri con i loro quesiti sulla vita, sulla morte, sulla natura umana…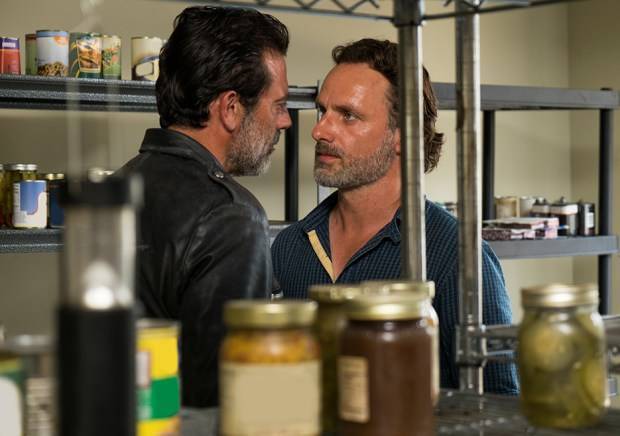 Perché non c'è niente di più pericoloso di un'idea: "Qual è il parassita più resistente? Un batterio? Un virus? Una tenia intestinale? […] Un'idea. Resistente, altamente contagiosa. Una volta che un'idea si è impossessata del cervello è quasi impossibile sradicarla: un'idea pienamente formata, pienamente compresa, si avvinghia qui, da qualche parte" (Inception)
Le Serie Tv destinate a suscitare in noi molte domande si riconoscono fin dal pilot; Breaking Bad ci interrogava su cosa fosse giusto, Mr. Robot ci chiede cosa è reale, e The Walking Dead vuole sapere da sette anni una semplice verità: chi sei tu?
The Walking Dead e le domande che non ti fanno dormire la notte
1. Sta accadendo davvero? 
Ovviamente non parlo del nostro mondo (anche se la possibilità di un'invasione di zombie che tolga finalmente di torno un po' di gente inutile non sarebbe così terribile), ma di quello della serie: in TWD gli eventi sono narrati in una luce così riflessiva e psicologica che a volte ci chiediamo se tutta la faccenda dei vaganti e della sopravvivenza estrema non sia "solo" una metafora per esprimere in modo figurato concetti della mente. E no, non mi riferisco alla teoria secondo cui l'apocalisse è un sogno da coma profondo di Rick.
2. Quanto si sono ispirati alla società attuale? 
I protagonisti di questo telefilm sono persone ridotte ormai al livello di bestie che tentano disperatamente di conservare un minimo di umanità mentre la loro vita va a rotoli. Ma gli autori della serie e dell'omonimo fumetto avranno lavorato soltanto con la fantasia e con l'amore per le storie di zombie, oppure hanno attinto dalla situazione reale? Non abitiamo forse in un mondo pieno di morti ambulanti che si trascinano avanti anno dopo anno, in un mondo dove bisogna schiacciare gli altri per non venire schiacciati, in un mondo talmente progredito da rischiare di scoppiare e precipitare di nuovo in una condizione primitiva? Sono domande legittime.
3. I vaganti sono da temere o da compatire? 
Se avete visto il pilot, ricorderete di sicuro la sequenza della ragazzina zombie che striscia per terra per arrivare a Rick e mangiarselo, senza però riuscire a raggiungerlo. Intrappolata in una morte che finge solamente di essere vita, divorata da una fame insaziabile e lontana dalla persona che era un tempo, quella bambina ci ha spiegato fin da subito cosa sono i vaganti: sono i mostri che gli umani devono combattere per portare a casa la pelle, però sono anche creature condannate ad aggirarsi senza meta in un mondo distrutto, finché la decomposizione o il colpo pietoso di qualcuno interromperà il loro viaggio.
4. Ne vale ancora la pena? 
Già, a che serve lottare per sopravvivere, se aprire gli occhi ogni giorno deve essere un tormento e chiuderli ogni sera un incubo? I personaggi dello show si pongono di continuo domande simili, e ce le facciamo anche noi spettatori. La risposta è no, eppure…
5. Lo faranno lo stesso? 
La risposta è no, non vale la pena di continuare a combattere per una vita vuota, ma sappiamo che Rick, Daryl e gli altri lo faranno lo stesso. Perché l'istinto di sopravvivenza è più forte di qualunque volontà cosciente.