Che vi piaccia o no, che siate tra gli irriducibili fan della prima ora nei secoli fedeli o tra quelli che, nel corso degli anni, l'hanno criticata sempre di più, non si può negare che The Walking Dead in questa nona stagione abbia ritrovato la sua strada.
Anche Omega, l'episodio numero dieci, è una decisa conferma.
The Walking Dead è rinata dalle proprie ceneri e il sacrificio estremo della famiglia Grimes, paradossalmente, l'ha fatta risorgere come l'araba fenice. Ci sono diversi punti vincenti, a partire dalla struttura narrativa basata su diversi flashback che aiutano a comprendere il personaggio di Alpha. Quello che non era mai stato fatto in passato, ossia mostrare la storia alle spalle del villain di turno, per Alpha viene fatto. La si vede nella sua versione pre-apocalittica, con la figlia e il marito. La si vede prima che tutto vada allo sfacelo e prima che lei diventi altro: da madre premurosa a bestia assetata di sangue, spietata, senza scrupoli.
Lo dico fin da ora: attenzione ad Alpha perché in confronto Il Governatore e Negan non sono nessuno.
C'è un altro punto a favore di questa nuova stagione ed è l'approfondimento dei personaggi. Negli ultimi anni, The Walking Dead ci aveva abituati a un personaggio di altissimo livello e potenziale, ridotto a monosillabi, grugniti e sexy sguardi intensi. Sto ovviamente parlando di Daryl Dixon. La sua storia, il suo passato, il suo modo di essere fragile e vulnerabile, invincibile e granitico, forte e lineare, ma anche emotivamente bloccato e impermeabile ai rapporti umani, rende Daryl un personaggio incredibile. Ma anche soffocato, specialmente negli ultimi anni.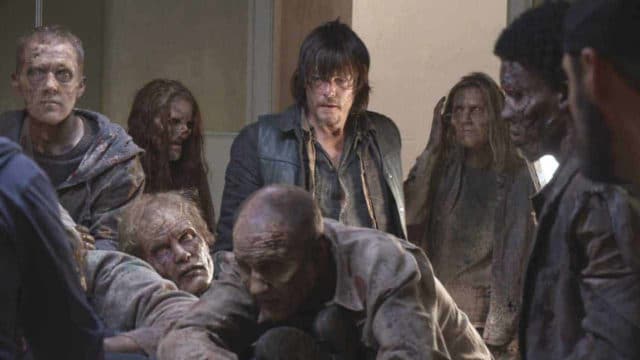 Ecco, in questa stagione e in modo particolare in questo episodio, ritroviamo il Daryl che avevamo imparato a conoscere e amare nelle prime quattro stagioni di The Walking Dead. Un personaggio tormentato, con un passato traumatico alle spalle e che ancora non ha superato la morte di Rick: quel passato ritorna nei racconti di Lydia e nello sguardo turbato di Daryl quando vede le cicatrici sul braccio della ragazza. Anche Daryl porta sulla pelle il proprio drammatico trascorso. Finalmente anche Norman Reedus ha l'occasione per esprimersi a pieno e, dopo tanti anni, ha modo di dare a Daryl quella profondità che ha sempre avuto, in fondo, e alla quale non ha mai avuto modo di dare voce.
Per chi legge il fumetto di The Walking Dead non sarà molto difficile riconoscere nel rapporto tra Henry e Lydia, quello tra lei e il Carl cartaceo. Il primogenito di Rick, però, non c'è più (non perdonerò mai Scott Gimple per questa scelta scellerata) e quindi dovremo stare a vedere come si svilupperà la dinamica tra i due adolescenti. Ma se tanto mi dà tanto…
Di certo, Henry si fida fin da subito della ragazza (e non so quanto Carl, il bambino che aveva sparato addosso a un adolescente sul punto di arrendersi ai tempi della prigione, si sarebbe fidato). Lui è un ragazzo gentile, pronto al sacrificio: è un buono. È un ingenuo.
È strano, però, che Lydia pensi che Daryl sia il padre di Henry, mentre il ragazzo ha una bassissima opinione dell'arciere: chi è Daryl davvero? Il padre protettivo o l'aguzzino senza cuore, quello che porta le medicine a Lydia o quello del "chi se ne frega"?
Lydia si rivela comunque un personaggio completamente diverso dalla ragazzina in lacrime della scorsa puntata: ha delle opinioni ben precise, distorte e malate, sì, ma è convinta di quello che dice.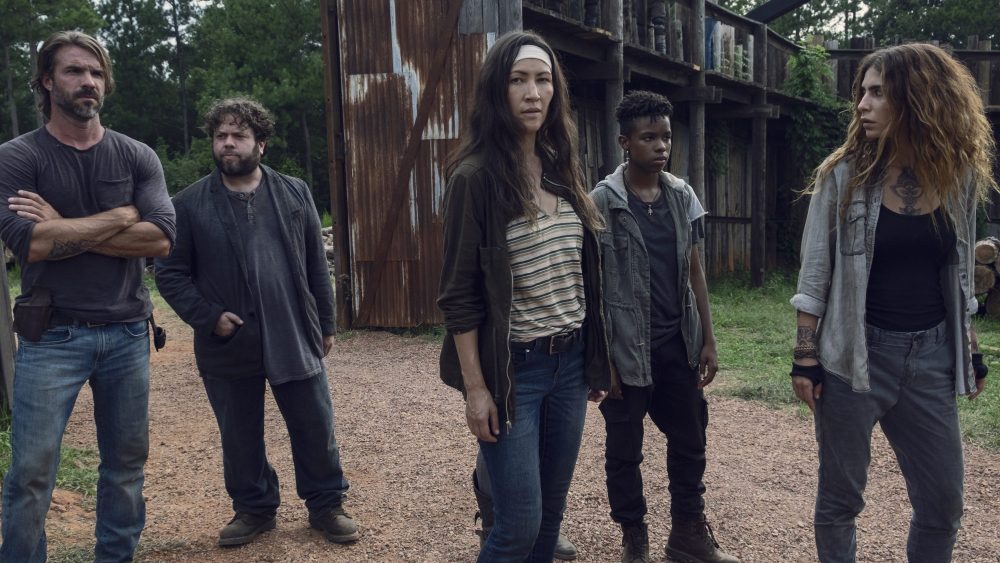 Appunti sparsi sul resto dell'episodio: il gruppo di Magna esce alla ricerca di Alden e Luke, due personaggi a cui, probabilmente, nessuno s'è affezionato. Scelta stupida quella di uscire di sera, in netto contrasto con chi è sopravvissuto all'apocalisse zombie fino a questo punto e dovrebbe conoscere le regole basi del restare in vita.
Incomprensibile anche la decisione di ritornare indietro proprio da parte di chi aveva proposto di uscire. Non sappiamo ancora le sorti dei due scomparsi, ma se il buongiorno si vede dal mattino, Alden e Luke hanno fatto una brutta fine. La verità è che la storyline affidata alle new entry non è interessante come quella dei personaggi principali.
Questione Tara: quanto può essere leader?
Non so se sto facendo la cosa giusta.
Contrariamente a Rick, Tara non nasce comandante in capo: questo ruolo le piomba addosso solo perché Jesus e Maggie non ci sono più. Dopo le discutibili gesta delle prime stagioni in cui il suo personaggio era più irritante e insulso che altro, ora sembra avere trovato una propria dimensione. Solo che Tara non è Rick e non ha chiara in testa una linea coerente di gestione del potere e del comando.
Probabilmente, sarà proprio Daryl, qualcuno che non ha mai voluto comandare o anche solo far parte di un gruppo, a prendere il timone di Hilltop. O, almeno, tutto punta in questa direzione.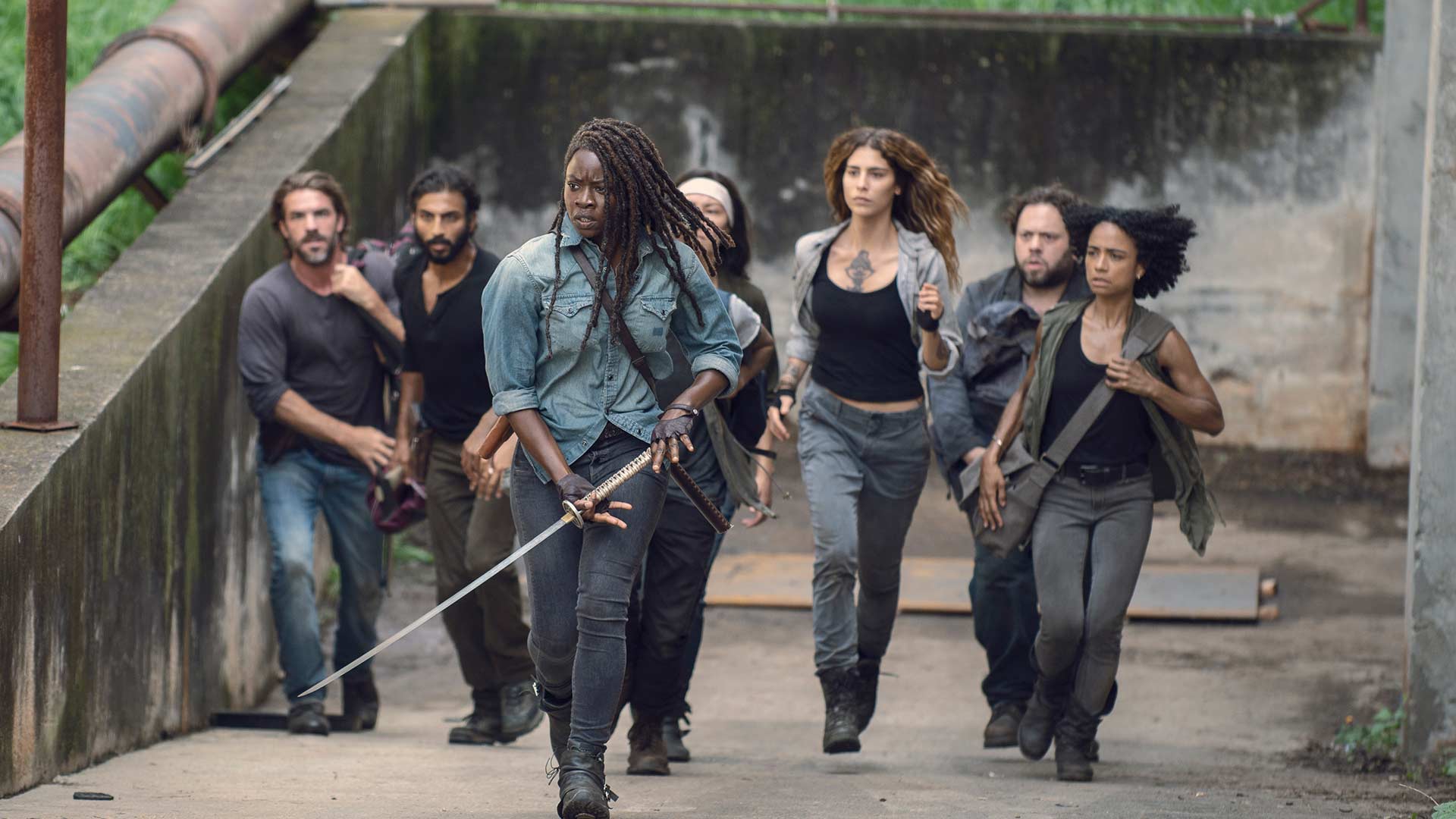 Staremo a vedere.
Un applauso per Samantha Morton che interpreta Alpha. Chi ha seguito la puntata in lingua originale l'ha molto criticata per il forzato accento del Sud degli Stati Uniti d'America. La Morton, infatti, è inglese, come tanti altri attori di spicco di The Walking Dead: Andrew Lincoln, Tom Payne, David Morrissey e Lenny James. Viene da chiedersi perché scelgano spesso attori britannici per interpretare personaggi caratterizzati da un accento marcato, anche perché Melissa McBride che vive davvero in Georgia non fa parlare Carol con quell'accento.
Detto questo, Samantha Morton riesce a rendere il personaggio di Alpha esattamente come ce la si aspetta. Brutta, sporca, sformata e cattiva, di una cattiveria molto più profonda di un normale villain. Alpha non è normale, non c'è niente di sano in lei. Non è una madre, non è nemmeno una donna o un essere umano: è un essere privo di scrupoli pronto a tutto pur di sopravvivere.
È proprio quel profondo senso di "disturbato", di diverso, di malato che la rende convincente e terrificante.
E ancora non abbiamo visto nulla delle sue potenzialità o di quello che è in grado di fare.
Prima di salutarci, vi invitiamo a passare dalla nostra gemellata The Walking Dead ITA Family.
Non dimenticatevi di passare anche dai nostri amici di:
Caryl Italia e Dwighty Boy – Austin Amelio Italia
FIGHT the Dead. FEAR the living – The Walking Dead gdr