Dopo la pausa The Walking Dead ritorna con una puntata che affronta sostanzialmente due temi: la fuga di Negan e un nuovo nemico, i Sussurratori.
Anche noi spettatori dobbiamo fare i conti con il drammatico mid-season finale che aveva visto l'entrata in scena dei Sussurratori, la tragica morte di Jesus e la cella aperta e vuota di Negan. The Walking Dead riparte proprio da dove ci eravamo lasciati:
You die now.
Ma le cose non vanno così, perché Daryl, Eugene, Aaron e Michonne, insieme al gruppo di Magna, riescono a fuggire, chiudendo i nemici nel cimitero in balia di famelici vaganti. I Sussurratori sono dei morti viventi a pieno titolo, quindi riescono a uscire aprendo il chiavistello, ma con lentezza per non tradire la loro reale natura, dando ai nostri eroi il tempo di fuggire.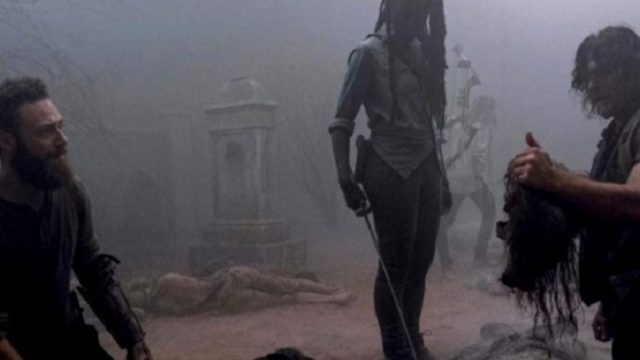 Il tema di questa puntata di The Walking Dead è l'adattamento, un percorso di accettazione e autoanalisi non sempre facile e per nulla scontato. Occorre adattarsi al nuovo pericolo, costituito dai Sussurratori. Nessun membro delle comunità di Hilltop o di Alexandria ha idea di chi siano o del perché lo facciano, ma sanno che sono spietati: uccidono per mera sopravvivenza. 
Anche Negan, paradossalmente, deve adattarsi alla nuova vita da uomo libero. Il suo rapporto con Judith è particolare e, per quanto la bambina lo guardi dall'alto in basso e continui a considerarlo un nemico, una parte di lei non riesce a odiarlo:
È mia madre che decide, non io.
E anche Negan nutre dei sentimenti di rispetto e affetto nei confronti della bambina che, forse, gli ricorda Rick. Nel suo viaggio, l'ex leader dei Salvatori cerca di recuperare la propria identità: abbandona un'inutile vanga per un bastone che ricorda la sua adorata Lucille e indossa un giubbotto di pelle. Fischietta il suo motivetto.
Addirittura ritorna sul luogo del grande misfatto: la piana ai margini del bosco dove ha massacrato Glenn e Abraham. La macabra esecuzione che diede il via all'all out war con Rick. Lì Negan aveva dato prova di avere la mano vincente, di essere il comandante in capo.
Forse, da lì potrebbe rinascere dalle proprie ceneri.
Ma la realtà dei fatti è ben diversa dai suoi sogni: quel passato, il passato dei Salvatori, del suo organizzato regno del terrore, di Lucille stessa, è finito. Negan è un vero imperatore caduto: il Santuario è distrutto e pieno di vaganti, alcuni dei quali, come Big Richie, erano persone che lui conosceva.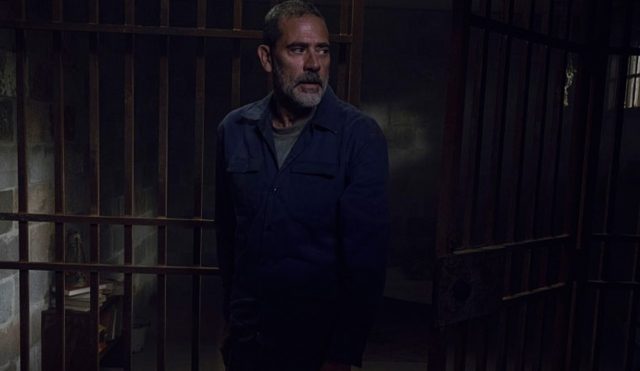 Negan capisce che non si può tornare indietro a quel passato, non si possono rimettere insieme i pezzi di qualcosa che è stato irrimediabilmente distrutto. Deve quindi adattarsi al nuovo mondo: un mondo dove esiste solo Alexandria, la sua cella e il suo rapporto confidenziale con Judith. 
Hilltop deve adattarsi alla morte di Jesus. Personaggio un po' soffocato rispetto al fumetto, ma che nella The Walking Dead seriale era comunque il portavoce della collaborazione, dell'ottimismo, della positività. Un lottatore, un vero believer della comunità del futuro, anche nel macello della realtà dei fatti. Ogni chiodo piantato nella sua bara è un vero colpo al cuore. La sua morte è uno shock per tutti perché con lui muore anche un ideale di vita, quello del nuovo mondo. Il braccio destro di Jesus, Tara, deve ereditare le sue responsabilità. Ne sarà in grado? 
Vedremo.
Anche Michonne e Daryl devono ancora adattarsi alla scomparsa di Rick: i loro animi sono relativamente sereni, ma ancora lacerati. C'è accettazione, ma anche un senso di perdita e di vuoto che non può essere colmato, anche dopo tutti quegli anni. La loro amicizia, però, è qualcosa che li ha uniti, perché nessuno, più di loro, ha subito la perdita di Rick.
Insieme trovano di nuovo i Sussurratori, ma questa volta sono loro ad avere il sopravvento e a prendere in ostaggio una ragazzina spaventata che non fa altro che piangere. La rinchiudono in una cella, insieme a Henry che ancora sta pagando il prezzo della sua notte brava. La ragazzina senza nome non vuole parlare, è terrorizzata e costituisce un potenziale problema. Fa parte del gruppo che ha assassinato Jesus e Hilltop reclama un risarcimento per la morte del suo amato leader.
Sarà lei a pagarne le conseguenze?
Rosita ed Eugene devono adattarsi al loro rapporto: Eugene la ama, ma lei ha un segreto che non riesce a confessargli. È incinta, non di Gabriel, ma dell'ignaro Siddiq col quale si è divertita per un po'. 
Daryl, in questa nona stagione di The Walking Dead, è un Daryl tutto nuovo. Ha idee e opinioni e non si esprime più solo a grugniti: è diventato un personaggio a tutto tondo. Ha un rapporto stretto, quasi paterno, con Henry: soffre, prende decisioni autonome, viene messo in risalto come la persona che riesce meglio nel giudicare gli altri. Prende quindi in mano la situazione e finalmente riesce a far parlare l'ostaggio.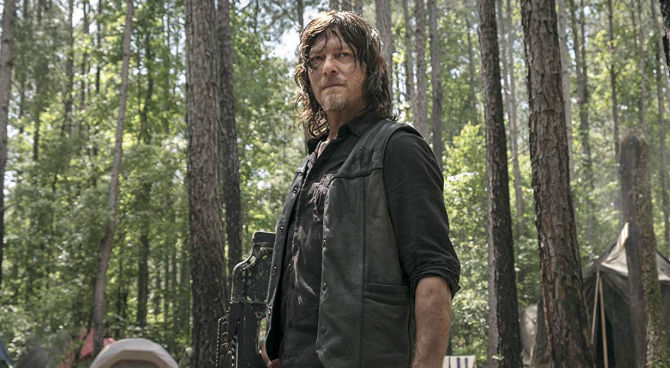 Nella filosofia di vita dei Sussurratori, non esistono nomi e non esiste un passato. Nessuno è al sicuro, le mura non proteggono e tutte le comunità, prima o poi, cadranno. Loro uccidono tutti perché i vivi sono una minaccia. Si muovono insieme ai vaganti e, in un certo senso, si proteggono a vicenda.
Ma non c'è idea peggiore che mettere due adolescenti in uno stretto spazio: Henry e la prigioniera iniziano a legare subito. La bambina gli rivela il proprio nome: lei è Lydia e tutti gli indizi ci dicono che impareremo a conoscerla bene.
Nel frattempo, Daryl li tiene sott'occhio, perché in fondo è ancora il segugio della prima stagione di The Walking Dead, ma si è evoluto. È lui il leader di cui ha bisogno Hilltop, perché Tara, chiaramente, non è in grado di prendere il posto di Jesus.
La puntata si conclude come era iniziata: Alden e Luke circondati dai Sussurratori pronti ad avventarsi su di loro. Entra in scena Alpha, la loro leader.
E, da ora in avanti, niente sarà mai più come prima.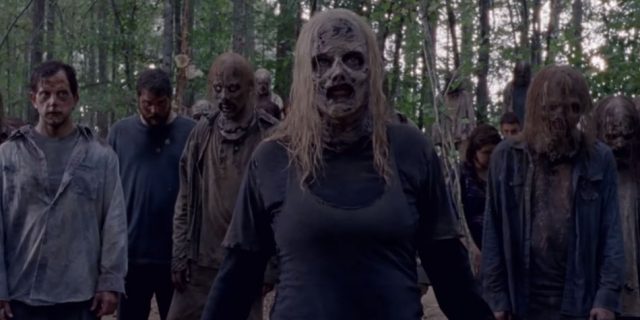 Prima di salutarci, vi invitiamo a passare dalla nostra gemellata The Walking Dead ITA Family.
Non dimenticatevi di passare anche dai nostri amici di:
Caryl Italia e Dwighty Boy – Austin Amelio Italia
FIGHT the Dead. FEAR the living – The Walking Dead gdr
Leggi anche: The Walking Dead 9×08 – Sussurri