Finalmente ritorna il nostro appuntamento settimanale con The Walking Dead!
Se volete leggervi la recensione della puntata precedente per riprendere un po' il filo del discorso, potete cliccare su questo link: The Walking Dead 8×08 – Il mondo che verrà.
L'episodio numero 9 dell'ottava stagione di The Walking Dead si intitola "Honor" (tradotto incredibilmente fedelmente in italiano con "Onore"). La titolazione prende spunto dal dialogo tra Carl e Siddiq sul finale della puntata. Al momento dei saluti, infatti, Siddiq prende parola e dice a Carl:
"Mi hai portato qui, mi hai dato una possibilità. So di non potermi sdebitare, ma posso onorarti mostrando alla tua gente, ai tuoi amici, alla tua famiglia che quello che hai fatto è servito a qualcosa, che è importante, che ha un significato. Perché è vero. Quindi questo è quello che farò. Ti renderò onore Carl."
Con un ironico "Congratulazioni. Ti tocca stare con noi" Carl sancisce poi il patto con il nuovo "amico". Bisogna andare avanti in un modo o in un altro. Bisogna credere davvero nei propri ideali, anche se questo significa morire per essi. Farlo, sapendo di essere stati d'esempio per qualcuno, non è poi un così brutto modo di andarsene per sempre dal mondo di The Walking Dead. 
Non importa che ci siano bombe e crolli se le fondamenta sono solide. Alexandria potrà cadere, ma finché le fogne saranno piene di persone vive questo non importerà. Finché un Re avrà il coraggio di sacrificarsi per un popolo non importerà. Finché una giovane donna incinta riuscirà a tenere in piedi una palizzata di legno piena di persone fragili non importerà. Finché si avrà il coraggio di perdonare nonostante tutto, non importerà.
Questo era uno degli ultimi passaggi della scorsa recensione di The Walking Dead, rinnovabile anche in questa. E' il messaggio che vuole trasmettere Carl a coloro che sono costretti a rimanere e a svolgere ancora dei compiti in quel mondo. Non importa quanto dolore bisogna sopportare, non importa chi muore o chi si perde per strada. Importa soltanto ciò che si costruisce, importa solo rendere reale ciò per cui si combatte da tanti anni.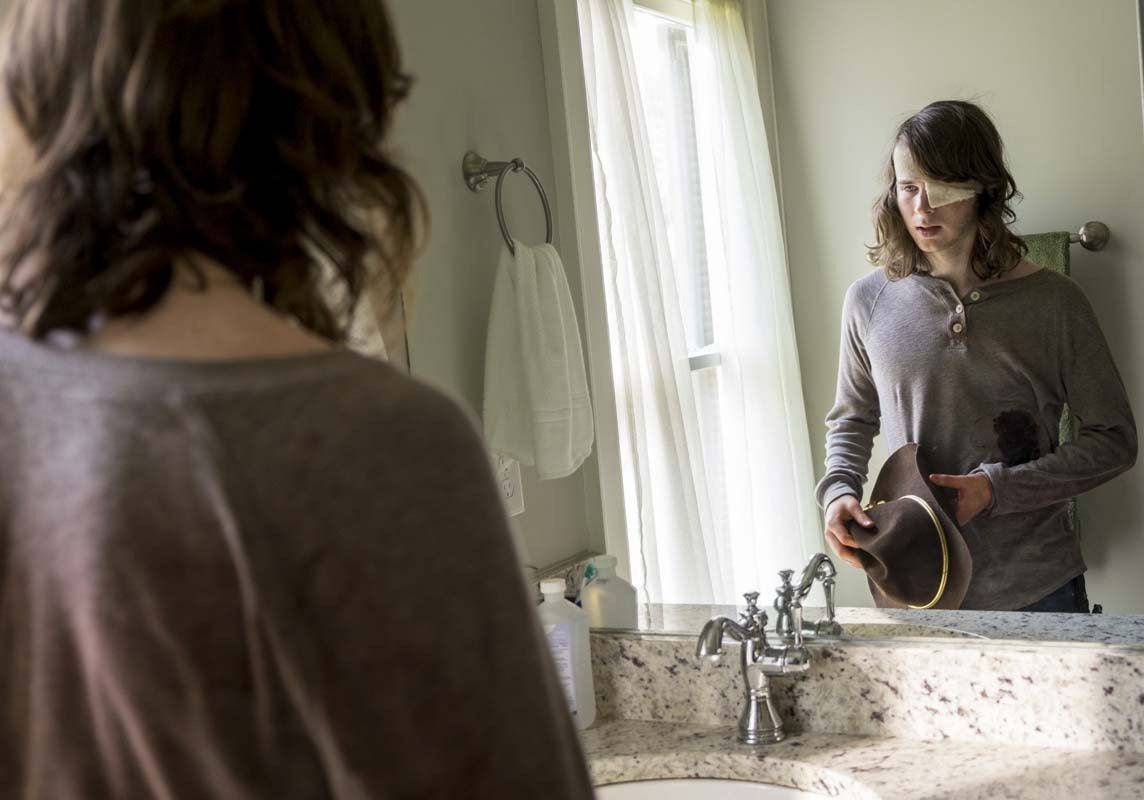 Nella prima parte della puntata di The Walking Dead ripercorriamo tutti gli ultimi momenti di Carl. Gli eventi degli episodi precedenti cambiano punto di vista e ci vengono spiegati più attentamente.
Si riparte dal morso ricevuto da Carl nel tentativo di aiutare Siddiq ad onorare la madre. Lo fanno rivedere con un primo piano quasi "devastante" che cerca di empatizzare il più possibile la presa di coscienza di Carl. Riusciamo a vedere l'incredulità, la paura, la consapevolezza. Gli occhi che si chiudono e che si riaprono, come a cercare di uscire da quell'incubo momentaneo.
"Basta un momento ed è finita". C'è poco da fare e Carl lo sa, quindi quando Siddiq gli chiede se va tutto bene, l'unica risposta che può dargli è "sì".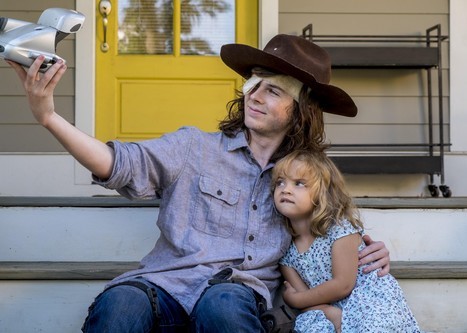 La canzone che ci accompagna lungo tutta la giornata di Carl è 'At the bottom of everything' dei Bright Eyes.
Fa da sottofondo a tutta l'analisi dei movimenti di Carl nel suo "ultimo giorno sulla terra". Dal momento in cui conduce Siddiq sotto Alexandria al momento in cui coccola Judith sotto il portico di casa.
Davanti allo specchio il ragazzo ha finalmente la certezza definitiva: il morso è reale.
Non è un incubo da cui risvegliarsi, è solo la realtà. I denti dello zombie hanno passato le magliette. Siddiq è salvo, lui è condannato. E' il prezzo che metti in conto di pagare quando decidi di salvare qualcuno.
La canzone canta esattamente "And then we'll get down there, way down to the very bottom of everything and then we'll see it, we'll see it, we'll see it" che tradotto significa "E poi ci arriveremo lì, alla strada in fondo ad ogni cosa e poi lo vedremo, lo vedremo, lo vedremo". E' implicito il riferimento alle visioni finali di Carl sul futuro della comunità e dei suoi amici. Egli vede tutto ciò che gli altri ancora non hanno definito davanti a sé a causa della travolgente ed incessante guerra per il nuovo mondo. 
Così, sapendo di essere arrivato alla fine del suo percorso, Carl fa tutto ciò che può per sistemare le sue ultime cose.
Prima di tutto, ma non per questo meno importante, trattiene Negan nel momento del bisogno, come abbiamo visto nella scorsa puntata di The Walking Dead. Permette ai suoi uomini di prepararsi e rifugiarsi. Salva tutti, come dice brevemente Daryl senza troppi giri di parole.
Prepara numerose lettere per assicurarsi di riuscire a dire addio a tutti come si deve. Aiuta Siddiq ad accomodarsi dignitosamente e spezza con lui una barretta proprio come a suo tempo fece con Michonne ("noi dividiamo sempre tutto, no?") sulla strada per Terminus.
Prende definitivamente atto del "sono stato morso. Non è colpa loro, è stato un incidente. Per riportare qualcuno qui" e del "non l'ho salvato perchè è un medico, l'ho salvato perchè da solo non ce l'avrebbe mai fatta".
Evidente è anche il parallelismo ricorrente tra i dialoghi di Carl e Rick e la situazione vissuta da Morgan.
In più di un momento sembra proprio che Carl faccia da voce narrante alle vicende simultanee de Il Regno.
"Grazie per avermi fatto arrivare dove sono, per aver fatto sì che fossi quello che sono diventato. Alla prigione, quando siamo stati attaccati, c'era un ragazzo poco più grande di me. Aveva una pistola. Lui aveva iniziato ad abbassarla e io gli ho sparato. Lui si stava arrendendo e io gli ho sparato. Mi capita di pensare al lui, a quello che gli ho fatto e a quanto sia stato facile ucciderlo."
Carl si riferisce all'episodio in cui venne allontanato dalla guerriglia contro il Governatore da Rick, con il compito di proteggere Hershel e Beth fuori dalla prigione. I fatti avvennero poco dopo la morte di Lori, quando Carl era arrabbiato e pieno di senso del dovere di protezione infondato. Egli freddò un ragazzo di Woodbury in fuga e fu dopo quell'episodio che Hershel convinse Rick ad abbandonare la strada della violenza per indicarne un'altra al suo ragazzo e fare in modo che non si perdesse come si era perso lui.
"Hai visto in cosa mi hai trasformato, come è diventato facile"
"E' per questo che sei cambiato, per questo che hai accolto queste persone da Woodbury. Li hai accolti e ci hai fatti vivere tutti insieme. Eravamo nemici. Hai messo via la pistola. L'hai fatto, così che io potessi cambiare, così che io potessi diventare quello che sono. Quello che hai fatto in quel momento, come hai smesso di lottare, era giusto così.  Ed è ancora così. Può essere ancora così, tu puoi essere ancora così".
Nello stesso istante Ezekiel e Carol spronano Morgan a non uccidere Gavin: "Morgan poni fine a tutto questo. Ucciderlo è una scelta da codardi", "si renderà conto di quello che ha fatto e dovrà conviverci per sempre".
Alla fine, proprio come Carl uccise il ragazzo fuori dalla prigione, Henry fredda Gavin senza pietà e lascia gli adulti sbalorditi al suo cospetto.
"Dovevo farlo" sussurra Henry, esattamente come a suo tempo.
Carl ricorda quel momento in punto di morte, raccontando di quanto sia stato facile uccidere ed eliminare la minaccia piuttosto che guardare con occhi nuovi e vedere davanti a sé solo una persona che vuole arrendersi e vivere meglio. Proprio come Gavin potrebbe dimostrare a Morgan, ancora accecato dall'odio e diventato quasi peggio di uno zombie nell'estrarre viscere dal corpo del nemico.
Rick ricorda quel momento con il figlio cercando di sgravarlo dai sensi di colpa, ma Carl lo riprende immediatamente. Quel fatto cambiò la vita di entrambi. Permise a padre e figlio di ricominciare ai tempi della prigione. E permette ora, al figlio, di lasciare un ultimo rinnovato insegnamento al padre che deve trovare la forza di andare avanti da solo. 
"Devi fare la brava, va bene? Per Michonne, per papà. Lo devi rispettare. Ascoltalo quando ti dice le cose. Non devi farlo sempre. A volte i figli devono mostrare la strada ai loro genitori. Questa ero di papà prima che lo prendessi io. Ora è tuo. Non solo.. il solo averlo faceva in modo che papà fosse sempre con me. Mi faceva sentire forte quanto lui. Mi ha aiutato. Magari aiuterà anche te. Prima che mamma morisse, mi disse che me la sarei cavata in questo mondo. Non ci sono riuscito. Ma tu lo farai. So che sarà così."
Il passaggio di testimone da Carl a Judith è straziante quanto necessario. Quel cappello, simbolo di un mondo passato ma non per questo perduto, non poteva finire sottoterra con lui. Così come le parole di Lori, che non erano mai state raccontate o riprese dallo stesso Carl. Il compito affidatogli dalla madre passa alla sorellina, piccola ma ormai in grado di capire che quello è un puro addio.
Oltre a tutto questo, con la puntata di The Walking Dead, è arrivata anche la verità sulle "visioni del futuro" cominciate già nella prima parte della stagione.
Era tutta un'idea di Carl. Un'aspettativa rosea, ma non per questo irrealizzabile.
"Ancora non riesci a vedere come potrebbe essere. Io lo vedo. Hai la barba. E' molto più lunga e più grigia Michonne è felice, Judith è cresciuta e sta ascoltando le canzoni che ascoltavo io. Alexandria è più grande. Ci sono case nuove, campi coltivati, persone che lavorano. Vivono tutti aiutandosi l'un l'altro. Se tu riuscissi ad essere quello di un tempo è così che potrebbe essere. Potrebbe. Voglio questo per te, papà."
La particolare caratterizzazione di questo futuro immaginario è la presenza di determinati personaggi.
Siddiq è parte fondamentale di un'Alexandria in continua espansione con frutteti, campi coltivati e gente sorridente senza armi a portata di mano. Eugene ha messo di nuovo a disposizione le sue geniali idee e la creatività produttiva. Come colpo di scena finale (che non poteva mancare), Carl immagina addirittura una collaborazione con un addolcito Negan intento nella coltivazione di rigogliose piantine.
"Lo renderò reale Carl, te lo prometto."
"Il compito di un padre è proteggerlo il figlio"
"Amarlo, è solo amarlo"
Vi lascio con il promo e lo sneak peek del prossimo episodio sottotitolati dalla nostra gemellata The Walking Dead ITA! Passate dalla loro pagina a questo link e mettete un bel 'mi piace'! Se avete problemi ad aprire il video cliccate qui.
#NEWS #TWD8Eccovi il nuovo #promo + il primo #sneakpeek del prossimo episodio di Twd 8×06 intitolato "Il Re, la vedova e Rick". :)Il ritorno in scena di alcuni personaggi (visti poco o per niente negli scorsi episodi) e nuove situazioni di pericolo per i nostri sopravvissuti. – Sottotitoli di #TheWalkingDeadITA -#SPOILER #ALERT[NON APRITE IL VIDEO SE NON SIETE IN PARI CON LA SERIE]

Gepostet von The Walking Dead ITA am Dienstag, 21. November 2017
Non dimenticatevi di passare anche dai nostri amici di Caryl Italia , Dwighty Boy – Austin Amelio Italia , Norman Reedus Italia. The Walking Dead-Italy , The Walking Dead Italia e FIGHT the Dead. FEAR the living – The Walking Dead gdr . The Walking Dead Pagina Italiana . Don't Open Dead Inside!