Eccoci al nostro appuntamento settimanale con The Walking Dead. La puntata 8×03 si apre in modo molto simile a quella precedente: un focus sugli sguardi e sulle parole di incitamento di un leader in un punto cruciale della battaglia.
Questo episodio di The Walking Dead gira attorno a due temi principali in contrapposizione tra di loro. Da una parte Gracie, simbolo di speranza e di rinascita, dall'altra parte il "mostro" che ogni persona è o è diventato.
La neonata finisce tra le braccia di Rick perché l'ex poliziotto gentile ha ucciso fin troppo in fretta suo padre (ne abbiamo parlato anche qui). Non viene abbandonata al suo destino perché non è così che si comporta una persona umana. Anzi, Gracie viene accolta immediatamente come parte della famiglia. Viene presa in custodia da Aaron in un momento in cui egli avrebbe potuto pensare solo a se stesso, alla sua sete di vendetta, al suo dolore.
Il gesto dell'accudimento non è per niente scontato.
Basta tornare un po' indietro nel tempo quando i nostri protagonisti di The Walking Dead stavano scappando da Terminus. Martin, uno degli uomini di Gareth, davanti a Tyreesee e a Judith in lacrime, non si fece problemi a puntarle un coltello alla gola minacciando di ucciderla. E ancora, i Salvatori nella scorsa stagione non si sono fatti scrupoli a rendere più difficoltosa la gravidanza di Maggie, confiscando tutte le scorte di vitamine prenatali da Hilltop.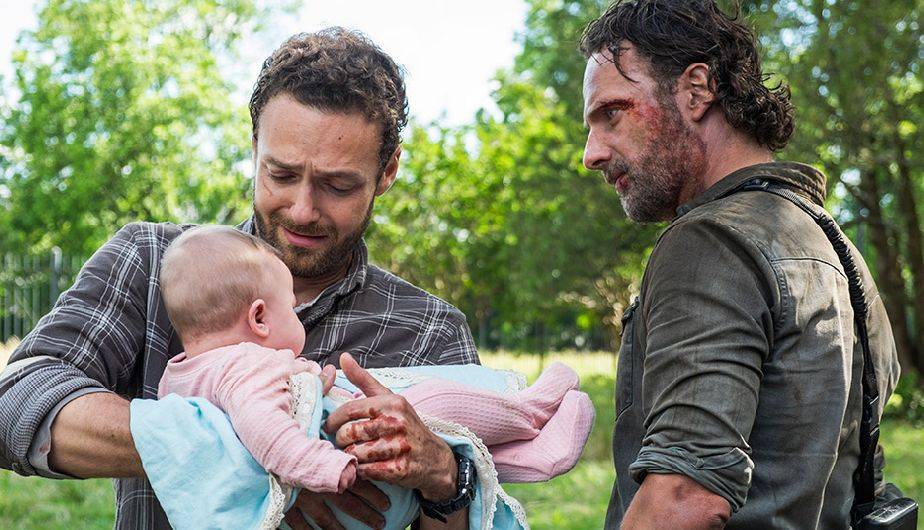 L'amore per Gracie e il senso di protezione nei suoi confronti fungono da filtro a tutto il male che si respira nel corso del resto della puntata di The Walking Dead.
La vita e la morte sono nuovamente in conflitto tra di loro. Proprio come i sorrisi di Ezekiel e Carol sono in conflitto con gli spari e le urla sul finale. Proprio come, ancora, Jesus e Morgan sono in conflitto con se stessi e tra loro.
Nell'aprirsi dell'episodio veniamo immersi nei fischi dei Salvatori, quasi come se gli autori ci volessero far fare un tuffo nel passato. E' una mossa abile per ricordarci chi è il vero nemico, per farci capire ancora perchè si è arrivati a questo punto. Rick fa la stessa cosa con Morales: gli spiega che cosa è successo a Glenn, cosa significa chiamarsi Negan.
"Ho perso la mia famiglia, ho perso la testa. Ero in un rimorchio a dormire aspettando la morte, aspettando di diventare niente. I Salvatori mi hanno trovato, hanno pensato che io valessi qualcosa, che valesse la pena portarmi con loro. Quindi sì, sono Negan. Per arrivare fin qui, per sopravvivere, dovevo esserlo. Dovevo essere qualcosa, proprio come te."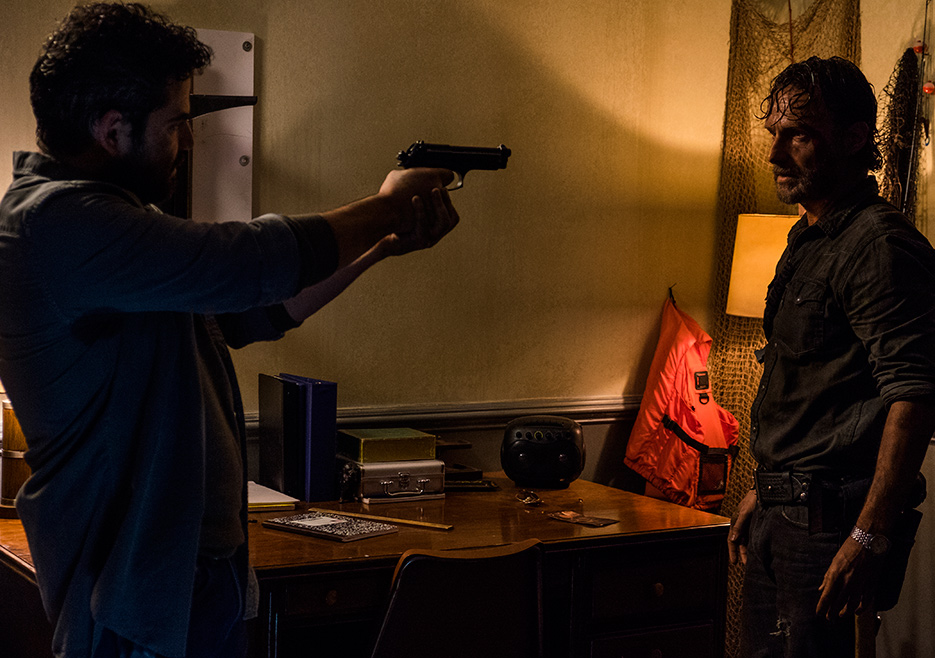 Il dialogo tra i due è molto interessante. Lo spirito di un passato che sembra troppo lontano torna per parlare con Rick Grimes e fargli capire chi sarebbe potuto diventare se avesse perso davvero tutto. Il confronto è inevitabile, proprio come lo fu con Morgan nella puntata "Clear" della terza stagione. Morgan e Morales scelsero di affrontare da soli il mondo di The Walking Dead. Ma da soli non si può sopravvivere. 
Per quella scelta il prezzo da pagare fu alto. Morgan perse la moglie e poi il figlio e per Morales, ora lo sappiamo, è stato lo stesso. Rick ha dovuto fare i conti con la scomparsa di Lori e di tante altre persone, come non stenta a ricordarci. Ha visto la sua famiglia morire davanti a lui, a volte anche per scelte sue.
Rick però aveva qualcosa in più per cui combattere. Aveva la stessa ragione per cui era disposto a perdere Carl e Michonne nell'ultimo scontro ad Alexandria. Egli aveva ed ha la consapevolezza di combattere per qualcosa di più grande, proprio Maggie ed Ezekiel. 
E' proprio questo il motivo per cui l'ex sceriffo prova a fare breccia nel cuore di Morales, quel fratello sconosciuto. Gli chiede della sua famiglia (è in quel momento che la sua pistola si abbassa). Spiega che vorrebbe trovare un'altra soluzione, che è disposto a rischiare esattamente come fece con Morgan. Lo fa perché deve per forza esserci un modo per andare avanti che non sia rinunciando a tutto. 
Rick domanda "anche tu sei Negan?". Morales risponde. Proprio in quel momento compare Daryl che, nonostante tutto ciò che i Salvatori gli hanno fatto e nonostante ciò che ha perso per arrivare fin lì, non si è piegato. Non ha rinunciato a se stesso e ha mantenuto il suo nome. E' lì che sta la differenza.
Morales risponde e la risposta è sbagliata.
"Sono morti. Lungo il cammino tu sei morto insieme a loro, come ho fatto io con loro. Ecco quello che so Rick"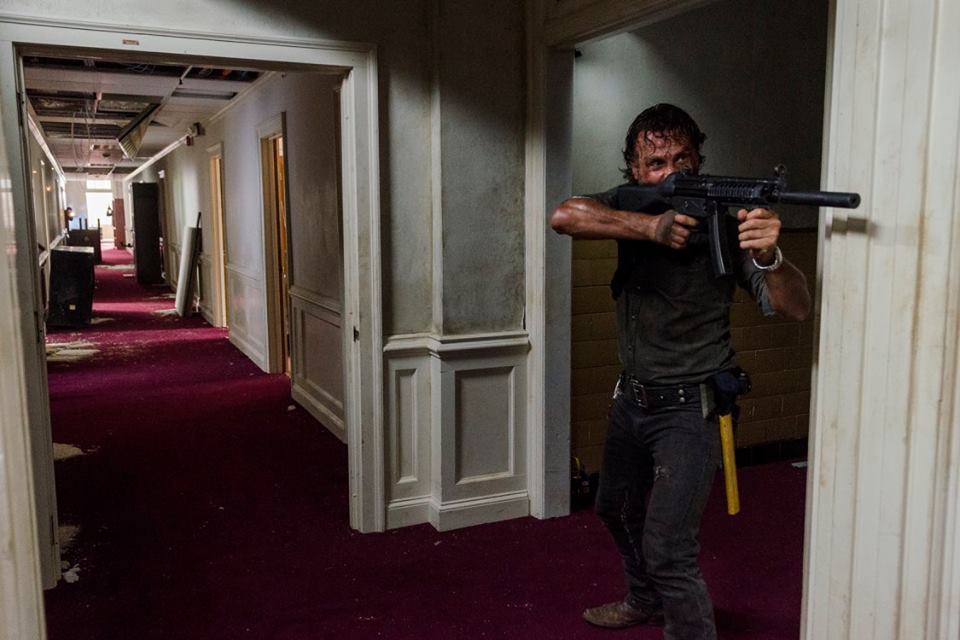 Ormai si è arrivati ad un punto, in The Walking Dead, in cui il dolore provato o causato non può più essere una scusa per le azioni che vengono compiute.
Chi è in grado di capirlo sopravvive con la testa sulle spalle, chi non può accettarlo o muore o impazzisce.
Per questo Aaron riesce a prendere Gracie tra le braccia dopo aver visto morire e trasformarsi la persona che amava. Per questo Rick continua ad andare avanti e a non rimanere totalmente impassibile davanti alla morte. E, sempre per questo, Morgan e Morales non sono mai riusciti a riprendersi.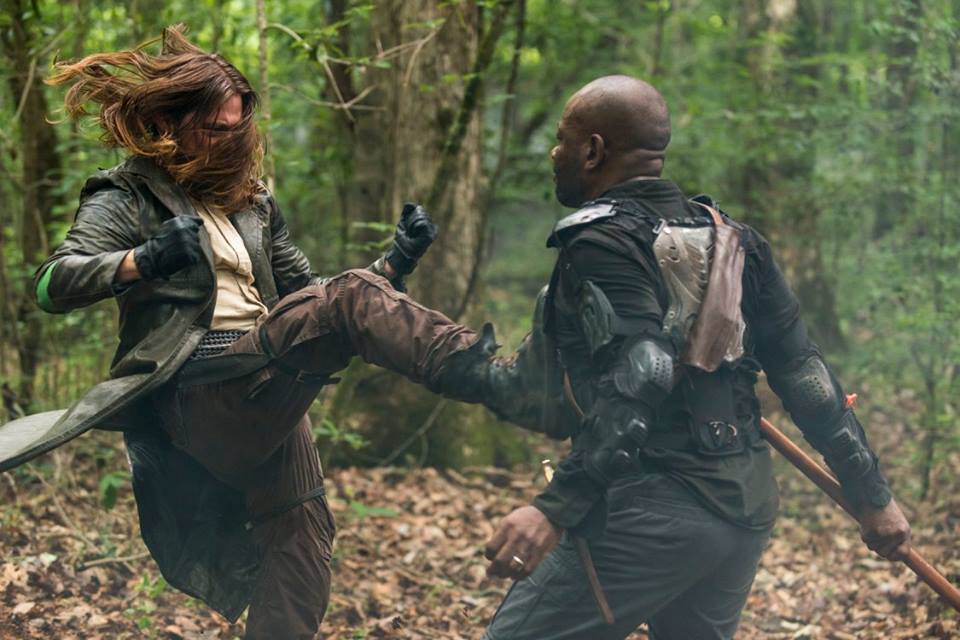 "Noi siamo uguali, quindi non c'è scelta. Tutti si trasformano."
Il ritorno alla pazzia di Morgan merita una riflessione importante. E' impossibile non ricordare le sue scritte "CLEAR" o "TUTTI SI TRASFORMANO" mostrate in varie puntate nelle precedenti stagioni di The Walking Dead.
Tutti si trasformano perchè questo mondo riesce a tirare fuori il peggio da chiunque. L'unica cosa che si può fare quando il "mostro" viene a galla è conviverci, accettarlo come parte integrante di se stessi. Rick lo ha fatto, Daryl lo ha fatto, Maggie lo ha fatto e anche lo ha fatto anche lo stesso Glenn. Bisogna accettare l'impulsività, la rabbia, il dolore. Solo così si potrà trovare un modo per sconfiggerli e ritornare, almeno in parte,in sè. 
Quindi Jesus prova a ragionare con Morgan. Gli dimostra che è possibile andare avanti pur avendo una lama puntata alla gola. Fa una scommessa (esattamente come fece Rick in "Clear"): gli lancia il bastone perchè è sicuro che lui non lo ucciderà. Allo stesso modo convince Maggie a far entrare a Hilltop i Salvatori che si sono arresi, perchè è sicuro che ci sia un modo per arrivare alla pace.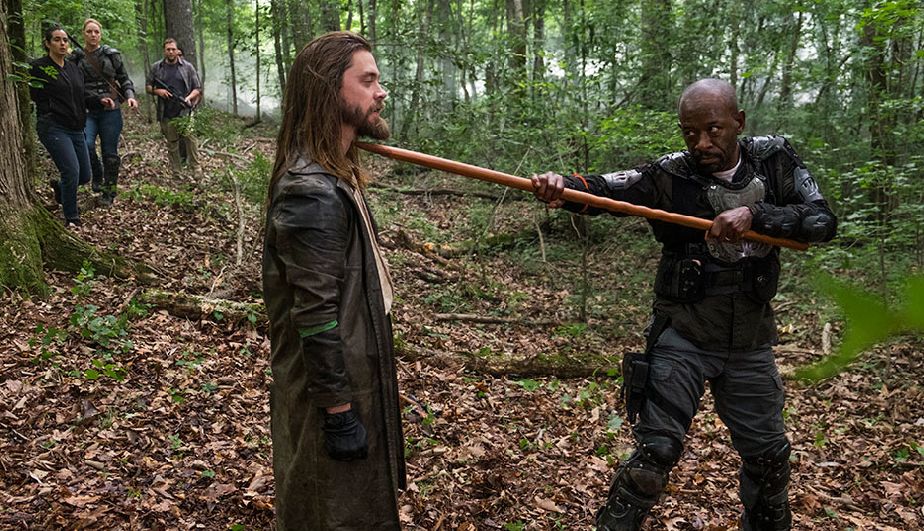 Trovare un compromesso e aprire i cancelli di una comunità sarà sempre più difficile in The Walking Dead. Però la storia ci insegna che per quanto difficile, fidarsi delle persone e dar loro una possibilità, è sempre più importante.
In nome di questo principio Maggie accetta di far entrare di nuovo Gregory, nonostante il tradimento. Magari un giorno avrà la possibilità di dimostrare qualcosa, proprio come Padre Gabriel. Gli uomini del Regno e di Alexandria si prendono il disturbo di accoltellare i morti e coprirli come un telo, perchè lì sotto potrebbero esserci proprio loro.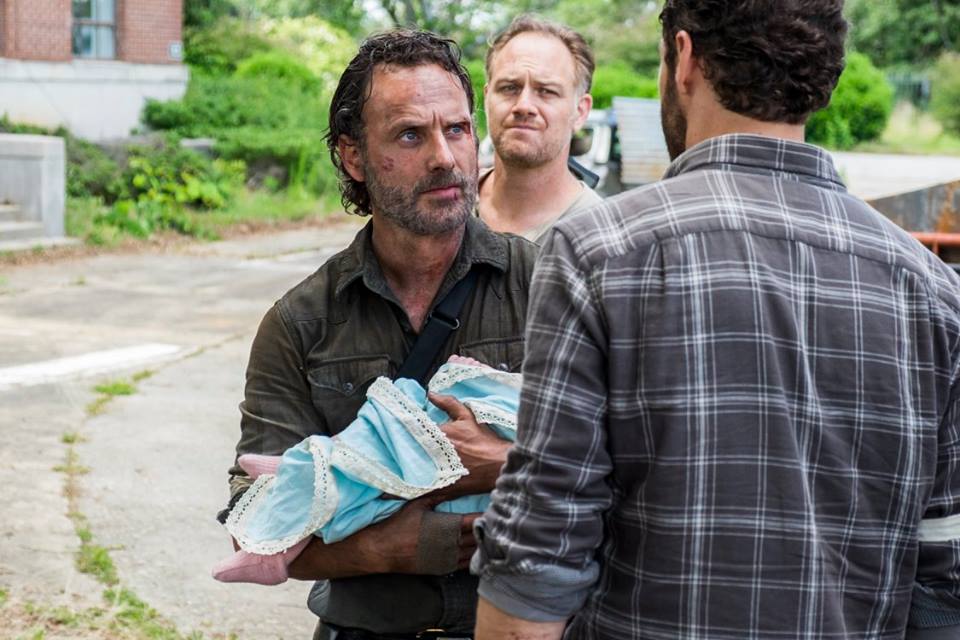 In nome di questo, sempre, in una delle scene finali ci viene regalata un ritaglio che ricorda tantissimo la terza stagione in cui Rick perse Lori.
Il primo piano sullo sguardo di Aaron (come fu per Rick), sollevato solo dal pianto ovattato della neonata. Poi il passaggio, da braccia a braccia, per trovare un porto sicuro alla speranza per cui tutti stanno combattendo.
Per avere sempre ben chiara la ragione di questa guerra. 
Vi lascio con il promo e lo sneak peek del prossimo episodi sottotitolati dalla nostra gemellata The Walking Dead ITA ! Passate dalla loro pagina a questo link e mettete un bel 'mi piace'! Se avete problemi ad aprire il video cliccate qui.
https://www.facebook.com/thewalkingdeadita/videos/1452218921562438/
Non dimenticatevi di passare anche dai nostri amici di Caryl Italia , Dwighty Boy – Austin Amelio Italia , Norman Reedus Italia. The Walking Dead-Italy , The Walking Dead Italia e FIGHT the Dead. FEAR the living – The Walking Dead gdr . The Walking Dead Pagina Italiana . Don't Open Dead Inside!