Tra poche ore in America uscirà il nuovo episodio di The Walking Dead, dove vedremo cosa sta succedendo a Maggie, Jesus e gli altri. Ma prima di spostarci ad Hilltop, concentriamoci un attimo su ciò che abbiamo visto nella 7×13. O meglio ciò che non abbiamo visto.
Nell'ultima scena dell'episodio vediamo Morgan di spalle mentre affila il suo bastone. Improvvisamente si ferma, e una certa sensazione lo fa girare e guardare intorno, come se cercasse qualcuno. Solo un gesto inconscio? O ha pensato che ci fosse qualcuno? Se così fosse, non è l'unico ad averlo pensato. Molti fan credono che ci sia una persona dietro di lui, probabilmente dentro casa, a spiarlo. E potrebbe essere possibile. I creatori di The Walking Dead non smettono mai di sfidare i propri fan, trovando sempre un modo per tenere alta l'attenzione ai dettagli.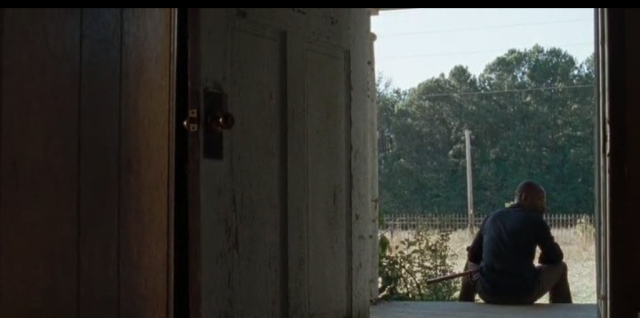 Ma questa volta Scott Gimple – produttore esecutivo della Serie e scrittore dell'episodio 7×13 – ci ha dato una risposta ben precisa sulle supposizioni dell'ultima scena dell'episodio, smorzando tutto il nostro entusiasmo. Ecco la sua risposta:
Io credo che sia semplicemente in una condizione di ipervigilanza. Ad ogni piccolo suono, lui scatta, a causa del luogo in cui lui si trova. Ma non c'è nessuno in casa.
Se vi state chiedendo a quale luogo si riferisca, eccovi accontentati. Riguarda lo stato mentale in cui si trova. Morgan, con la morte di Benjamin, sta rivivendo il dolore che ha provato in passato, con suo figlio Duane. E sta ripercorrendo la strada che precedentemente lo ha portato alla pazzia. Ma ora è fermo nel mezzo. Gimple continua:
Morgan è in quel luogo dove non sta bene. Non è del tutto andato, al momento. Lui non è lì, ma è lì.
Morgan è a un passo dalla pazzia, ma è fermo lì. Probabilmente è grazie a Carol se Morgan non ha permesso ai suoi demoni di prendere di nuovo il sopravvento su di lui. Lo ha fermato nel momento giusto, gli ha dato la possibilità di non fare quel passo. E forse questa volta potrebbe salvarsi. Ma la rabbia che prova, i demoni che ha dentro, non lo abbandoneranno facilmente. Adesso è tornato ad uccidere, e vuole uccidere. Ma forse, questa pausa, lontano da tutti, potrebbe fargli ritrovare un po' di pace. Staremo a vedere.