Spesso le Serie Tv ci fanno in***zare. Succede soprattutto quando siamo affezionati parecchio a un dato prodotto, diventando più insensibili a eventuali controversie. Nel mio caso questo accade con The Walking Dead. Ho cominciato a seguire la Serie Tv in concomitanza con la seconda stagione, quindi è nel mio personale database seriale da circa 7 anni.
Riconobbi già allora, appena pischello, le potenzialità di un prodotto innovativo e realistico. E le potenzialità, peraltro, sono state sfruttate alla grandissima nelle prime stagioni.
Il primo The Walking Dead è in grado di cavalcare perfettamente la ventata di freschezza che già aveva caratterizzato il fumetto. Ho amato la sfaccettatura di ogni singolo personaggio, così come ho adorato la personalità di due villain riuscitissimi come Shane e il Governatore. Considerare quel The Walking Dead al livello qualitativo dei mostri sacri del periodo non è così scandaloso.
Archiviata la storyline di Philip Blake è oggettivo che la Serie abbia accusato un calo drastico, paradossalmente proprio quando il suo pubblico è cresciuto esponenzialmente in Italia e nel mondo. Il format di 16 episodi, pensato appositamente per sfruttare l'enorme successo, appesantisce la trama in maniera eccessiva: una mera scelta commerciale non supportata da uno sviluppo narrativo sempre adeguato.
Villain via via sempre meno interessanti, proliferazione di episodi filler, CGI mai eccelsa e, addirittura, peggiorata col passare delle stagioni, hanno fatto crollare il mio livello di tolleranza. Se non altro la sesta stagione ha coinciso con una ripresa netta della qualità media delle puntate, complice un climax ascendente che ha ottimamente preparato il campo all'arrivo di Negan.
E quindi ecco il cattivo che avremmo amato odiare. Colui che avrebbe dovuto riportare The Walking Dead ai fasti di un tempo. Per superare l'impasse in cui era caduta la quinta stagione.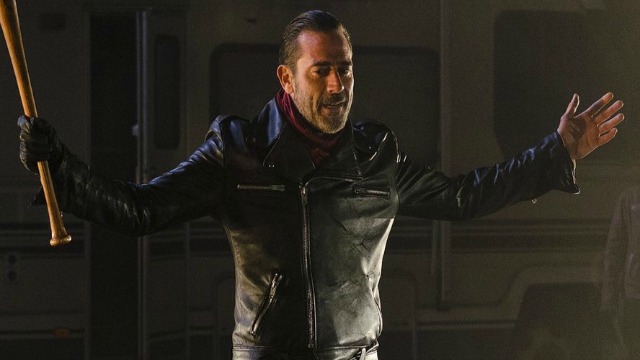 Negan è stato presentato in pompa magna, anche in virtù del gran personaggio che è nel fumetto. Raramente si è visto un hype del genere nei confronti di una new entry nel cast, ancor più di rado una fiducia incondizionata. Ancor prima di vederlo sullo schermo. E, effettivamente, le premesse sembravano esser state rispettate in toto: il monologo a cavallo di sesta e settima stagione, l'incredibile performance nella premiére preannunciavano un personaggio memorabile. (Quasi) tutto fumo negli occhi.
La settima stagione non mantiene le aspettative negli episodi a venire e il motivo principale può essere imputato proprio alla gestione di Negan. Chiaramente non lo si può ammirare ogni settimana perchè il cachet dell'ottimo J.D. Morgan è quello che è, ma il problema è proprio quando appare sullo schermo. Le sue azioni nei confronti degli uomini di Rick rasentano il ridicolo, tra vite risparmiate inspiegabilmente e frasi a effetto fini a se stesse.
Si arriva così al mid-season finale, la goccia che ha fatto traboccare il vaso, per quanto mi riguarda. Concettualmente, 'Hearts Still Beating' è un episodio che ha la sua ragion d'essere, come emerge anche dalla recensione dell'episodio. D'altra parte la prima, vera, reazione del gruppo di Rick dopo la morte di Glenn e Abraham sarebbe dovuta essere esaltante.
Il problema è che tra il dire e il fare c'è di mezzo un oceano quando si tratta di The Walking Dead. E il modo in cui agisce Negan in questo episodio è quanto di più parossistico ci possa essere.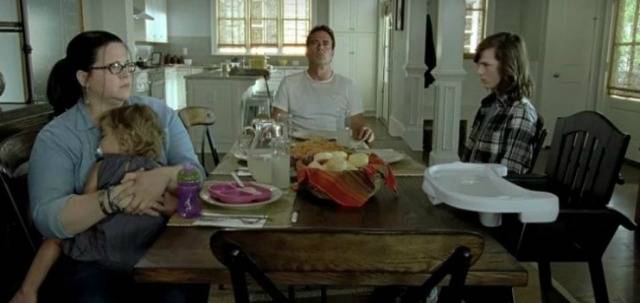 Sembra, infatti, che l'obiettivo di Negan sia quello di fare un favore a Rick. Passi salvare Daryl e Carl, malgrado le loro intenzioni di vendetta, passi anche non mostrare alcuna pietà contro i suoi stessi uomini, uccidendo l'unico dottore del suo accampamento. Ammazzare Spencer, che aveva mostrato piena disponibilità a tradire gli alexandriani fa già storcere il naso. Risparmiare la vita anche a Rosita, beh: è veramente troppo.
Sarebbe anche plausibile che Negan odi i doppiogiochisti e che, per questo, abbia posto fine all'esistenza di Spencer. Ma allora bisognerebbe rivedere il suo background; mostrare come sia riuscito a consolidare il suo potere. In sostanza mettere bene in evidenza su quali basi si regga il suo regno del terrore. Non si può pretendere di dare tutto per scontato perchè, mal che vada, nel fumetto il tutto è ben esplicitato (malgrado il frenetico stile di Kirkman).
Quanto a Rosita, la sua storia nel dopo Abraham ha preso una piega molto più che irritante. La sua è un'evoluzione poco coerente con quanto vissuto in passato e, ammettiamolo: i lamenti inutili battono anche la gnoccaggine. Il tutto sfocia nel goffo tentativo di uccidere Negan, che assume contorni molto più che trash (impietoso e superfluo confontarla con la medesima scena nel fumetto).
Ma, tornando a Negan, per quale motivo la lascia in vita? La spiegazione "logica" è che la sua punizione si riversi sugli altri, in modo che chi si oppone ne porti il peso sulla coscienza. Perchè, allora, guarda caso, a morire è l'insignificante Olivia e non un personaggio più quotato? Possibile che il cattivo che avremmo amato odiare non si renda conto del pericolo di continuare a lasciare in vita i membri più abili e coesi del gruppo di Rick?
La sceneggiatura di The Walking Dead non è più così solida da poter sorvolare su questioni del genere. Per di più, se pensano che uno scippetto sullo zigomo di Rosita possa essere considerata da noi spettatori una punizione degna di un villain iper badass, allora significa che ci stanno mancando di rispetto.

Questo particolare momento è troppo anche per un fan affezionato come me. Ho continuato – e continuerò – a seguire la Serie, ma in maniera decisamente più disillusa. Attribuisco le colpe principali agli sceneggiatori che, finora, con Negan, hanno solo dato vita a una grande operazione di marketing. Nel mentre, la trama va quasi a farsi benedire, rovinando anche quel poco di buono che c'è.
Un tempo, ad esempio, avrei versato sincere lacrime per la scena finale dell'episodio, che vede i "nostri" finalmente riuniti e pronti a organizzare il contrattacco. Al culmine di un episodio che mi ha mandato su tutte le furie, tuttavia, l'unico sentimento che riesco a palesare è l'indifferenza. A questo punto la domanda potrebbe giungere spontanea: perchè, semplicemente, non smettere di guardarla?
I cuori battono ancora, recita, curiosamente, il titolo dell'episodio.  E lo stesso vale per me. Malgrado il mio sdegno, il mio cuore batte ancora un po' nei confronti di The Walking Dead. Può anche essere che, quando ti affezioni a qualcosa, una persona come una Serie, la speranza è l'ultima a morire. Anche se tutto va a rotoli continui a pensare che possa cambiare in meglio. Appuntamento, quindi, a Ottobre per provarci ancora.
Non dimenticatevi di passare da qui: Norman Reedus Italia, The Walking Dead ITA . The Walking Dead-Italy , The Walking Dead Italia , TWD – Am I the only one Zen around here? Good Lord. . Caryl Italia, Andrew Lincoln Italy, Daryl Dixon ITA e FIGHT the Dead. FEAR the living – The Walking Dead gdr . The Walking Dead Pagina Italiana ! In più vi consigliamo un canale YouTube di un nostro affiliato Don't Open Dead Inside !
Partecipiamo all'iniziativa #ItalyWantTWDtoo con il gruppo su Facebook!