The Walking Dead è tornato. Ed è tornato col botto. Una puntata scoppiettante, di quelle che non si vedevano da un pezzo. Piena di azione e di cose che succedono, per davvero. Per quanto non abbiamo ancora perdonato il pasticcio fatto con la finta morte di Glenn nella prima parte di stagione, col coreano uscito vivo da una situazione in cui era oggettivamente impossibile uscire vivi, grazie a questa 6×09 The Walking Dead riprende ritmo, tono e credibilità. Perchè torna ad essere truce e spietato, ma anche molto molto emozionante. Insomma, i presupposti per ben sperare in questa seconda mandata ci sono davvero tutti. Una puntata pazzesca, ma la descrizione globale la lasciamo per domani, quando uscirà la nostra consueta recensione. Intanto, queste sono le pagelle dei personaggi, che come al solito non potevano mancare. Go!
CAROL 6,5 – Molto meno incisiva e presente del solito, quasi nulla anche per il poco spazio concessole, questa volta. Ma la realtà è che è diventato un personaggio talmente potente che bastano 3 minuti di scena per emozionarsi. Stile inconfondibile, carisma da vendere. Una che incute timore e rispetto soltanto a guardarla. La sua diatriba con Morgan non finisce certo qua, intanto si dimostra al solito coraggiosa quando c'è da scendere in battaglia (ma stavolta non è l'unica). Ed è indiretta colpevole della morte di Jessie e figli: quel povero bambino l'ha talmente terrorizzato da portarlo alla follia. I fan però non disperano, anzi: la famiglia di Jessie non era proprio all'apice degli indici di gradimento generali.
JESSIE 6 – In fin dei conti, era l'unica della sua famiglia a non essere antipatica. Anzi. Si stava dimostrando sempre più coraggiosa. Personaggio senza particolari qualità e che non spiccava certo per personalità, ma un buon elemento di contorno. Soprattutto per Rick, che ormai le aveva messo occhi e mani addosso ma si sa, il Grande Capo in amore è il più sfigato degli sfigati. Muore perchè non riesce a reagire davanti al figlioletto sbranato dagli zombie davanti ai suoi occhi: comprensibile.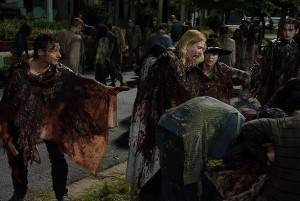 RON E SAM 4 – Tale padre, tali figli. L'intelligenza non era proprio una qualità di famiglia, la simpatia neppure. Così Ron e Sam fanno una brutta fine, incapaci di autogestirsi e di trattenere le loro emozioni. Fin troppo instabili per sopravvivere in un mondo come quello. La verità è che non ci mancheranno.