La puntata di The Walking Dead 10×09, dopo la solita brevissima introduzione, riparte esattamente da dove ci aveva lasciati.
Nessun salto temporale per ricominciare, nessuna attenzione agli altri personaggi. In The Walking Dead 10×09 il nostro gruppo è in pericolo, è in guerra. E in guerra, si sa, ogni secondo è fondamentale e decisivo.
Nella grotta, protagonista indiscussa della puntata, c'è un po' di tutto. C'è un mix di emozioni ed elementi in cui facciamo fatica a districarci. Ci sono la paura e la determinazione, ci sono i risentimenti per Carol che ha condotto tutti in quella trappola. Ci sono i sensi di colpa personali per non aver dato importanza alle situazioni lasciate in sospeso là fuori (Magna nei confronti di Yumiko). Ci sono la voglia di uscire e la necessità di controllare gli istinti di fuga. Ovviamente ci sono anche i vaganti, tantissimi vaganti, pronti ad approfittare di qualsiasi passo falso.
E poi c'è lo sguardo che ha causato tutto, quello tra Alpha e Carol. Lo sguardo tra due madri che hanno perso il loro bene più prezioso: un figlio. Lo sguardo tra due donne che non possono coesistere in uno spazio così piccolo. Carol che pensa di non aver più un motivo per respirare se non la voglia di vendicarsi, Alpha che per vivere si nutre di sofferenza altrui. Un connubio perfetto, una sentenza già segnata.
L'urlo di Carol è quanto di più straziante si possa sentire all'inizio di questa puntata.
E' un grido liberatorio con cui la donna vuole far sapere ad Alpha che la battaglia è ancora aperta, che la stessa identica guerra che combattono da mesi non si è ancora conclusa.
Ed è proprio così. La guerra non è finita e il primo obiettivo per rientrare in campo è trovare una via d'uscita da quella grotta. Qualcuno deve fare il primo passo e, da nuovo leader, Daryl fa esattamente ciò che avrebbe fatto Rick: apre la strada, mostra la via. Sasso dopo sasso, salto dopo salto, paura dopo paura. Aspetta ognuno dei suoi compagni e si fa carico delle decisioni da prendere. Crea un varco, una speranza, in una caverna buia illuminata solo da una debole fiaccola, rappresentativa della sua determinazione.
Non c'è tempo per tutto ciò che viene mostrato nei primi minuti: risentimenti, paure, sensi di colpa. L'importante è restare in campo, restare vivi e concentrati sull'obiettivo. Restare uniti, proprio come dice Daryl. "Siamo finiti qui insieme e ne usciremo insieme.". E aggiunge "seguitemi" perché è il suo compito, non quello di qualcun altro.
Nelle sue parole aleggiano gli spettri di tutti quelli che prima di lui hanno dovuto provvedere a riportare la luce in un gruppo devastato. Glenn usò parole simili dopo le disavventure di Terminus e dell Grady Memorial di Atlanta "possiamo farcela, ma ce la faremo solo insieme". Rick ha sempre fatto del "sopravviviamo restando uniti" la sua corazza contro ogni nemico. Adesso che Rick e Glenn non ci sono più è proprio Daryl a dover avere quella forza e a far capire a tutti quali siano le priorità.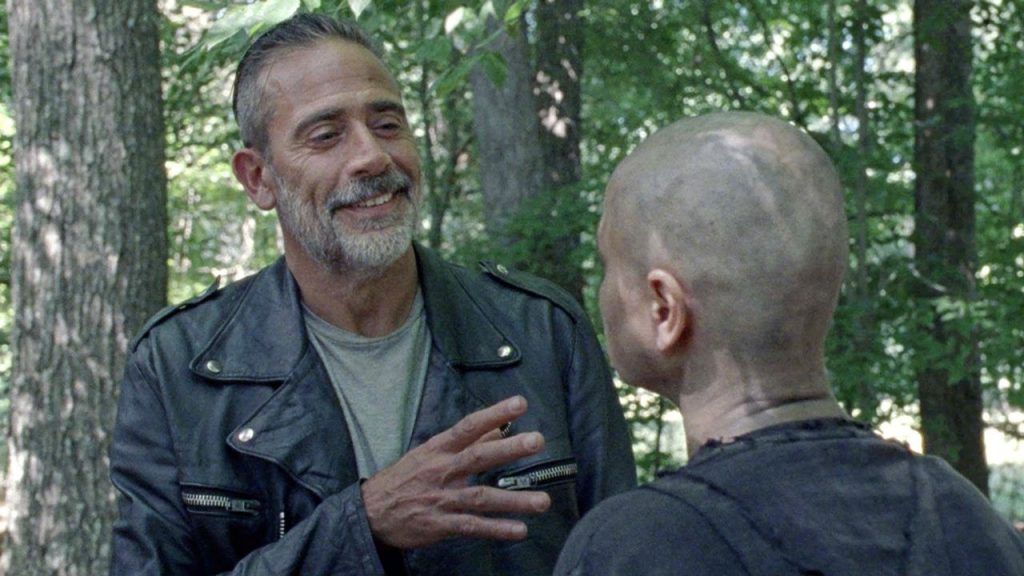 Hanno tutti molto da capire, così come Negan. Negan è sempre stato un buon osservatore e da quando ha provato ad entrare tra le righe di Alpha non ha perso le sue buone abitudini. Parla tanto, ma studia ancora di più. Le dinamiche del "branco", gli sguardi di Beta, la sottomissione di Gamma e il suo possibile tradimento. Agli occhi esperti dell'ex leader dei Salvatori non sfugge più niente ormai. Gli basta poco per comprendere che c'è qualcosa che rende inquieta Gamma e ciò che rende inquieto un nemico è proprio ciò che serve per trovare una sua debolezza.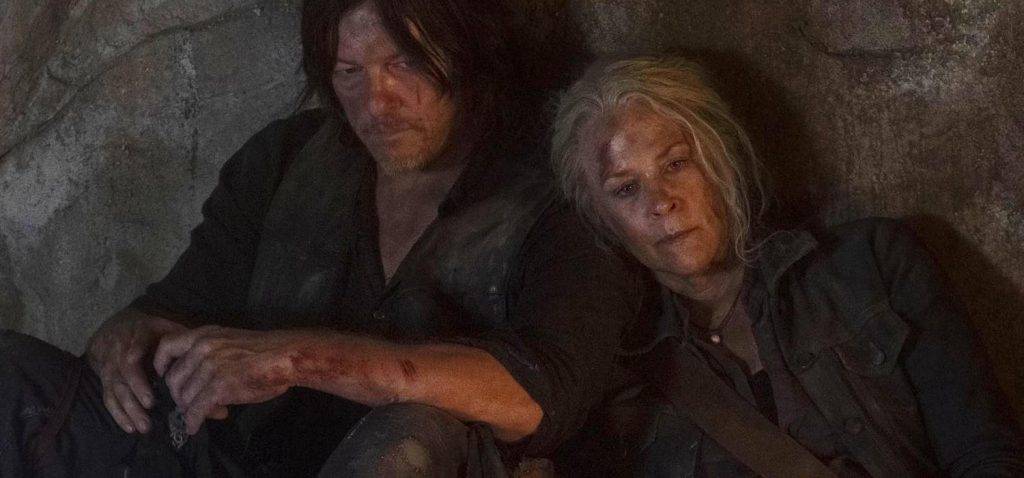 Ha molto da capire Magna, troppo concentrata su ciò che vorrebbe per il suo gruppetto per avere una visione globale della situazione. Ha molto da capire anche Carol che Daryl prova a dissuadere dal prendere pericolose iniziative personali.
"Se avessi passato quello che hai passato tu proverei lo stesso desiderio. Ma io mi fermerei se me lo chiedessi tu. Lascia perdere tutto questo. Devi farlo. Stai mettendo in pericolo le persone a cui tieni."
Ogni decisione presa personalmente è una decisione che mette in pericolo il gruppo.
"Non dirmi stronzate. Devi promettermelo. Voglio la certezza che siamo dalla stessa parte. Lottiamo per il nostro futuro, non lottiamo per la vendetta".
Daryl parla a Carol ma è come se parlasse un po' a tutti. Parla a Magna che cerca una strada da sola e viene aggredita. Parla a Kelly che pensa di aver trovato nei candelotti di dinamite la via di uscita, ma non valuta tutti i rischi. Parla a Carol che, spezzando la promessa fatta, crolla sotto il peso di quel tradimento.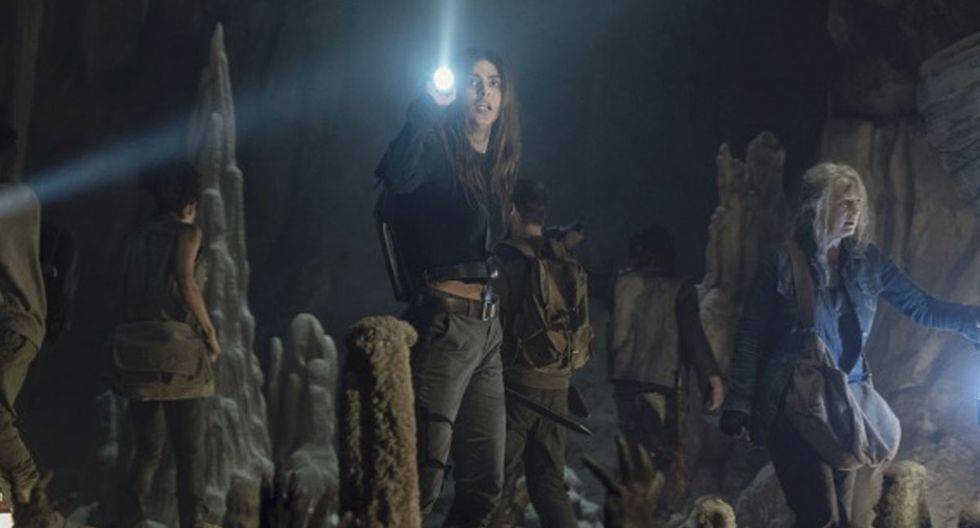 Se il concetto è chiaro allora si combatte insieme, anche contro le ombre. Se la squadra è unita e pronta a giocare, allora è giusto ribadire la regola principale di The Walking Dead. Da solo non puoi niente, devi avere qualcuno a guardarti le spalle. Devi avere qualcuno che ti tiene la torcia mentre strisci per terra. qualcuno che ti stringe la mano e ti dice che stai bene anche se sei sotto terra e soffri di claustrofobia. O che ti da un suggerimento vitale senza il quale saresti rimasto incastrato perdendo la vita. O che ti afferra prima che tu possa cadere in un baratro pieno di zombie.
Nel branco di Alpha non funziona così. E' esattamente il contrario. Devi sempre guardarti le spalle, non puoi sapere chi sta aspettando di trovare una tua debolezza e usarla contro di te. Negan accusa Gamma, Gamma fugge e rende Negan una persona di cui fidarsi. Alpha lo accetta e vuole premiarlo, ma fino all'ultimo secondo lo stesso, disinvolto, Negan dubita delle sue vere intenzioni. La sua fedeltà non è per lei. Non si fida di Alpha e quindi non riesce a credere che lei possa farlo davvero.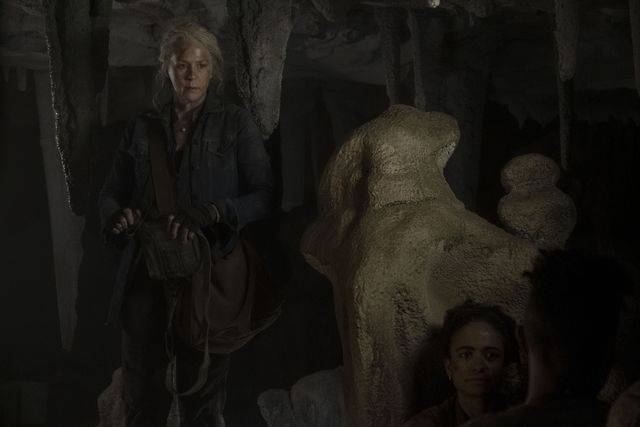 Invece nel nostro gruppo la fiducia nell'altro è tutto. Se decidi di fare una promessa, di stringere un giuramento e poi romperlo, quelle parole si rivolteranno sempre contro di te. Carol volta le spalle al gruppo e prende i candelotti di dinamite perché la sua voglia di vendetta è più forte anche del suo rapporto con Daryl.
Al contrario, lui non ha più una visione personale della situazione, per questo non la incolpa usciti dalla grotta. Ragiona in maniera più approfondita, ha gli occhi su tutto, ha deciso di esserci sempre per lei ma "le persone che ami cominciano a rimetterci". Se qualcuno sbaglia, ci rimettono tutti. E non c'è nulla che lui possa fare per cambiare quel dato di fatto.
Il peso di una promessa infranta equivale a una montagna che crolla, al sapere che non puoi aiutare chi è rimasto dentro perché il danno è troppo grande.
E a quel punto Carol, lasciata sola davanti al suo errore, deve decidere. Decidere definitivamente da che parte stare, decidere con chi vuole vivere. Decidere se vuole vivere.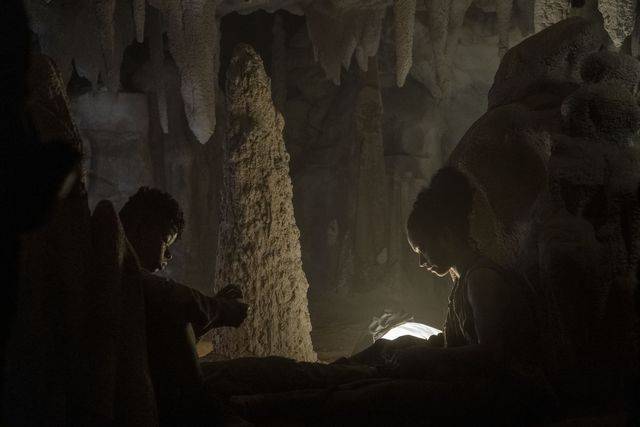 Vi invitiamo a passare dalla nostra gemellata The Walking Dead ITA Family sulla loro pagina Facebook.
Non dimenticatevi di passare anche dai nostri amici di: Caryl Italia e Dwighty Boy – Austin Amelio Italia, The Walking Dead Italia, FIGHT the Dead. FEAR the living – The Walking Dead gdr