Nella storia di The Walking Dead gli episodi dedicati ad un piccolo gruppo di protagonisti hanno sempre diviso il pubblico. C'è chi apprezza moltissimo l'approfondimento delle storie personali che inevitabilmente si riflettono sul presente dalla storia raccontata, oppure chi li definisce semplicemente "una noia" o "una scusa per non andare avanti con la trama". La puntata The Walking Dead 10×02 è stata Alpha-centrica.
Mentre la settimana scorsa ci eravamo ricollegati agli eventi della stagione precedente del nostro gruppo di protagonisti, questa volta siamo stati catapultati nella storia dei leader dei Sussurratori.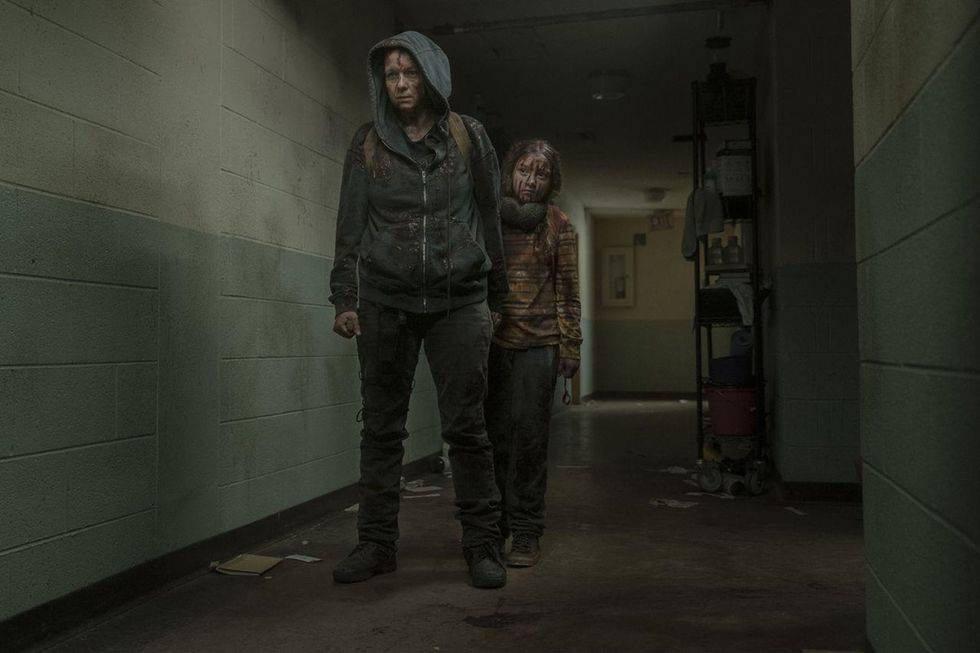 "Siamo tutti dei mostri ormai"
Una delle prime frasi dell'episodio apre la porta alle convinzioni della donna-madre Alpha che abbiamo imparato a conoscere. In un mondo di mostri per sopravvivere devi essere in grado di diventare un mostro, di non sentire niente, proprio come i morti che camminano.
Questa presa di coscienza non è nuova nel mondo di The Walking Dead. A partire dal Governatore ("in questo nuovo mondo o uccidi o muori. Oppure muori e poi uccidi"), passando per Terminus ("o sei preda o cacciatore") fino ad arrivare allo stesso Rick Grimes ("se non combatti muori").
Ciò che cambia non è la convinzione di dover uccidere e quindi di essere dei mostri, ma è la conseguenza di quella convinzione. Quello che ogni volta The Walking Dead è in grado di fare è di alzare l'asticella, spingere il limite del "mostro" sempre un po' più lontano da ciò che pensavamo essere il massimo.
E quindi ecco Alpha, la vera Alpha. Eccola nel momento in cui ha ufficializzato il suo essere non più solo donna e madre, ma anche la portatrice di un messaggio ben chiaro: "il mondo appartiene ai morti" e basta.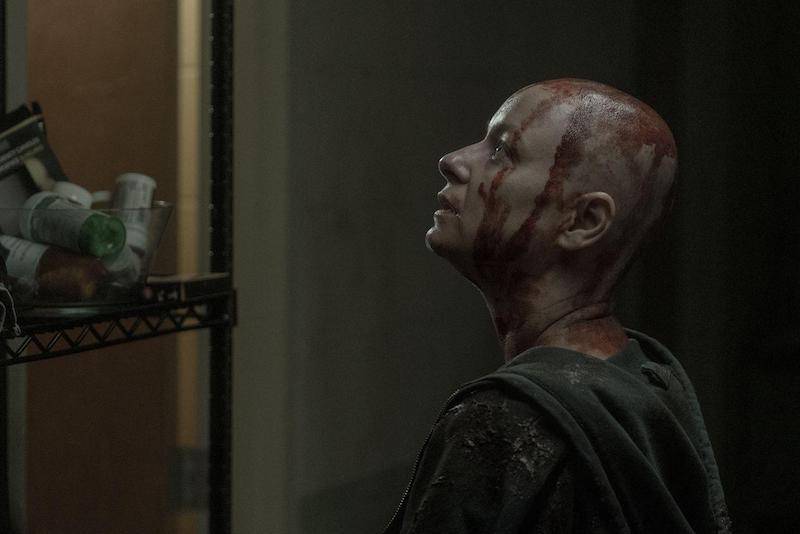 Trovare Beta è una tappa fondamentale del suo cammino. E' il momento in cui capisce di non essere la sola a pensare al nuovo mondo in un determinato modo. Beta ama il rumore dei morti, ama quel suono che in qualche modo lo tiene ancorato al presente. Indossa una maschera perché non vuole più avere un volto (lo ha eliminato anche da tutte le fotografie), perché il volto e le espressioni ti rendono fin troppo umano.
Trovare Beta è anche una sicurezza. E' lui di fatto a salvarle quella notte. A salvare la donna che potrebbe sopravvivere a qualsiasi cosa e a salvare Lydia, quella bambina che ad ogni costo vuole crescere e dimostrare a sua madre di essere forte come lei. Le ha salvate la prima volta, le salverà per sempre. Volenti o nolenti si diventa una famiglia anche così, nell'unione che solo il dolore può dare.
Beta diventa davvero parte di quella famiglia, di quel branco, nel momento in cui perde l'unica cosa che lo teneva ancorato al suo rifugio. In quell'istante può togliersi la maschera di lana e indossare quella del morto con cui l'abbiamo conosciuto.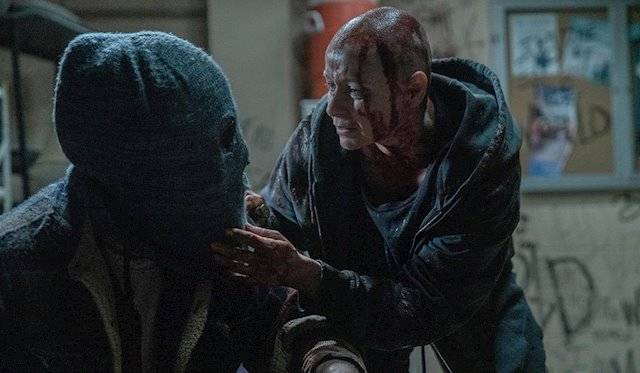 Le regole di Alpha però valgono per tutti, tranne che per Alpha stessa.
Lei è il capo, lei può decidere per sé. Non ha bisogno che qualcuno la controlli o la guidi, perché è lei a guidare. Così tutti devono superare le loro debolezze, tutto ciò che li tiene legati ad un mondo che non deve più esistere nelle loro menti. Tutti devono abbandonare la propria famiglia e trovare il coraggio di fare quello che fa Gamma.
Tutti devono imparare a camminare tra i morti. Tutti devono imparare a non piangere. Tutti tranne lei.
Sì, proprio lei. Perché lei, prima di essere Alpha, è una madre. E dal ruolo di genitore non si scappa. Anche in questo caso non è il dolore della perdita di un figlio a rendere diversi alcuni personaggi da altri, perché ormai sono in tanti quelli che li hanno dovuti seppellire (Rick, Carol, Michonne, il Governatore stesso, ecc.). E' la conseguenza di quel dolore che cambia il futuro e le azioni dei gruppi. L'unica verità è che la perdita di un figlio ti cambia profondamente.
Infatti anche la potente Alpha può tenere stretto un coniglietto e costruire un tempio per la sua bambina che è ancora viva e ha semplicemente trovato un modo alternativo al suo per andare avanti. L'ha totalmente rinnegata. Ha scelto amore e speranza, piuttosto che la sua convinzione di dover essere una morta che cammina.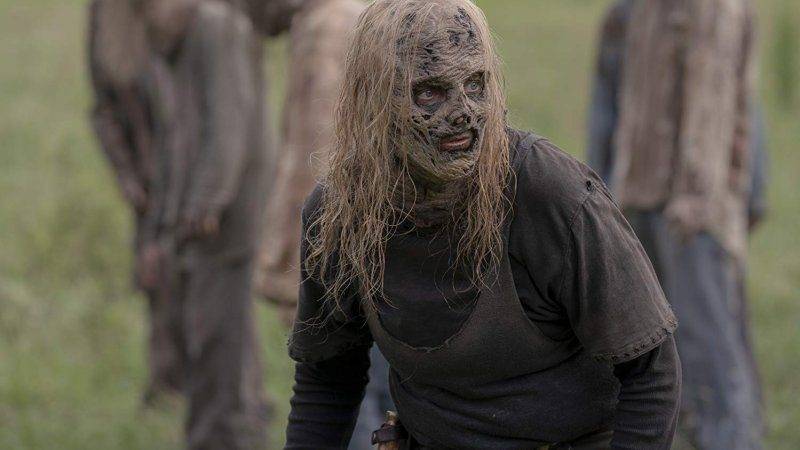 Alpha non poteva uccidere Lydia, non avrebbe mai potuto. Anche questo fa parte del suo complesso personaggio. E' più facile pensare di poterla convertire di nuovo, di poter uccidere intere comunità e riaverla indietro con sé.
E Beta non può contrastare Alpha, perché in qualche controverso modo è legato a lei. Sente la sua posizione minacciata quando Gamma viene nominata "terzo membro del comando", ma non per una strana gelosia. Lui teme che Alpha personalizzi Gamma come Lydia, diventando così una nuova debolezza per il capobranco.
Quindi sceglie l'unica strada possibile, ovvero quella del loro primo incontro. Sceglie di starle accanto ("tu sei nato per questo"), di combattere al suo fianco, di camminare insieme in mezzo ai morti e di essere insieme a lei "la fine del mondo".
Vi invitiamo a passare dalla nostra gemellata The Walking Dead ITA Family sulla loro pagina Facebook.
Non dimenticatevi di passare anche dai nostri amici di: Caryl Italia e Dwighty Boy – Austin Amelio Italia, The Walking Dead Italia, FIGHT the Dead. FEAR the living – The Walking Dead gdr