[Attenzione! Rischio Spoiler!]
4 aprile 2016. Data indimenticabile per un fan di The Walking Dead. L'attesa è durata esattamente duecento due giorni. Sospesi in uno spazio temporale tutto nostro, privo di certezze, abbiamo vissuto nell'ansia più totale. Distrutti, in ginocchio, chiudevamo il cerchio dei protagonisti di un'insaziabile follia: Lucille ha messo a dura prova la nostra indifferenza. Quella indifferenza che avremmo voluto provare quando, da una soggettiva agghiacciante, scorreva sangue e consapevolezza di una perdita fondamentale nel gruppo. Una conta senza pietà ha inquietato ogni spettatore e ha reso il finale di stagione tra i più macabri delle serie tv di tutti i tempi. L'artefice del destino di Rick Grimes, dei suoi compagni e delle nostre anime in pena ha un nome: Negan, uomo di una cruenta schiettezza e di una disarmante freddezza.
The Walking Dead ci ha insegnato che in un mondo post-apocalittico non si può far altro che dimenticare. Dimenticare la vita a cui si era abituati per trovare se stessi in una situazione totalmente nuova. L'altruismo non trova un posto in una terra fertile di odio e di rancore. La bontà cede il posto alla spietata voglia di una seconda possibilità. La speranza diventa un sentimento debole, pressoché inutile.
Come uno schiaffo in pieno viso, come una mazzata sulla testa, ha fatto il suo ingresso nello show Negan, personaggio forgiato dalla lotta alla sopravvivenza e dalla mania di potere.
In questi sei mesi e mezzo abbiamo potuto immaginare un villain, abbiamo sognato di avere un erede del Governatore e abbiamo sperato potesse essere quanto più possibile somigliante al quasi riluttante Negan del fumetto. Con assoluta certezza, consapevole di ciò che sto per scrivere, posso dire che ha soddisfatto ogni nostra aspettativa.
Il ritorno, in tutti i sensi, di una delle narrazioni simbolo del panorama seriale è avvenuto in grande stile. Un folle, psicopatico e a tratti sadico cattivo ha rimesso le carte in tavola, le ha mischiate per poter iniziare una nuova partita dal sapore incredibilmente disgustoso. Questa nuova partita si chiama "Ti ucciderò", questa nuova partita è la prima puntata della settima stagione. Ed è stata vinta con una prepotente mossa: l'asso di bastoni che "piglia tutto", inaspettatamente.
In questi sei mesi ci siamo fidati di quei pochi minuti e ci siamo innamorati di un personaggio che sostanzialmente sarebbe da odiare. Forse ci siamo innamorati dell'odio che proviamo nei suoi confronti. Jeffrey Dean Morgan ha dimostrato di essere all'altezza di attori ormai fedeli alla serie tv, ha spiazzato tutti con la sua brillante interpretazione. Con qualche chilo in meno e sicuramente più elegante del Negan del fumetto, ha reso l'idea di ciò che ci aspetta: una stagione ricca di azione, paura e violenza.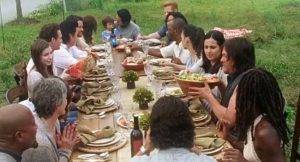 "Scommetto che pensavi che sareste invecchiati tutti insieme, intorno a un tavolo per il pranzo della domenica, felici e contenti. No, non funziona così Rick, non più."
Rick Grimes, leader indiscusso di questi sei anni di ansie e fatiche, è con le spalle al muro. Macchiato di sangue e di rabbia sensata, ha le mani legate per la prima volta, dopo tanto tempo. Nessuno è totalmente salvo, nessuna eccezione. Gli zombie sono solo una cornice di questo scenario che non lascia posto alle esitazioni.
Lucille ha sete. Negan non le permetterà di morire. Il filo spinato racchiude il legno freddo della mazza da baseball, pronto ad essere riscaldato dal sangue caldo di chi si ribellerà. Il morso di uno zombie al confronto è pura magia, musica per le orecchie dei sopravvissuti. Non si tratta più di vivere in un videogioco splatter, bisogna studiare le strategie per risolvere un enigma. Il più grande enigma che ci possa essere in questo contesto: cosa si è disposti a perdere pur di riavere momenti di vita quotidiana. I più semplici, i più umani.
"Ora non so con che razza di stronzi bugiardi abbiate avuto a che fare, ma io sono un uomo di parola. Le prime impressioni sono importanti, vorrei che mi conosceste."
Ciò che ne segue è probabilmente la scena più cruenta di The Walking Dead. In tanti l'hanno criticata per questo, tutti non la dimenticheranno facilmente. Abbiamo conosciuto Negan, ce l'aveva promesso ed è un uomo di parola. E' difficile decifrare un personaggio del suo calibro, ma ha reso il lavoro più semplice: ha dimostrato più volte le sue intenzioni e la sua maniacale prepotenza. Momento di pathos da dieci e lode, fedelissimo al fumetto in ogni minimo dettaglio. Ha suscitato emozioni forti e di ogni tipo, mettendo sullo stesso piano il fan fedelissimo e lo spettatore deluso dalle ultime stagioni. Tutti impauriti da una donna e il suo uomo: Lucille e Negan, più assurdo del Governatore con le sue teste negli acquari.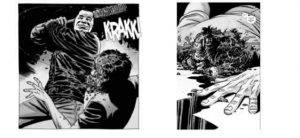 Fox ha permesso al pubblico italiano di seguire in diretta con gli USA la 7×01. In tanti si sono lasciati tentare, non hanno dormito. Dopo un'evoluzione degli eventi di questo tipo, chi lo farebbe?
Le reazioni alle morti sono state varie ma con un comune denominatore: nessuna certezza, nessuna pietà, paura per il futuro della serie e dei suoi personaggi, da Rick ad Aaron. Nessuno escluso. Tutti in pericolo.
Da adesso in poi prepariamoci al peggio, dobbiamo convivere con l'idea che, arrivata alla settima stagione, The Walking Dead decide ancora di spiazzare il pubblico e di non atterrare su una pista piena di banalità. Maggie ha perso la sorella, il padre, il marito ma deve andare avanti, per se stessa e per suo figlio. Non deve far vincere quella realtà che l'ha voluta al centro di crudeltà disumane. Come Maggie, dobbiamo stringere i denti e goderci ogni singolo momento della spettacolare presenza di Negan e delle conseguenti reazioni dei nostri personaggi preferiti.
Andrew Lincoln è cresciuto con la serie televisiva; anche i più scettici hanno ammesso di aver ritrovato un attore strabiliante, dando allo sceriffo lo giusto tono di un leader impotente.
Rick Grimes è cambiato in un mondo invaso da zombie pericolosi.
Rick, adesso,raccoglie l'accetta, osservando un ormai innocuo zombie in un mondo invaso da esseri umani che hanno perso il senno.
Rick accetta la sua condizione e si arrende. Almeno per ora.
Non dimenticatevi di passare da qui: Norman Reedus Italia, The Walking Dead ITA , TheWalking Dead-Italy , The Walking Dead Italia , TWD – Am I the only one Zen around here? Good Lord. , Caryl Italia, Andrew Lincoln Italy, Daryl Dixon ITA e FIGHT the Dead. FEAR the living – The Walking Dead gdr, The Walking Dead Pagina Italiana ! In più vi consigliamo un canale YouTube di un nostro affiliato Don't Open Dead Inside e Seriamente Tv!