-Non possiamo più tornare indietro.
-Posso camminare, magari correre un po', magari molto. Non vado da nessuna parte. Volevo imparare e tu mi hai insegnato.
-Perché ti vesti ancora così?
-Io sono quello che ero. Credo. E sarà più difficile vedermi al buio.
Finalmente stiamo assistendo anche alla tanto attesa evoluzione di Padre Gabriel che, pur avendo ancora molta strada da fare, si sta rivelando una piacevole sorpresa di questa seconda metà della sesta stagione. Ha preso coscienza dei rischi e dell'orrore, ha dovuto toccare il fondo per capire, ma alla fine lo ha fatto e si è messo in gioco. Lui è una delle prove viventi che il gruppo di Rick concede la Possibilità (con la P maiuscola), che tutti possono farcela se vogliono e che è possibile trasformare il proprio dolore in forza utile per sé e per le persone vicine.
-Non vuole uccidere..
–Neanche noi lo vogliamo. Non ci piace, ma capita.
La sintesi perfetta di tutto l'episodio è questa frase di Rosita. E' la pura e semplice verità. Il gruppo si distingue proprio per questo motivo da tutti gli altri: a nessuno piace uccidere, ma se serve bisogna farlo. E' abbastanza semplice. Non c'è divertimento, non c'è noia, non c'è gusto, non ci sono altre alternative. E' così. Capita.
-Uccideremo quelle persone stasera. Sono stato fortunato, non ho mai dovuto farlo prima d'ora. E tu?
-Sono stato fortunato anch'io. [..] Hai mai visto qualcosa e poi.. tu non volevi più dormire e non avevi fame perché ogni volta che chiudevi gli occhi lo vedevi? E quando provavi a mangiare..? [..] Anche io. Uccidere qualcuno deve essere ancora peggio, ne sono certo. Quindi sì..sono agitato per questa storia, per tutto.
Questo dialogo tra Heath e Glenn mi è particolarmente piaciuto ed è stato già discusso anche nella recensione. Senza stare a ripetermi, ho apprezzato che, arrivati ad un giro di boa così importante, entrambi i personaggi si siano dimostrati pronti a compiere questo gesto così estremo quanto indispensabile. Non conosciamo bene la storia di Heath, ma sappiamo che in più occasioni Glenn si era trovato fuori dai conflitti in cui bisognava necessariamente uccidere le persone. All'assalto a Woodbury era stato picchiato a morte da Merle e non era in condizioni di combattere; durante l'attacco alla prigione da parte del Governatore era ancora ammalato a causa del virus ed era rimasto rinchiuso; a Gareth e soci ci avevano pensato gli altri e al Grady Memorial era arrivato solo in un secondo momento con la parte restante del gruppo. Lui stesso ammette di essere stato fortunato per non aver mai dovuto fare una cosa del genere e, in un secondo momento, cerca di aiutare Heath a mantenere quella costante.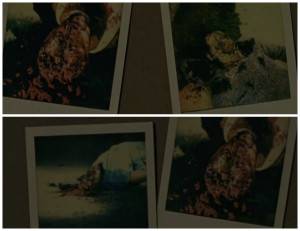 -Che c'è?
-I Salvatori sono spaventosi, ma non sono niente in confronto a te. (Andy)
E' già il secondo "che c'è?" che Andy sente pronunciare da Rick. La prima volta dopo aver piantato il coltello nel collo di una persona e la seconda volta dopo aver rotto il naso alla testa di uno zombie decapitata. Trovo che la sua affermazione sia piuttosto azzeccata non avendo conosciuto Rick in una situazione così delicata. Dovrai farci l'abitudine caro Andy, sappilo.
-Così è questo il prossimo mondo?
Anche una citazione di Jesus sta diventando una costante in questi articoli. La sua domanda a bruciapelo dopo aver freddato quella persona è stata perfetta. Dopo "il vostro mondo sta per diventare molto più grande" lo vediamo pronunciare questa sottospecie di sentenza critica. E' un'accettazione quasi pacifica della situazione che lui fa ad alta voce. E' come dire: "mi fa schifo, ma ci sto, posso farlo per le persone che amo".
-Non sia turbato il vostro cuore.
-Sei morto quanto me!
-Nella casa del padre mio ci sono molti posti, altrimenti ve lo avrei detto.
-Siete tutti morti!
-Io vado a prepararvi un posto.
-Verserai del sangue!
-Amen
Senza dubbio una scena molto ad effetto con le parole azzeccate. Il colpo e l'amen finale coronano la trasformazione di Padre Gabriel che continua a vestirsi da prete e a considerarsi tale, ma che accetta i cambiamenti e tutto ciò che ne consegue. Non cede alla provocazione dell'appellativo "Padre", non cede alla paura dei sensi di colpa, non cede sotto la forza del "verserai del sangue", perché ha accettato il fatto che non sia la prima volta che commette un omicidio. E' riuscito, anche lui, ad incanalare il suo dolore nella giusta direzione.
-Abbassa la pistola coglione.
Grande omaggio al primo incontro tra Glenn e il Rick spaventato dentro al carro armato del primo episodio della prima stagione. Allora quell'appellativo era un insulto traducibile in speranza, ora rappresenta solo una grande minaccia, forse più grande di quanto ci si possa aspettare.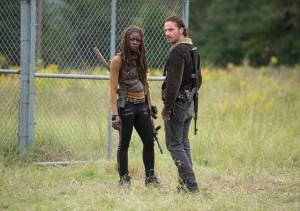 E come sempre..un salutone ai nostri amici di: The Walking Dead Italia, The Walking Dead ITA, Caryl Italia, TWD – Am I the only one Zen around here? Good Lord !