Mi chiamo Amy Bellafonte. Non ero abituata a credere ai mostri, ma lo faccio adesso. Li ho visti cambiare tutto. […] È così che finisce il mondo.
Si dice che la strada per l'inferno sia lastricata di buone intenzioni. Non c'è davvero esempio migliore di quello che vediamo accadere nel mondo di The Passage. La nuova serie tv FOX basata sulla trilogia di libri di Justin Cronin porta gli spettatori verso la caduta della civiltà. Vedremo come una potenziale cura per tutte le malattie trasformerà le persone in creature mostruose con un disperato bisogno di ingerire sangue. A tutti gli effetti: vampiri.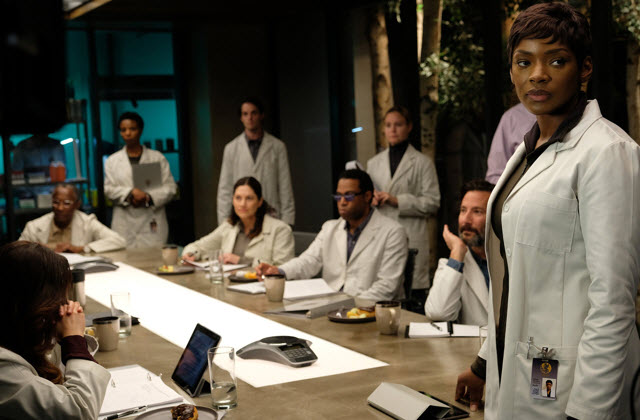 In questo primo episodio di The Passage viene fatto un lavoro solido e preciso introducendo i personaggi principali. Siamo nel 2015 con due medici, Tym Fanning e Jonas Lear, alla ricerca dell'uomo più anziano del mondo. I due medici si avventurano nella giungla degli altopiani  boliviani. Le cose però precipitano immediatamente e il Dr. Fanning viene morso dall'antica creatura. Quel singolo morso, come nella più classica tradizione orrorifica, innesca un'inarrestabile catena di eventi.
I due medici lavorano al "Progetto Noah" creato allo scopo di trovare la cura per tutte le malattie. Grazie all'incontro con il vecchio è possibile creare un antidoto e sperimentarlo. I primi risultati sono buoni e i soggetti sembrano effettivamente immuni. Ovviamente qualche piccolo intoppo c'è. Nonostante l'immunità ogni soggetto alla fine cade in uno stato dissociativo. Purtroppo, seppur consapevoli che sarebbe necessario procedere con ulteriori ricerche, l'influenza aviaria è divenuta virale e decidono di accelerare la sperimentazione sull'uomo.
Per evitare il rischio di pandemia presentato dall'aviaria, e prima che arrivi a contagiare il suolo americano, gli scienziati decidono di procedere con la sperimentazione su un ospite più giovane. Un bambino. Per cercare di ottenere un successo completo.
Vediamo quindi Brad Wolgast, agente federale interpretato da Mark-Paul Gosselaar, uno dei due principali protagonisti a cui viene affidata la missione di consegnare la giovane Amy Bellafonte (Saniyya Sidney) agli scienziati del Progetto Noah. Amy è stata scelta in quanto candidata perfetta: dieci anni e senza famiglia alle spalle. Come sottolineano: anche se dovesse scomparire, non ci sarebbero sue immagini sui cartoni del latte. "Nessun volantino o strazianti suppliche nel notiziario delle undici". Gran parte del piacere di questo pilot di The Passage è legato alla dinamica padre-figlia tra Amy e Wolgast. Se nella prima parte dell'episodio la loro relazione si presenta un po' rigida e poco interessante, successivamente diviene più intrigante e interessante.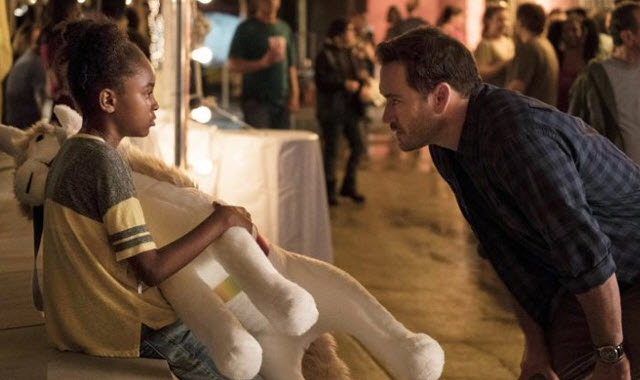 Fortunatamente, la chimica tra Wolgast e Amy funziona davvero molto bene. Principalmente per merito dell'interazione tra i due, ma anche gli elementi di sfondo che caratterizzano i due personaggi contribuiscono in modo determinante. Bisogna poi ammettere che le qualità attorali della giovane Saniyya Sidney sono straordinarie e da sola è capace di rubare la scena ai suoi colleghi più quotati e maturi.
Dopo questa breve deviazione sulla qualità del cast, torniamo al pilot di The Passage.
Pur non sapendo molto del passato di Wolgast, a parte la presenza di un'ex moglie (Lila) che lo ama ancora, scopriamo che ha perso una figlia in tenera età. Questa perdita, per la quale Wolgast si incolpa, insieme alla morte per overdose della madre di Amy a inizio episodio, consolida il rapporto tra i due. A questo punto entrano in scena gli istinti paterni di Wolgast. La sua comprensione del pericolo a cui Amy potrebbe andare incontro lo spinge a disobbedire. Contravvenendo quindi agli ordini ricevuti decide di proteggerla dagli esperimenti che la attendono in Colorado.
Se da un lato i due protagonisti sono una colonna portante per apprezzare questo primo episodio, non da meno lo sono i personaggi secondari.
In questi primi 45 minuti di The Passage otteniamo solo una conoscenza superficiale dello staff del Progetto Noah. I principali che scopriamo sono: il già citato Dr. Lear (Henry Ian Cusick, il Desmond di Lost), Dr. Nichole Sykes e Clark Richards (specialista della sicurezza, amico ed ex compagno di Wolgast). Sebbene il loro scopo sia giusto, curare le malattie, i loro punti di vista e metodi sono così concentrati sul raggiungimento dell'obiettivo finale che non riescono a rendersi conto di quanto siano pericolosi e rischiosi i loro esperimenti. E soprattutto dove possano condurli. Dove possano condurre l'intera umanità.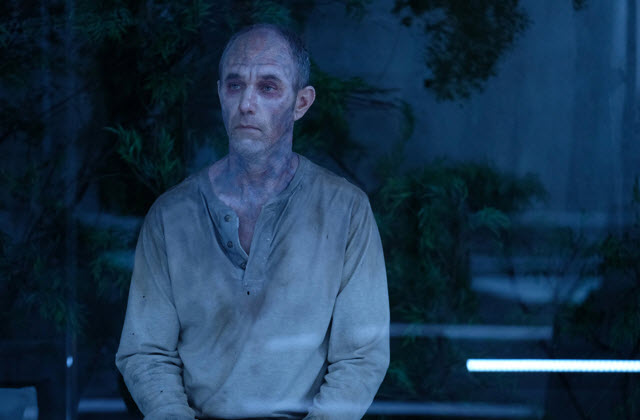 La loro moralità è indubbiamente mitigata dal fatto che i soggetti umani su cui hanno sperimentato il farmaco sono tutti detenuti del braccio della morte. Ovviamente è interessante come venga ignorata la questione morale della disumanizzazione dei condannati a morte. Ed è proprio questa cecità verso ciò che viene creato proprio davanti ai loro occhi che alla fine trasformerà questa serie in un dramma moderno. E questo mondo in una terra desolata post-apocalittica attraversata dall'orrore.
Considerando le difficoltà che sempre si incontrano nel riuscire ad adattare un libro così voluminoso in un formato televisivo, questo episodio pilota di The Passage gestisce la maggior parte degli aspetti coinvolti in modo avvincente. Preparando in modo opportuno il terreno per avere nel prosieguo una narrazione avvincente. Certo, ci sono anche alcuni aspetti trattati con troppa velocità, ad esempio la ricerca dell'anziano uomo da parte di Fanning e Lear.
Ma non in modo così negativo da alterare il nostro giudizio.
Da quanto si evince dalle varie dichiarazioni, la maggior parte della prima stagione si svolgerà nel "presente". Avremo perciò indubbiamente spazio nei prossimi episodi per sviluppare adeguatamente tutti i personaggi secondari. Oltre che ad approfondire ulteriormente le trasformazioni che si verificano dall'altra parte del vetro dove sono rinchiusi i soggetti alterati. Ma a un certo punto questo vetro sarà destinato a rompersi.
E quando succederà l'inferno non sarà più solo una strada lastricata, ma per i nostri sfortunati protagonisti sarà ovunque.