Puntata numero uno per The Orville, Serie Tv demenziale, ambientata nello spazio, e firmata dal geniale creatore de I Griffin, American Dad e The Cleveland Show.
Attore (in Una mamma per amica, lo sapevate?), produttore (tra gli altri del geniale Bordertown), doppiatore (gran parte dei personaggi principali delle sue Serie Tv animate), regista (su tutti, Ted con Mark Wahlberg), ex di Emilia Clarke e, forse, pure di Charlize Theron, scampato miracolosamente agli attentati dell'11 settembre (perse per una manciata di minuti quel volo maledetto), Seth MacFarlane è davvero una figura mitica.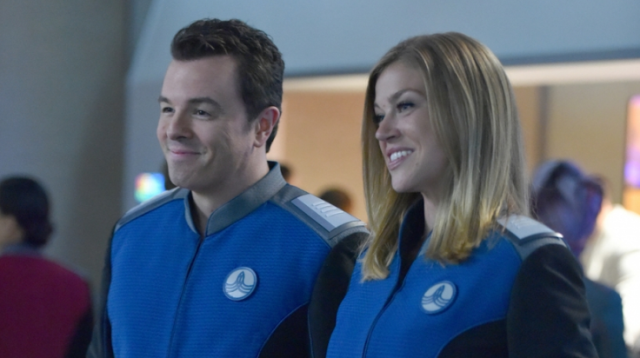 Molti, come la sottoscritta, lo adorano, altri, invece, non riescono proprio a digerire il suo humour dissacrante, demenziale, cinico ed irriverente. Spesso fin troppo sopra le righe. Sull'onda del successo di Deadpool  e I Guardiani della Galassia e da grandissimo fan di Star Trek, MacFarlane si è deciso a cimentarsi con una Serie Tv in carne ed ossa, The Orville, di cui è regista, produttore, sceneggiatore ed attore.
La trama è semplice: siamo sulla Terra, anno 2418. Ed Mercer, rientrando a casa sulla sua bella navicella, scopre la moglie a letto con un alieno blu molto simile ad un puffo.
Passato un anno, gli viene affidato il comando della nave spaziale SS Orville, ma quasi per disperazione, perché, diciamolo, Ed Mercer è un cretino. È un fessacchiotto e non ha ben chiara l'idea di cosa deve fare.
In The Orville c'è un cast che è un vero omaggio ai capisaldi ambientati nello spazio del cinema e della Tv. Un clone razzista di C-3PO, una vulcaniana senza esperienza, un braccio destro ubriacone, un bizzarro klingoniano che fa parte di una razza unisessuale, una Uhura sarcastica e super-qualificata e dulcis in fundo: il primo ufficiale è nientepopodimeno che la ex-moglie di Ed.
La prima puntata di The Orville parte bene ma non benissimo. L'idea di parodiare il genere fantascientifico è una buona base, l'ambientazione è credibile e adoro le tutine vintage, che sono un chiarissimo omaggio a Star Trek. Anche il primo impatto con i personaggi sembra positivo e il potenziale è elevatissimo.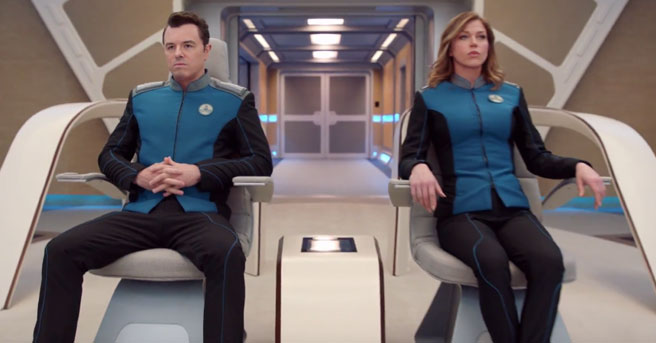 Eppure, per tutta la durata del primo episodio, si sente la mancanza delle battute fulminanti tipiche dello stile di MacFarlane. La trama è strana perché alterna battute sarcastiche a momenti quasi drammatici.
Seth MacFarlane ha una recitazione un po' troppo rigida e anche la co-protagonista Adrianne Palicki non ha la verve adatta per interpretare un personaggio comico. Manca la freschezza che mi ha fatto amare Seth MacFarlane e, forse, ne risente anche la durata dell'episodio, cinquanta minuti, troppo lungo. Mancano anche l'eccesso e il politicamente scorretto, manca il voler dissacrare e prendere in giro.
È come se The Orville partisse col freno a mano tirato. Si guarda tutta la puntata nella disperata attesa che succeda qualcosa, che cambi tutto. Ciò non accade. Sembra quasi di percepire la circospezione di una prima puntata che doveva partire col botto e ha disilluso le attese.
Non certo quello che mi aspettavo di vedere. Siamo anni luce lontani dalle risate e dal bieco cinismo dei Griffin o di American Dad, che riescono ad essere ironici pur criticando i vari controsensi della società americana.
Al massimo, The Orville riesce a farti fare un mezzo sorriso, il che, per me, è troppo poco.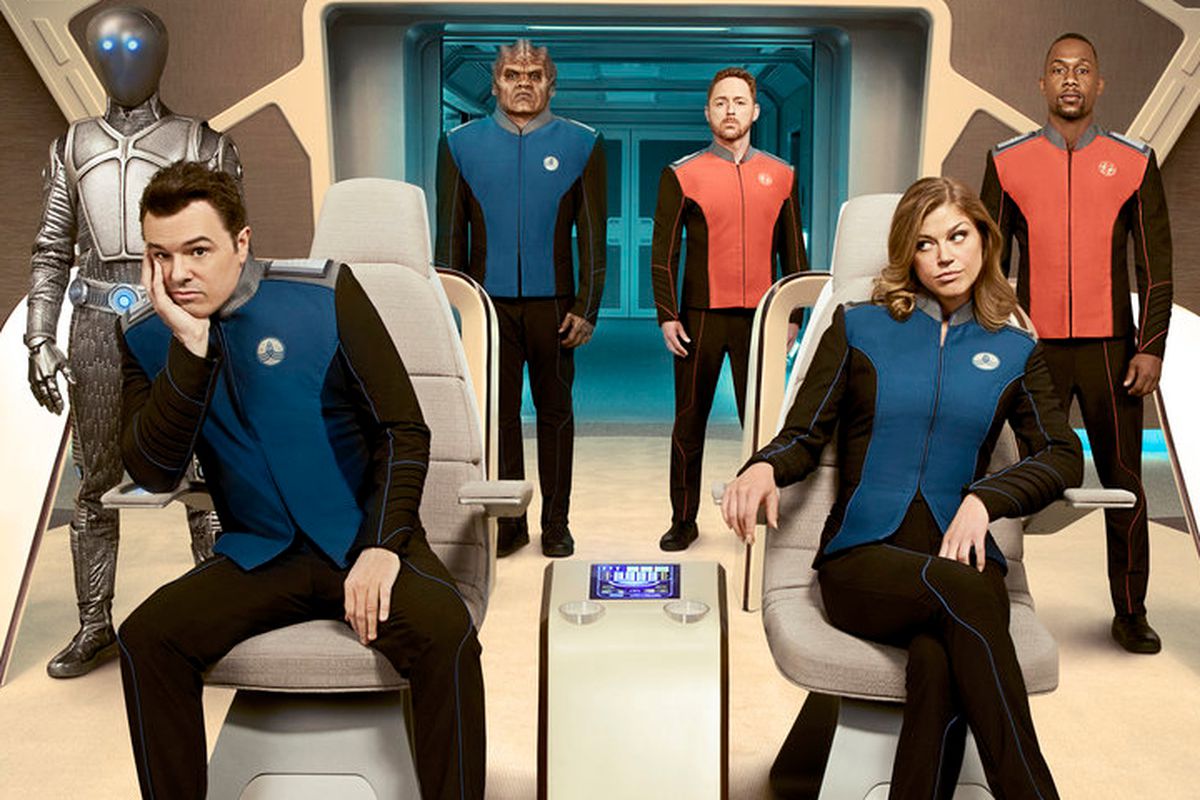 Insomma, riesco a capire come mai The Orville abbia ricevuto pessime critiche sia su Rotten Tomatoes che Metacritic, non capisco, invece, come sia stata rinnovata per una seconda stagione e, soprattutto, come Charlize Theron si sia convinta a prestarsi come guest star.
Anche se, in quest'ultimo caso, il fascino di Seth MacFarlane potrebbe aver inciso sulla sua decisione.
Bocciata? No, per ora The Orville è solo rimandata. Aspettiamo le prossime puntate per un giudizio più definitivo.