# #
Si è conclusa da qualche mese The Orville, serie creata e prodotta da Seth MacFarlane; quel Seth autore di serie animate cult come I Griffin (qui ne trovate il lato oscuro), American Dad e The Cleveland Show. MacFarlane firma la sua prima serie non animata, composta da 12 episodi di circa 45 minuti.
# #
In The Orville, fantascienza e comicità si uniscono per cercare di creare qualcosa di nuovo, anche se con elementi presenti da tempo nel mondo della serialità e del cinema. D'altronde, è il marchio di fabbrica di MacFarlane, l'innovazione nella ripetizione, e I Griffin ne sono un chiaro esempio. Da sempre un fan di Star Trek, MacFarlane ha coronato il sogno di una vita. Infatti non solo è diventato capitano di una nave spaziale ma ha riportato sullo schermo proprio quel genere che amava guardare da bambino e che ora non si vede più in Tv.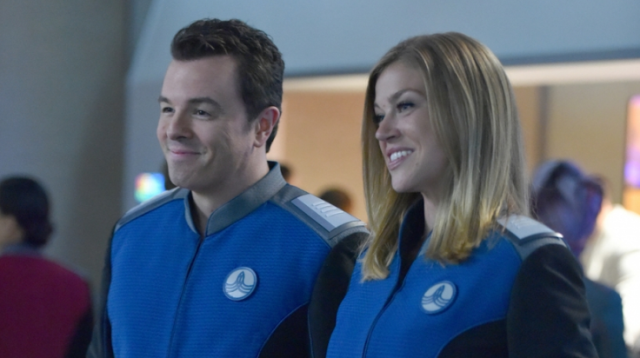 # #
La storia, ambientata 400 anni nel futuro, è di una semplicità quasi disarmante. Dopo un anno difficile a causa di un divorzio e in profonda crisi professionale, l'ufficiale Ed Mercer, interpretato dallo stesso MacFarlane, riceve l'offerta irrinunciabile di diventare il comandante della USS Orville, un'astronave di medio livello per le esplorazioni interstellari.
L'equipaggio a sua disposizione non è proprio come se lo era immaginato ed è composto da soggetti molto diversi tra di loro. Vi sono umani, come il pilota Gordon Malloy (Scott Grimes), il medico di bordo Claire (Penny Johnson Jerald) o il navigatore di bordo John Lamar (J. Lee); alieni come il secondo ufficiale Bortus (Peter Macon), la cui specie è popolata solo da individui di sesso maschile, oppure Alara Kitan (Halston Sage), l'ufficiale della sicurezza con una grandissima forza fisica; intelligenze artificiali come Isaac (Mark Jackson), un androide razzista che ritiene che tutte le forme biologiche siano inferiori alla sua specie. Tutto sembra andare per il meglio se solo non fosse per un piccolo dettaglio: il primo ufficiale di Ed è Kelly Grayson (Adrianne Palicki), la sua ex moglie traditrice, ma che si scoprirà poi essere la sua benefattrice.
Gli episodi si susseguono, raccontando le avventure della Orville nello spazio, che si intrecciano alle vite dei suoi "abitanti". Man mano che la Serie va avanti, impariamo a conoscere i vari personaggi, la loro storia e il loro passato. Ogni episodio, inoltre, tratta un tema attuale molto importante come le questioni di genere, la religione o la politica.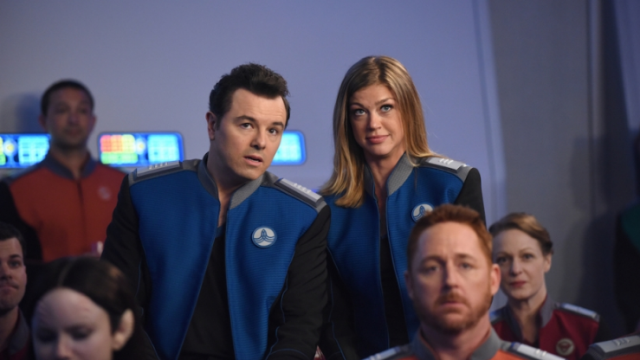 Le aspettative per questa Serie erano alte, le premesse erano vincenti, il produttore era quello giusto e The Orville avrebbe dovuto essere un capolavoro assoluto. Avrebbe, appunto. Non fraintendetemi, non è una Serie da buttare; anzi è gradevole e scorre discretamente ma… ed è proprio questo "ma" che rovina tutto. Se mi trovo davanti a un'opera di Seth MacFarlane, so quello che mi devo aspettare: il suo senso dell'umorismo sprezzante, furbo, pungente e talvolta provocatorio deve pervadere tutta l'atmosfera, ogni più piccola parte di quello che sto guardando.
The Orville non ha niente di tutto questo. Per tutta la Serie, c'è sempre quella sensazione che lo show acceleri improvvisamente ma, nel momento in cui dovrebbe farlo, qualcuno schiaccia il pedale del freno, come se ci fosse questa paura di esagerare.
Di ciò, la recitazione ne risente, con dialoghi no sense, ridicoli in senso negativo e talvolta inefficaci. Si ride, certo, ma di situazioni e di battute sentite così tante volte da saperle a memoria. È una Serie che non sa se essere divertente o drammatica, comica o credibile, finendo per essere un mix mal riuscito di tutte queste qualità. Forse era meglio concentrarsi su una cosa e farla bene, invece che su cento il cui risultato è la mediocrità; una parola che non fa parte di MacFarlane.
Nonostante la critica abbia affondato questa Serie senza pietà, gli spettatori, soprattutto quelli più affezionati al genere sci-fi, l'hanno apprezzata più del previsto. Gli indici di ascolto, infatti, sono rimasti alti per tutta la durata della stagione. Forse, dopotutto, il tentativo di omaggiare Star Trek con questa parodia garbata e mai spinta all'eccesso non è dispiaciuto ai fan. O forse The Orville ricorda molto più Star Trek della Serie a esso collegata (qui trovate le anticipazioni della seconda stagione di Star Trek Discovery). Insomma, basta guardare i costumi, le ambientazioni o le storie narrate per essere catapultati nel mondo di una delle sagre cinematografiche fantascientifiche più famose al mondo .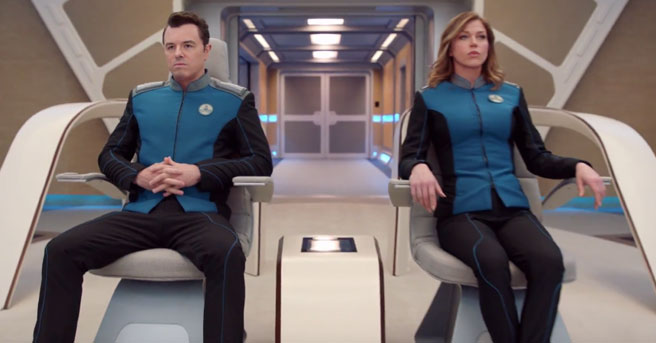 The Orville è come una ciambella senza buco ma non vuol dire che non sia buona. Il potenziale per un miglioramento c'è ed è evidente; come è chiaro che questa non è una Serie per tutti. Se è stata rinnovata per una seconda stagione, è stato grazie ai fan. Sta a MacFarlane mostrarci adesso quello che bolle in pentola, riscattando la sua Serie dall'anonimato in cui potrebbe cadere se continua su questa strada.