The Office (US) è una delle comedy più divertenti e originali mai scritte, capace di creare dipendenza e intrappolare lo spettatore in una bolla fatta di gag esilaranti e sguardi dritti in camera.
Sono tanti i motivi per cui bisognerebbe vedere e rivedere la serie, ma uno dei principali riguarda sicuramente la scrittura dei personaggi: da un eccentrico Michael Scott a un iconico Dwight Schrute, ogni persona sembra così grottesca da risultare dolorosamente realistica, fatta di contraddizioni e limiti, di difetti e pregi illustrati così bene da farti sentire a casa (anche se una casa non politicamente corretta).
Il personaggio più brillante tra questi, però, è sicuramente Jim Halpert.
Se in un primo momento può sembrare semplicemente la spalla tramite cui le assurdità di Michael assumono una luce divertente, è con il proseguire degli episodi che riesce a conquistarci con un mix intossicante di sarcasmo, determinazione e tanto, tanto romanticismo.
Jim Halpert nasce, come abbiamo già accennato, per far risaltare ciò che succede attorno a lui: buffo ma mai irrispettoso, è un ragazzo-della-porta-accanto con un umorismo che ispira subito fiducia e una mimica facciale notevole. Su questo nucleo principale è stato poi costruito un uomo molto più complesso: dai continui battibecchi con gli altri personaggi – e in particolare il suo amico/rivale Dwight – al lunghissimo corteggiamento di Pam, Jim ci mantiene con i piedi per terra ricordandoci cosa significa essere morigerati in una realtà al limite dell'assurdo come quella di The Office (US).
Apparentemente ordinario e umile, Jim nasconde in sè un cuore buono e uno spirito frizzante. Sempre con la battuta pronta e un sorriso stampato in faccia, è difficile trovarlo antipatico. Non è un personaggio ambizioso, anzi conduce la sua esistenza a Dunder Mifflin nell'inerzia più assoluta. Questa caratteristica lo rende sì diverso dal suo rivale Dwight, ma rappresenta anche una boccata d'aria fresca. Infatti il suo menefreghismo gli permette di agire senza secondi fini e guardare in maniera più distaccata gli eventi quotidiani che accadono attorno a lui.
Nel progredire delle stagioni, però, questa passività si tramuta in piena insoddisfazione per il proprio lavoro portandolo verso un percorso ignoto e più stimolante, un chiaro esempio di come la vita può sempre cambiare le carte in tavola e risvegliare bisogni nascosti.
Centrale nella caratterizzazione del personaggio sin dalla prima stagione, però, è il suo grande amore verso Pam Beesly.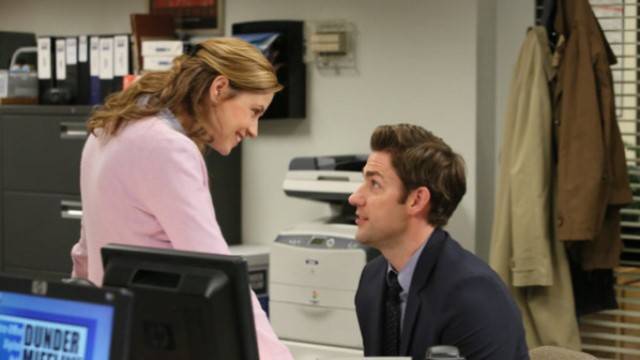 Placido e gioviale, Jim rappresenta ciò che ogni ragazza desidera: sicuro dei propri sentimenti e platealmente romantico, sa bene quando giocare le proprie carte e quando invece mettersi in disparte. Lasciando i propri spazi a Pam più volte dimostra che voler bene a una persona significa anche lasciarla andare o, comunque, rispettarne le volontà.
Senza sotterfugi o giochi di potere, conquista la donna della sua vita anche tramite una grande e infinita pazienza: quando nella prima stagione Pam è ancora fidanzata con un altro uomo, Jim ha saputo restarle amico senza aspettarsi nulla in cambio o recriminare gesti particolari. Anzi, fa parte del suo personaggio un iniziale eccesso di prudenza: nel non voler rovinare il rapporto con quella che poi sarebbe diventata sua moglie, Jim si muove in punta di piedi attorno a lei.
È nel momento in cui acquisisce un po' di sicurezza che il lato romantico compare in tutto il suo splendore: la proposta di matrimonio risulta dolcissima anche se viene fatta nel mezzo di una stazione di servizio.
Divertente e autoironico, Jim Halpert è apprezzato e amato da tutti i suoi colleghi: più volte Michael cerca di avvicinarlo e averlo come amico (si sono icontrati anche recentemente) e perfino Dwight, nonostante un'apparente antipatia, sa quanto sia importante per lui. Giocoso e sornione, è nel momento in cui deve organizzare uno scherzo che dimostra la sua vasta intelligenza e ingegnosità: dal primo iconico scherzo della spillatrice immersa nella gelatina al travestimento di Dwight, tutti gli scherzi rappresentano un modo contorto e divertente di dimostrare affetto.
Anche i suoi stessi limiti – come la sua inerzia in alcuni momenti cruciali o l'idea sbagliata di avere quasi sempre ragione – lo rendono più umano e un personaggio in cui è facile identificarsi, alimentando la stima nei suoi confronti.
Jim Halpert cattura col suo carisma l'attenzione e l'affetto degli spettatori in maniera pacata, dimostrandosi col tempo un uomo sicuro di sé, capace di giocare e di stare al gioco, pronto a diventare all'occorrenza molto serio e il cui grande obiettivo nella vita è creare una famiglia con la donna che ama. Insomma, un personaggio curioso e diverso in quanto più ordinario e "banale" di tanti altri presenti in The Office (US), ma proprio per questo il preferito di molti.