Abbiamo approfittato di questa quarantena da coronavirus per rivedere una delle serie tv più iconiche dei primi anni Duemila (e non ci siamo lasciati sfuggire l'occasione per recensire il pilot). The OC ci ha riportati indietro nel tempo, agli anni delle medie e delle superiori, scoperchiando un vaso dove tenevamo dentro tutti i nostri ricordi.
E questi ricordi, come spesso succede, ci hanno scosso talmente tanto da farci di nuovo battere il cuore. L'amore è infatti il tema principale in The OC, un sentimento che viaggia sulle note di California dei Phantom Planet e ci fa assaporare quell'aria di libertà tipica dell'adolescenza. Quantomai attuale in un momento di reclusione come questo.
È vero, forse The OC non è la migliore delle serie tv.
Però è il simbolo di un'intera generazione, di chi è cresciuto sognando la California. Era il tempo degli skate park, degli mp3, delle giovani rock band e dei telefoni che inviavano MMS. Era il tempo di Marissa e Ryan, di Summer e Seth.
Le due coppie più famose degli anni Zero. In questi giorni, insieme a loro, abbiamo di nuovo viaggiato, anche se eravamo seduti sul nostro divano. Siamo tornati in California e con quella voglia di libertà ci è tornata la voglia di riprenderci il mondo, una volta che tutto questo orrore avrà fine.
Ma soprattutto abbiamo visto che l'amore è un concetto di una profondità abissale, che spesso è persino difficile da spiegare. Un'emozione che vive di contraddizioni, ostacoli, paure e incertezze. Tendiamo a classificare e a giudicare ogni singolo gesto quando lo vediamo, ma l'amore non conosce giudizio, e in questo The OC è maestra.
Le due coppie principali rappresentano quattro tipologie di giovani americani. Sono ragazzi diversi, apparentemente inconciliabili tra loro, ma allo stesso tempo faranno di questa "diversità" la loro forza.
I protagonisti sono persone sole
Ricchi americani, annoiati e in qualche modo infelici delle loro vite. Questo è il minimo comune denominatore che accomuna Seth, Marissa e Summer. Sarà Ryan, un ragazzo di umili origini che vive davvero la crudeltà della vita, a cambiare per sempre il loro futuro.
E sarà l'amore il potentissimo motore che permetterà questo cambiamento. Un amore fatto di sguardi, gesti e occasioni mai sfruttate ma solo immaginate. L'amore tra Marissa e Ryan, che come un fulmine a ciel sereno, con pochi sguardi, li mette a nudo con se stessi.
Quello di un Seth Cohen verso una ragazza che ha amato da tutta la vita. Fin da quando era bambino e guardava Summer dal banco di scuola, sognando solo uno sguardo ricambiato, che non arriverà mai, finché Ryan non irromperà nelle loro vite.
Qualcosa si accenderà dentro ognuno di loro, conducendoli su un lungo percorso di riscoperta nel quale prenderanno pian piano con decisione le redini della loro vita. Questo ovviamente non accadrà senza ostacoli, il loro sentimento verrà messo alla prova e analizzato, anche attraverso altri personaggi secondari e ricorrenti. Quando il contesto psicologico ed emotivo cambia, influisce su ciò che dobbiamo essere in grado di fare per tenere acceso un rapporto di reciproca complicità.
L'amore è l'espressione più alta della vita
In The OC è lo strumento con cui i protagonisti sconfiggono le paure, e con cui si trova la forza di cooperare per rialzarsi e spezzare le proprie catene. Senza di esso, il team più famoso dei teen drama non si sarebbe mai formato, e noi ci saremmo persi un piacevole sogno adolescenziale.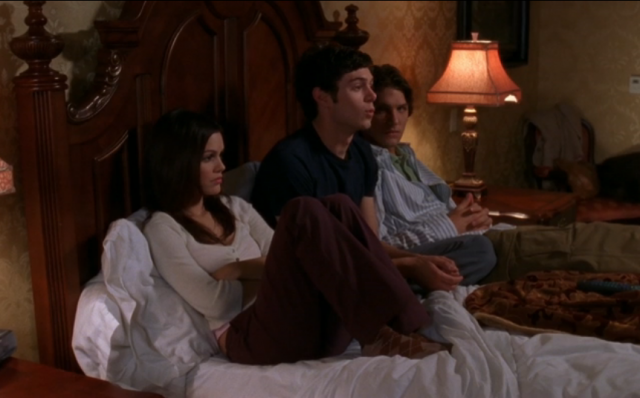 Eppure non è solo il velo che avvolge i nostri protagonisti, ma tutti coloro che fanno parte di questa serie tv. La psicologia è presente in ogni strato narrativo, anche se trattata con leggerezza. Alcuni vedono in questa scienza l'opportunismo, come Julie Cooper. Altri l'illusione di poter guarire da malattie psichiche come Oliver. O ancora, la convinzione di dover essere simili per piacersi, come Anna e Seth.
Potremmo fare tantissimi esempi, ma ogni legame in The OC è un'ode all'amore in tutte le sue forme. Proprio per questo, non possiamo fare altro che emozionarci e tornare a credere con tutte le nostre forze che un altro mondo è possibile.
Perché con l'amore si sconfigge tutto, anche la morte
In The OC ce lo dimostrano dalla prima all'ultima puntata. Un epilogo in cui la stessa morte è agrodolce e mette un punto alla giovinezza dei protagonisti. Eppure, ora che sono adulti, con la consapevolezza di ciò che hanno affrontato, possono andare incontro a un altro futuro.
Un avvenire in cui tutto è possibile. La casa dei Cohen è a pezzi, ma in ogni personaggio il caos si ricompone e tutto prende una sua decisiva forma. Ogni ricordo amaro si trasforma in dolce e malinconico. Come la nostra prima cotta o follia adolescenziale.
Nel finale Ryan Atwood, ormai architetto, dà un'ultima sbirciata a quella porta di casa che gli ha cambiato la vita e incontra un ragazzo che poteva essere lui tanti anni addietro. Così noi, adottati tanti anni fa da The OC, oggi abbiamo dato un'ultima sbirciata a questa serie tv, per ricordarci chi siamo e chi siamo stati.