The O.C. è stata, per molti, l'imbattibile serie adolescenziale per eccellenza. Le avventure sentimentali di Ryan/Marissa e Seth/Summer, accompagnate da una colonna sonora indie rock sempre azzeccatissima, ci hanno sbriciolato il cuore in più di un episodio.
Non è un caso infatti che il possibile revival della serie – leggete qui se volete saperne di più – stia tenendo con il fiato sospeso tutti i fan dello show!
Ciononostante, anche The O.C. ci ha regalato qualche momento da occhi roteati verso il cielo, a causa dell'alto tasso glicemico che si scatenava per alcune sue battute.
Riportiamole qui, dunque, le 5 frasi che ci hanno procurato un istantaneo bisogno di un dentista e anche di qualche parolaccia che abbassasse un po' il livello glicemico nel sangue.
1) – "Tu chi sei?"
– "Chiunque tu vuoi che io sia"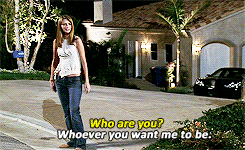 Partiamo dalla prima. Nel vero senso del termine, però. La prima indimenticabile battuta di The O.C. della prima indimenticabile puntata dello show.
Ammettiamolo, ci siamo innamorati di Ryan in quel momento lì!
Ma che "giusto" era mentre si accendeva quella sigaretta e guardava Marissa rispondendole in quel modo? Però ammettiamo anche che, proprio come la principessina di Newport Beach, anche noi siamo rimasti con quell'espressione da ussignur sul viso.
Bene ma non benissimo insomma...
2) "Vorrei essere una sirenetta…"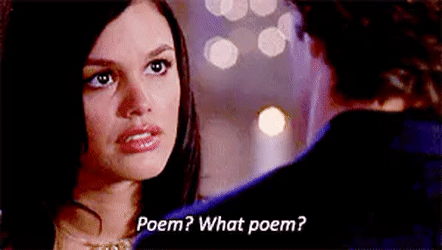 Quanto ci piacevano Seth e Summer? L'improbabile connubio tra la malata di shopping e il nerd nevrotico ci ha conquistati fin dal primo istante.
Chi si ricorda, però, qual è stato il primo strike del giovane Cohen?
Forse il meno memorabile dei suoi momenti. Già, perché il ragazzo ci sa fare con logorroici monologhi e gesti di un romanticismo spiazzante, ma la prima mossa che andò a segno con la sua Summer fu il ricordo della poesia che la ragazza scrisse alle elementari.
Non c'era bisogno di recitarla nuovamente. Il solo fatto che Seth la ricordasse ci bastava e avanzava, ma il ragazzo ha sentito il bisogno di ripeterla di fronte alla sua bella che, colpita dal gesto, è capitolata all'istante.
Noi no. La poesia sulla sirenetta che vien dal mare l'avremmo evitata volentieri. Meno male che, dopo un limone ben assestato, Summer abbia minacciato il ragazzo di morte. Diabete scongiurato.