The OA è una serie che ha affascinato moltissimi ma probabilmente è stata capita e apprezzata da pochi. In occasione dell'arrivo di The OA 2, cerchiamo di fare chiarezza sui punti più controversi.
Zeppa di indizi, molti dei quali sembrano inseriti solo per confondere lo spettatore, rimane aperta a diverse interpretazioni (non è una brutta idea guardarla al contrario). The OA è quel tipo di produzione che consiglierei agli spettatori che non cercano una fruizione "passiva" nella visione di una serie, ma che anzi si sentono stimolati dalle strutture narrative complesse.
E questa sua complessità, data per lo più dalla mistura di generi e dallo sfasamento della timeline, è stata d'ostacolo persino ai critici. Badate bene, è da considerarsi un pregio. Troppe serie tv attuano lo stesso schema di storytelling e le solite regole di sceneggiatura al fine di assicurarsi una serialità del prodotto e mantenere alta l'attenzione dello spettatore. The OA è invece uno show che sfida chi lo guarda a stargli dietro, lo nutre, lo abbandona e poi torna con un filo rosso a collegare le parti apparentemente monche della storia. Ma quali sono i punti che hanno lasciato gli spettatori più perplessi?
Se sei scoppiato a ridere guardando i "cinque movimenti" o hai provato un forte senso di vergogna, tranquillo, è del tutto normale.
Secondo Prairie i passi hanno il potere di guarire i morenti, di farli risorgere e persino di trasportare le persone in altre dimensioni. Questi movimenti vengono accompagnati da versi piuttosto strani, il che contribuisce a rendere il tutto molto grottesco. Il regista Batmanglij in un'intervista ha dichiarato che comprende le reazioni degli spettatori:
Penso che se gli alieni invadessero la Terra come prima cosa ne rideremmo. Penso che qualcosa di veramente diverso non solo causi una sensazione di disagio o di vergogna ma anche ilarità: è normale ed è quello che volevamo fare.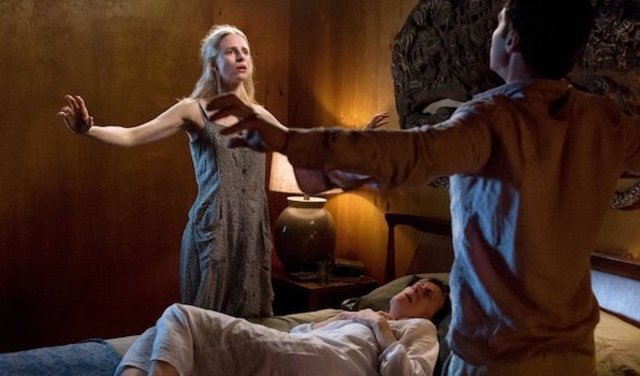 L'attrice protagonista Brit Marling ha ammesso che lei e gli altri attori inizialmente hanno avuto la stessa reazione quando stavano imparando i movimenti. "All'inizio sei imbarazzato, ti vergogni, ridi per il nervosismo. Poi, dopo mesi di pratica e riprese, qualcosa di ultraterreno capita al tuo corpo e a quello degli altri".
Ryan Heffington, che ha ideato i cinque movimenti, è stato il coreografo dei video di Sia "Chandelier" e "Elastic Heart", e dello spot Kenzo diretto da Spike Jonze. In diverse interviste ha dichiarato cosa ha cercato di trasmettere con la coreografia dei cinque movimenti. La danza postmoderna portata in scena voleva essere astratta e umanamente potente. Qualcosa di incredibile ma al contempo comunicativo.
Perché proprio una sparatoria nella puntata finale?
I movimenti non sono l'unico aspetto di The OA che ha confuso gli spettatori. L'episodio finale vede i seguaci dell'OA sventare una sparatoria a scuola, una scena scioccante criticata da alcuni (evidentemente contrari alla restrizione sulle armi). In un'intervista con The Daily Beast, Marling ha spiegato la scelta di rappresentare proprio una sparatoria nel finale.
Penso che sia qualcosa che è davvero in tutte le nostre menti ora. Sembra proprio che questo tipo di crisi continui a verificarsi, e questa scena sembrava piuttosto plausibile. [The OA] chiede ai ragazzi e al pubblico di fare continuamente salti di fede sempre più grandi con lei. Ma alla fine c'è qualcosa in lei che entra nella testa di quei ragazzi e della loro insegnante e finisce per collegarli davvero e dare loro qualcosa per affrontare quel momento [la sparatoria] che non avrebbero avuto altrimenti.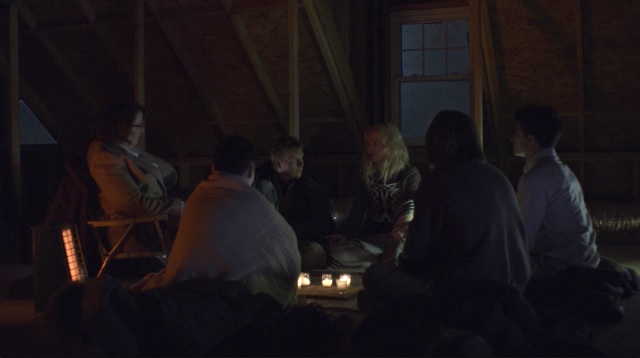 Prairie ha mentito?
La stagione si conclude con il ritrovamento di una scatola piena di libri che le autorità trovano sotto il letto di Prairie. L'Odissea, libri di approfondimento sulle figure angeliche e sulla Russia sembrano voler suggerire agli spettatori che la vicenda raccontata dall'OA sia frutto di fantasia.
Eppure, nonostante tutto, la morale della storia sembra essere la necessità di credere a qualcosa che non è reale e a diffidare di ciò che reale sembra davvero. Ma l'apertura mentale e la sua flessibilità non portano comunque a un risultato certo, al raggiungimento della verità. Perché questa è troppo multiforme e sfaccettata, per poter essere afferrata.