The Leftovers è una di quelle serie che, inspiegabilmente, buona parte del pubblico affezionato al mondo costantemente in crescita delle serie tv ha deciso di ignorare.
Come ciò sia possibile rimane per me un mistero, visto che The Leftovers, tratto dall'omonimo romanzo di Tom Perrotta, è semplicemente una figata. Non stiamo parlando né di una serie di azione, né di supereroi, né tanto meno di amore, o almeno non quello canonico. The Leftovers è una di quelle serie tv che vanno guardate da soli o con gente silenziosa, che ti fa fare domande a cui non hai né l'età né la voglia di rispondere. Perché sono domande pesanti, quelle che ti poni nel giorno più buio o la sera della peggior sbronza della tua vita.
A questo punto uno potrebbe chiedersi: perché guardare una serie che ti costringe a un elucubrante viaggio interiore?
Perché è semplicemente bellissima! E perché tanto, prima o poi, certe domande ce le saremmo fatte comunque, tanto vale farcele guardando quel figo immenso di Justin Theroux. Ma partiamo dal principio.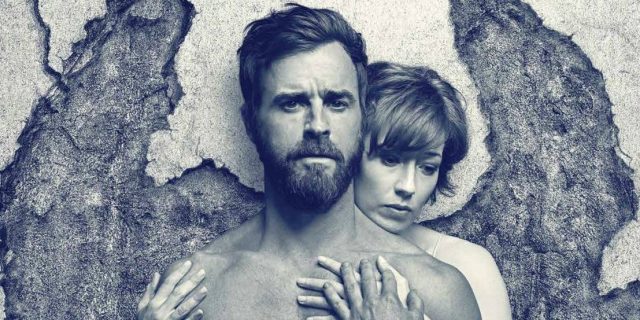 The Leftovers ha un incipit davvero efficace, che desterebbe la curiosità di qualsiasi spettatore. Fondamentalmente narra la conseguenze della Dipartita, evento catastrofico avvenuto il 14 ottobre del 2010, che ha visto la scomparsa del 2% della popolazione mondiale senza un motivo. E, quando parlo di scomparsa, non intendo una morte improvvisa. Intendo letteralmente la sparizione di persone che si sono inspiegabilmente dissolte di fronte ai loro cari, mentre vivevano le loro comunissime vite. Di spiegazioni la serie non ne fornisce molte, il restante 98% si ritrova a dover andare avanti, torturandosi nell'angosciante incertezza di ciò che ne sia stato dei propri cari, tentando di procedere con le loro vite come meglio possono.
Inutile dire che i protagonisti di questa serie, la maggior parte vittime di queste perdite, non se la cavano proprio benissimo. Ed è questo il punto focale di The Leftovers, ciò che, a mio avviso, lo rende davvero toccante.
Pur non volendolo fare esplicitamente, parla del lutto, del senso di fine, di ciò che si prova quando qualcuno che amiamo ci lascia o qualcosa di davvero importante finisce senza il nostro permesso.
Il senso di impotenza dei protagonisti è qualcosa in cui è facile riconoscersi e anche immedesimarsi. Non solo per la grande prova fornita dagli attori, su tutte le formidabili Carrie Coon e Ann Dowd che riescono, una con il suo desiderio di risposte e l'altra con la sua prepotenza silenziosa, a darci davvero fastidio, ma anche per come la storia ci viene raccontata episodio dopo episodio. Tutti i personaggi ci vengono mostrati sotto ogni vulnerabile forma, prima e dopo la Dipartita: ciò che era e ciò che è diventato. Come Laurie Garvey, madre e moglie incinta del protagonista che durante la Dipartita vede lo stesso figlio che tiene in grembo dissolversi attraverso lo schermo mostratole durante l'ecografia. Decide, quindi, di unirsi a una setta (ribattezzatasi I sopravvissuti) che si pone come unico scopo esistenziale quello di ricordare a tutti gli altri ciò che è successo quel 14 ottobre, impedendo anche ai più coraggiosi di tentare di andare avanti con le proprie vite.
Ciò che colpisce molto di questa serie è come sia maledettamente reale e plausibile il modo in cui racconta le reazioni e i sentimenti di chi viene colpito dalla Dipartita e non. Come la rabbia incontrollabile di Meg, il personaggio interpretato da Liv Tyler, che vede sua madre morirle davanti il 13 ottobre per un malore e che non sarà nemmeno libera di vivere il suo lutto pienamente, perché il giorno successivo il mondo intero vivrà l'esperienza più devastante che l'umanità sia in grado di ricordare. Di conseguenza, riterrà la sua perdita di serie B, quasi come a dirle "Se non altro, tu sai che cosa le è successo".
Persino le reazioni al di fuori dei protagonisti sono credibili e non fatichiamo a sentirle nostre. C'è chi parla di alieni, chi tira in ballo Dio e chi cavalca l'onda del fanatismo per cercare di spiegare in qualche modo ciò che è successo. È questo il cuore della serie: The Leftovers parla del saper credere o del non essere in grado di farlo. Della paura dell'ignoto e di ciò che siamo disposti a fare per risolverlo.

Cosa ancora più importante, questa è una della poche serie in circolazione che lancia un mistero di proporzioni gigantesche nell'etere ma, a differenza di altre, si assume la responsabilità di risolverlo (dopo averci tenuti per tre stagioni appesi alla speranza di sapere che ne fosse stato di tutte quelle persone sparite nel nulla).
E la spiegazione non ci fa sollevare gli occhi al cielo. Questo, da una
che ancora fa polemica per il finale scelto per How I Met Your Mother, non è poco.