La situazione politica degli ultimi tempi è sempre meno rassicurante. Tra la crisi di Governo in Italia e le tensioni internazionali che serpeggiano senza sosta c'è poco da star tranquilli. È per questo che spesso, guardando serie tv come The Handmaid's Tale, sentiamo quell'inquietudine che deriva dal ritrovare situazioni che di irreale sembrano non avere poi così tanto. Situazioni che, con pochi passi nella giusta (o forse sarebbe il caso di dire sbagliata) direzione, potrebbero somigliare anche troppo al nostro prossimo futuro.
Ed è proprio a The Handmaid's Tale che in questi giorni in molti non possono fare a meno di pensare. Boris Johnson, l'attuale Primo Ministro britannico, ha chiesto e ottenuto dalla regina Elisabetta II la sospensione del Parlamento per 5 settimane, a partire dal 9 settembre, in modo da accelerare e portare alla definizione della Brexit.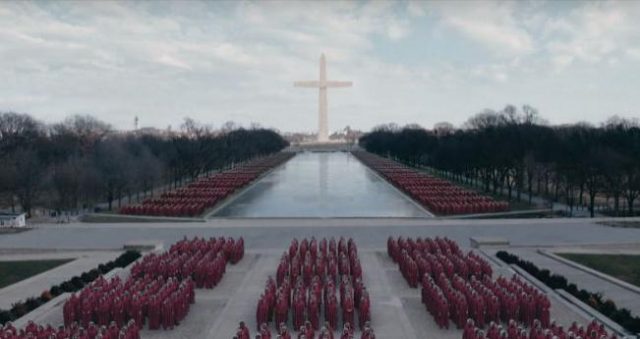 Inutile dire che la decisione ha scatenato l'indignazione e le ire generali, che non hanno mancato come sempre di manifestarsi anche sui social media. Nelle ore successive alla notizia della sospensione questa citazione di Margaret Atwood, tratta dalle pagine del libro su cui The Handmaid's Tale si basa, è apparsa ovunque:
È stato allora che hanno abolito la Costituzione. Temporaneamente, si diceva. Non c'erano neppure disordini per le strade. La gente stava in casa la sera, a guardare la televisione, sperando di avere qualche direttiva. Non c'era neppure un nemico con cui prendersela.
Queste parole sono tratte da un brano nel quale June ripercorre i passi che portarono alla costituzione del regime totalitario di Gilead senza che nessuno se ne rendesse conto. Che siano venute alla mente di così tante persone è sicuramente indicativo di quanto logorante sia l'effetto delle tensioni politiche del momento e quanta paura ci sia che il mondo vada a rotoli e diventi come l'incubo che possiamo trovare nelle pagine di un libro o su uno dei nostri schermi.