Una comedy da 20 minuti a episodio, ancora poco popolare in Italia, ma sicuramente conosciuta e apprezzata dai veri appassionati di serie tv.
The Good Place nasce dalla passione per la filosofia di Michael Shur, creatore anche di The Office e della più recente Brooklin Nine-Nine. È una serie sorprendente, i suoi temi centrali sono l'etica e la filosofia morale, ma sono affrontati con ironia e leggerezza, riuscendo però a essere ben analizzati e messi in discussione, concentrando tutto in pochi minuti.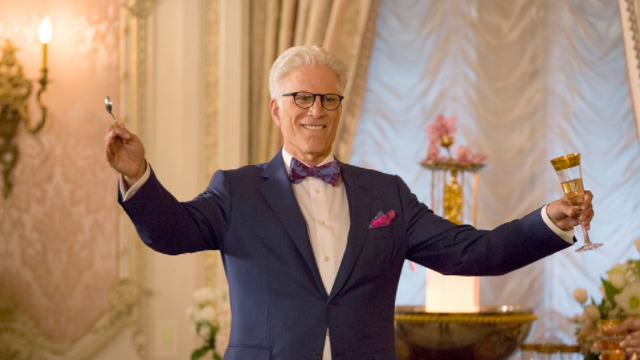 Uno dei motivi che incuriosisce e spinge a guardare la serie è sicuramente l'attrice che interpreta la protagonista, Kristen Bell, conosciuta per il suo ruolo in Veronica Mars. Qui veste i panni di Eleonor Shellstrop, una donna egoista, disonesta e con una propensione per l'alcol. La turbolenta ragazza muore inaspettatamente e si ritrova nel "posto buono", una specie di paradiso, per un caso di omonimia.
Eleonor scopre subito che è stata catapultata in un mondo costruito su misura per lei, creato dall'architetto Michael, interpretato dalla star di C.S.I. Ted Danson. Proprio come in The Truman Show, il creatore/architetto realizza un mondo artificiale, spacciandolo per infinito, scegliendo le persone che devono abitarlo e assegnando anche l'anima gemella perfetta a ognuno di loro.
Benvenuti nella felicità sempiterna, benvenuti nella parte buona! Con la partecipazione di lontre che dormono tenendosi per mano. È così che vi sentirete, ogni giorno.
Tutto è progettato per funzionare alla perfezione, ma la perfezione non esiste. Neanche nell'aldilà.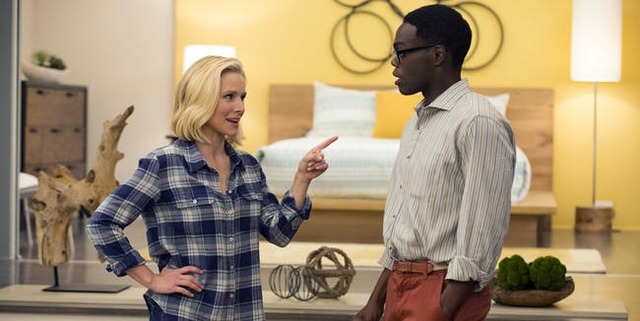 Quando ogni cosa e ogni persona sembrano essere prive di difetti e le giornate appaiono già organizzate da qualcun altro, sorgono i primi dubbi. È così che è andata per Truman e lo stesso vale per Eleonor. La donna si accorge che il "posto buono" non è il posto adatto a lei, perché lei in vita non è stata affatto una brava persona, al contrario della gente che la circonda. Perciò deve meritare il suo posto lì e cambiare il suo comportamento, rendendolo moralmente corretto. Per sua fortuna, la persona adatta a farle da mentore vive proprio a casa sua, è la sua anima gemella Chidi. Durante ogni episodio Eleonor e Chidi analizzano le problematiche che incontrano studiando i più grandi filosofi della storia e affrontando tutto in maniera semplice. Anche lo spettatore meno esperto riesce a seguire le lezioni di Chidi che portano a riflettere sulle scelte fra giusto e sbagliato.
Il personaggio di Eleonor compie un'evoluzione straordinaria, diventando una persona migliore che si preoccupa per gli altri e li tiene in considerazione nelle sue decisioni. Il suo cambiamento radicale dimostra che in realtà non si nasce buoni o cattivi, queste non sono qualità innate, ma si possono apprendere e fare proprie, basta solo volerlo.
Alla fine della prima stagione di The Good Place si verifica un incredibile plot twist che pone le basi per l'ennesima scelta di Eleonor, quella definitiva.
È la stessa scelta di Truman, cioè quella fra restare e andare via. Restare in un posto creato da altri, con una vita già programmata e apparentemente al sicuro, oppure andare via e affrontare l'ignoto, forse in un posto peggiore e pieno di cattiveria. Sappiamo già per cosa ha optato Truman, chissà come se la caverà Eleonor.
In effetti, nessuno può sapere cosa è giusto e cosa è sbagliato, neanche un insegnante preparato come Chidi.