***Salve, sono Janet! In quanto intelligenza artificiale creata esclusivamente per assistervi, devo informarvi che durante la lettura potreste imbattervi in spoiler della seconda stagione di The Good Place!***
The Good Place è una comedy statunitense, prodotta da Mike Shur, trasmessa da settembre 2016 dall'emittente NBC e arrivata qualche mese dopo in Italia su Infinity.
La Serie inizia con il risveglio nell'aldilà di Eleanor, una donna egoista e un po' cattivella. Eleanor, senza nemmeno essersene resa conto, è morta durante un grottesco incidente (investita da alcuni carrelli della spesa e poi anche da un camion!) e viene accolta in questo "luogo ultraterreno" da Michael. Il nostro Michael, essere immortale che gestisce la transizione dei defunti, l'accoglie con entusiasmo e le comunica la sua morte. Le spiega, poi, che grazie alle sue buone azioni e al suo comportamento encomiabile in vita, lei ora si trova nella parte buona (ovvero, il good place del titolo). Eleanor, nel corso della sua conversazione con l'uomo, si rende conto, però, di essere vittima di uno scambio di persona: lei, tutte le cose per cui la loda Michael, non le ha mai fatte!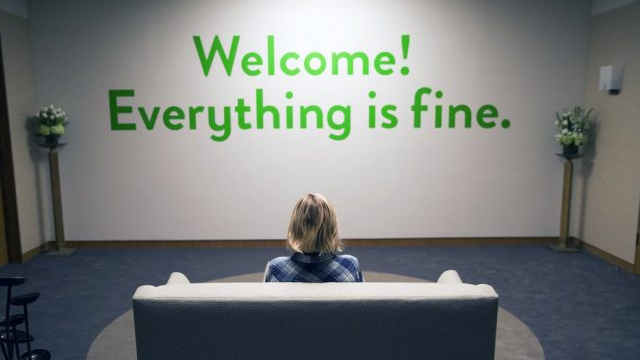 Inizia, quindi, l'avventura della ragazza, che deve trovare il modo di nascondere la sua vera identità ed evitare di finire nella parte cattiva. Assistita dalla sua anima gemella Chidi, professore di etica, Tahani, ricca filantropa, e Jason, monaco buddista, Eleanor inizia un percorso di miglioramento per diventare meritevole della parte buona.
The Good Place tratta in maniera originale il tema dell'aldilà intrecciando filosofia morale, divertimento e un pizzico di amore.
Il divertimento, però, non è dato solo dalle prevedibili scene in cui Eleanor tenta di fingersi buona e misericordiosa. A metà della prima stagione, infatti, la verità viene svelata e, anzi, esce fuori che anche Jason non è chi si pensava fosse. Eleanor, quindi, si rivolge a Michael, facendogli presente che il processo di selezione per la parte buona è mal funzionante. Da questo momento, per me, l'architetto diventa assoluto protagonista della Serie, perché, piano piano, si viene a conoscere la sua vera natura di… assoluto manipolatore!
Ma prima di svelare la verità, vediamo perché Michael, con i suoi pregi e difetti, è un personaggio da amare:
1) È rassicurante e ospitale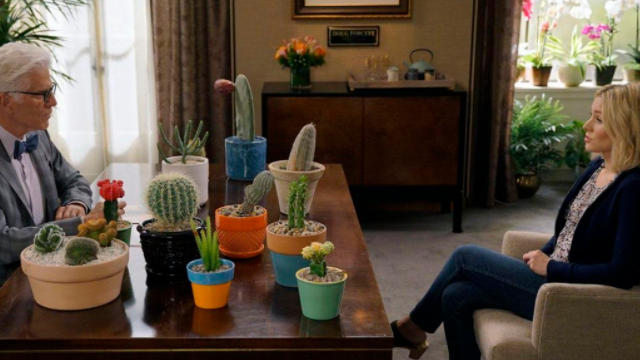 Michael, come ho detto, aiuta i defunti ad abituarsi alla loro nuova vita nella parte buona. Inoltre, è anche l'architetto del quartiere in cui si trovano a vivere queste lodevoli anime. Dopo aver accolto singolarmente ogni nuovo defunto, l'essere ultraterreno li accompagna a fare un giro del quartiere, mostrando le meraviglie che lui stesso ha creato per rendere più piacevole la permanenza… eterna.  Ci sono chioschi di frozen yogurt, ristoranti, parchi… addirittura abitazioni costruite in base ai bisogni specifici di ogni ospite! Dopotutto, stiamo parlando di una specie di paradiso, no?
Certo, Michael è un po' rude quando comunica alla persone che, beh, sono morte, ma in fondo bisogna giustificarlo: non è un essere umano e non conosce i sentimenti.