# #
Per tutti gli appassionati della Serie Tv dal genere comedy, The Good Place, sono arrivate buone notizie.
L'emittente televisiva NBC ha infatti rinnovato per una terza stagione lo Show che vede protagonisti l'ex investigatrice Veronica Mars,  Kristen Bell e l'attore comico Ted Danson.
# #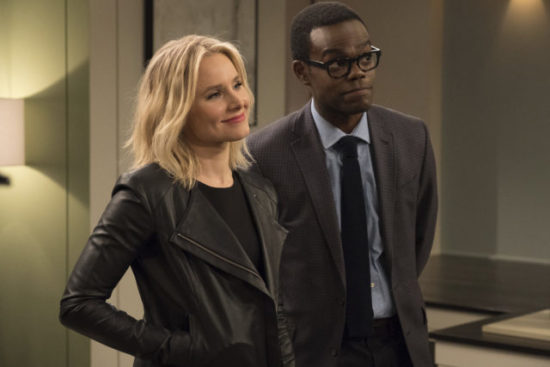 Seguendo le orme della prima e della seconda stagione, la terza sarà composta da tredici episodi.
La decisone di rinnovare la Serie Tv non arriva inaspettatamente: The Good Place ha ricevuto ottime recensioni sia dalla critica che dal pubblico. Inoltre, l'indice d'ascolto è decisamente cresciuto dalla prima alla seconda stagione, confermando dunque la qualità della Serie Televisiva.
# #
Al suo debutto nel settembre 2016, Tim Goodman – critico televisivo – definì con queste parole The Good Place:
E' una commedia diversa dalle altre che ci sono in TV. Sembra così divertente senza alcun sforzo. Le battute sono abbondanti ed originali.  
Mike Schur, creatore e produttore di Serie come Parks and Recreation, Brooklyn Nine-Nine e di Master of None, ricevette il via libera nell'agosto del 2015. Schur sin dall'inizio aveva affermato che non voleva trasformare The Good Place in una sitcom tradizionale, ma l'autore voleva mantenere uno stile annuo di pochi episodi.
Attualmente la seconda stagione dello Show è in pausa ed i suoi ultimi cinque episodi verranno mandati in onda dal 4 gennaio del nuovo anno.
La Bell aveva precedentemente confermato in un'intervista che gli autori stavano pensando ad una possibile terza stagione – naturalmente se avessero avuto il via da parte dell'emittente NBC.
Ma per quando possiamo aspettarci questa terza stagione? Ovviamente non prima di settembre del 2018 – se i calcoli fatti sono giusti.
Ad ogni modo, il cast attuale è stato confermato: oltre ai due protagonisti della Serie, Bell e Danson, rivedremo anche William Jackson Harper, Jameela Jamil, Manny Jacinto e D'Arcy Carden.