Il 27 settembre debutterà su NBC la terza stagione di The Good Place, la brillante comedy che affronta le tematiche della morte e dell'aldilà da un punto di vista decisamente bizzarro ma esilarante.
La Serie è ideata da Michael Schur, già autore per The Office e creatore di altre due comedy di successo come Parks and Recreation e Brooklyn Nine-Nine, e vanta un cast corale che affianca due veterani della Tv come Kristen Bell (Veronica Mars,House of Lies) e Ted Danson (Cin Cin, Fargo, CSI-Scena del crimine) ai semi sconosciuti, ma talentuosi, William Jackson Harper, Jameela Jamil, D'Arcy Carden e Manny Jacinto.
La seconda stagione di The Good Place si è conclusa con l'inizio di un nuovo arco narrativo, in cui vedremo Eleanor, Chidi, Tahani e Jason, rispediti sulla Terra. Il gruppo di amici cercherà di guadagnarsi il Paradiso attraverso tutto quello che hanno imparato nel loro inferno personale, mentre Michael potrà osservare e sperimentare in prima persona la vita prima della morte.
Ecco il poster ufficiale della terza stagione di The Good Place che annuncia il loro arrivo sulla Terra.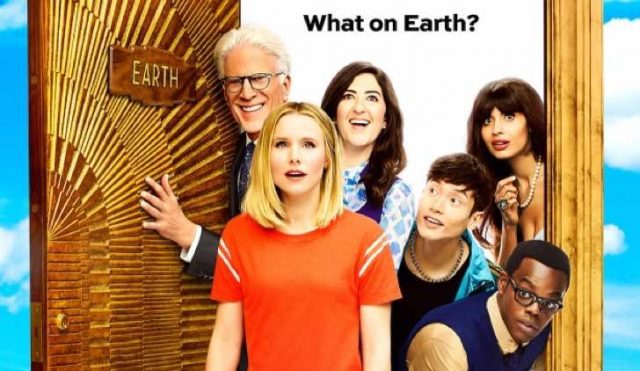 È stato inoltre rilasciato un breve assaggio del primo episodio in cui vediamo un eccitatissimo Michael varcare la soglia della Terra e costruire una linea temporale alternativa per i suoi amici:
Entertainment Weekly ha inoltre rilasciato alcune anticipazioni sulla versione 2.0 della vita dei protagonisti.
Chidi sarà un professore universitario in Australia, convinto di avere seri problemi mentali, mentre Tahani farà dei significativi cambiamenti nella sua vita. Jason sarà invece alle prese con dei passi di danza che lo porteranno di nuovo a rischiare la vita, facendolo così riflettere su ciò che vuole veramente e sulla seconda possibilità ricevuta.
Eleanor, aiutata da Michael il barista, affronterà Chidi cercando inconsciamente di capire se lui è veramente la sua anima gemella. Michael e Janet cercheranno in tutti i modi di aiutare i quattro esseri umani supervisionandoli dall'aldilà e, molto spesso, interferendo nelle loro vite.
Potete trovare le prime due stagioni di The Good Place su Infinity, mentre la prima è disponibile anche su Netflix.