L'ultima Serie Televisiva prodotta dall'emittente britannica Channel 4 e, distribuita successivamente da Netflix, The End of the F***ing World, è stata amata dal pubblico.
La conclusione dell'ultimo episodio, può avere due direzioni: una prima stagione autoconclusiva o un finale in sospeso. Ad ogni modo, una parte dei fan vorrebbe vedere una seconda stagione. Ancora però non sono ancora arrivate notizie uffiali, ma sembra che qualcosa si stia smuovendo.
Malgrado sappiamo che la Serie è stata originariamente prodotta da Channel 4, Netflix potrebbe comunque decidere di continuare quest'avventura in solitaria.
Il creatore dello Show ha dichiarato, Jonathan Entwistle, in un'intervista al magazine Collider, che per oltre dieci anni ha lavorato su questo progetto; inoltre, sembrerebbe che siano già iniziate le prime conversazioni su una possibile seconda stagione.
Penso che sia una conversazione interessante ed è una cosa che va avanti da quando lo Show è decollato. E, letteralmente, ricevo mille messaggi al giorno sui miei social media per sapere se ci sarà una seconda stagione o meno. Stiamo esplorando e stiamo vedendo cosa possiamo fare per espandere il mondo e vedere dove arrivare. Ma abbiamo concepito struttualmente lo Show come, in un certo senso, un film. E penso che, se vogliamo crescere, dovremmo espanderci in questo senso.
Entwistle, ha voluto inoltre specificare, che ne lui ne Netflix sentono l'esigenza di produrre una seconda stagione tanto presto.
I critici sono stati divisi su una seconda stagione ed è stato molto avvincente leggere quello che le persone hanno detto a riguardo. E so che Netflix è molto, molto curiosa al modo in cui le persone hanno parlato di un eventuale rinnovo, quindi dovrebbe essere molto interessante vedere dove riusciamo ad arrivare.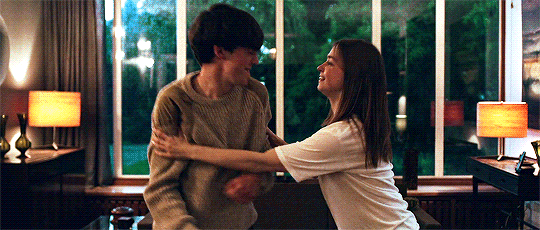 Il debutto di The End of the F***ing World era concentrato sull'avventura "spericolata" di James ed Alyssa (Alex Lawther e Jessica Barden), quindi, come si svolgerebbe una seconda stagione?
Senz'ombra di dubbio, il fumetto, non sarebbe più fonte d'ispirazione e questo Entwistle è stato chiaro.
Per me, si tratta di James ed Alyssa e penso che sia quello con cui le persone si sono connesse. Penso che una seconda stagione, dovrebbe coinvolgere loro due in quale modo. Adoro il mondo di loro la fuori, sulla strada, impegnati a fare qualcosa. Quindi per me, qualsiasi cosa scriveremo, dovrà avere loro due lì fuori da quale parte.