Una premessa fondamentale prima di iniziare questo articolo è la seguente: The End of the F***ing World è senza dubbio una buona Serie Tv, tipicamente in stile britannico e sotto molti punti di vista funzionale e ben caratterizzata. Tuttavia, quello su cui ci proponiamo di riflettere nelle righe che seguiranno è se tale Serie effettivamente merita la popolarità che ha avuto oppure se si tratta di un prodotto sopravvalutato e se anzi, con uno sguardo più attento, risulti più banale di quello che vuole fare credere.
Tendenzialmente, comunque, Channel 4 produce Serie Tv di qualità (sia di alta che di media risonanza mediatica), ma il successo globale della Serie creata da Jonathan Entwistle è stato senza dubbio supportato dalla scelta di affidare a Netflix la distribuzione in tutti i Paesi in cui la piattaforma streaming è disponibile. A livello strutturale, infatti, The End of the F***ing World è la Serie perfetta per il binge-watching e la sua composizione è molto intelligente, considerando i gusti di questi tempi: 8 puntate di 20 minuti ciascuna si divorano in massimo due giorni. In questo senso, come vedremo, questo aspetto si è rivelato essere un'arma a doppio taglio.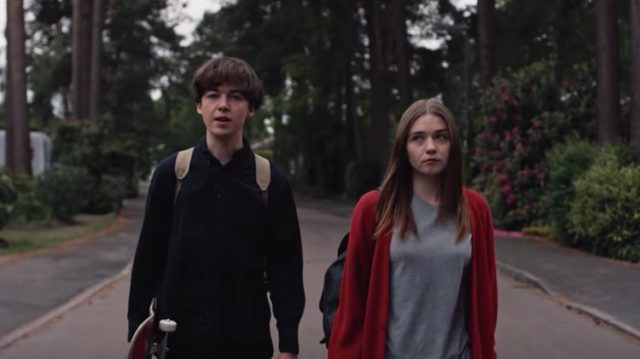 La storia di James e Alyssa viene introdotta con ambizione; la costruzione delle scene non è ordinaria, creando un puzzle che si compone man mano che i protagonisti, fungendo alternativamente da narratori, raccontano la loro storia. James è uno psicopatico (o crede di esserlo) e vede in Alyssa la sua prima vera vittima; quest'ultima è un'esaltata, sfrontata e attraente 17enne che trova invece James un ragazzo interessante. C'è qualcosa che li accomuna: un passato travagliato. James ha visto sua madre suicidarsi davanti ai suoi occhi quando era piccolo; Alyssa ha vissuto sempre con sua madre perchè il padre, un delinquente da quattro soldi, le ha abbandonate, con conseguenza che sua madre si è sposata con un completo idiota.
Qui emerge il primo grave problema, riconducibile probabilmente a un errore di scrittura della sceneggiatura. Quando si crea un passato per i propri protagonisti, di solito si ha l'obiettivo di creare empatia con gli spettatori, in modo che se qualcosa di brutto accade, l'audience sarà portata a capire o addirittura giustificare le azioni dei personaggi. Per fare questo, per creare empatia, c'è bisogno di un fondamentale fattore: il tempo. The End of the F***ing World ha scelto di non concederselo (non si può creare un background in otto episodi da 20 minuti) e conseguentemente impedisce allo spettatore non solo di capire perchè dovrebbe interessargli il passato di questi due ragazzini, ma anche di riuscire ad accettare le azioni irresponsabili e spregevoli dei protagonisti.
Il messaggio è forse che chi ha avuto problemi in passato è più probabile che commetta dei crimini? Sarebbe una giustificazione? Questa parte della storia, è evidente, non funziona affatto: probabilmente non sapere nulla su James e Alyssa avrebbe migliorato la situazione.
The End of the F***ing World si pone evidentemente come una Serie di rottura: è cinica, non ha paura di spingere sul black humor o sul genere dark comedy, in cui è noto sia arduo avventurarsi. Per questo, in una Serie così non c'è spazio per la retorica. Forse. O forse no?
Quello che personalmente ritengo il problema principale del prodotto di Channel 4 è proprio il messaggio finale che risulta essere ricco di una retorica che non si accetta considerato il modo in cui The End of the F***ing World si era presentata nel corso delle puntate. Il finale sembrerebbe infatti dirci: "Questi ragazzini hanno provato a scappare dai problemi ma, a causa della loro ovvia immaturità, non sarebbero mai stati in grado di capire che per eliminare le difficoltà bisogna affrontarle". Bene, e quindi? Lo sviluppo delle puntate ci fa gradualmente pensare: "Qual è il punto di tutto ciò?".
La risposta, molto a malincuore, potrebbe essere proprio che non c'è nessun punto: probabilmente è stata una scelta voluta, ma una Serie che si presenta nei primi episodi come rompitrice dei clichés che solitamente vediamo, e si chiude con ovvietà, è lontana dall'aver centrato l'obiettivo.
Strettamente collegato a questo discorso, c'è quindi la prevedibilità del finale: nel momento in cui i due commettono l'omicidio nella villa del maniaco in cui si erano intrufolati, è lecito pensare che non ci sarà nessun lieto fine per loro. La loro illusione di scappare non inganna lo spettatore, perchè c'è una sproporzione clamorosa fra ciò che hanno fatto e la leggerezza con cui credono di farla franca. Serve, piuttosto, a completare l'arco narrativo di James che, dopo questo episodio, capisce in realtà di non essere affatto uno psicopatico.
Il vero punto forte di The End of the F***ing World è la regia. Questa Serie è diretta con una freschezza e disinvoltura rara da trovare, ed è il motivo principale per cui risulta molto godibile. Continui controcampi, primi piani inaspettati e soggettive sono la caratteristica primaria che rendono i 20 minuti di ogni episodio, se possibile, persino più veloci del normale. Jonathan Entwistle e Lucy Tcherniak hanno compiuto un lavoro davvero sontuoso al riguardo.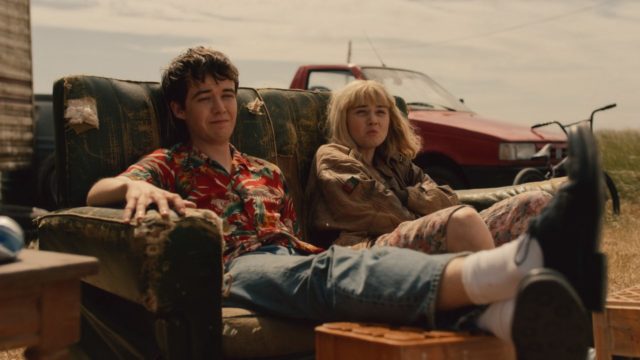 Quindi, in definitiva, The End of the F***ing World è una Serie Tv sopravvalutata? Certo che sì. A modo suo, tuttavia, funziona e, spesso, tanto basta per diventare il fenomeno di massa che è stato nelle settimane in cui è stata diffusa su Netflix.