Quando da quel 5 gennaio 2018 The End of the F*** ing World ha fatto la sua comparsa su Netflix è riuscita a conquistare proprio tutti nell'arco dei suoi 8 episodi.
Alyssa e James hanno portato The End of the F*** ing World a essere annoverata tra le serie più viste nel 2018, tanto che Netflix ha deciso per rinnovarla ordinandone un secondo ciclo di episodi (qui tutti i dettagli del rinnovo).
Esattamente 4 giorni fa sono iniziate le riprese della seconda stagione.
A rendere ufficiale l'inizio della produzione di questo nuovo capitolo è l'account twitter ufficiale di Netflix in cui si annunciano solo le prossime visioni @seewhatsnext.
"The End of the Fucking World" Season 2 is officially in production! #TEOTFW pic.twitter.com/csviIhHBI0

— See What's Next (@seewhatsnext) 4 marzo 2019
L'ultimo episodio di The End of the F*** ing World vedeva un James in fuga dalla polizia e bersaglio di un proiettile sparato appositamente per fermare la sua corsa.
La seconda stagione ripartirà da quel momento, ma se per le prime 8 puntate ci si era ispirati al fumetto di Charles Forsman i contenuti di questi nuovi episodi saranno totalmente materiale originale.
La sceneggiatura è stata affidata a Charlie Covell.
Chissà come la Covell (che sarà impegnata anche nella lavorazione dell'attesissima Kaos) deciderà di far continuare il viaggio in lungo e in largo per il Regno Unito dei due protagonisti, ma soprattutto come evolverà la loro crescita personale.
The End of the F*** ing World nell'arco degli episodi ha raccontato come Alyssa e James decidono di iniziare un viaggio alla ricerca del padre di lei. James voleva compiere un omicidio e Alyssa era la vittima prescelta, ma durante il viaggio è diventata qualcosa di più che un semplice corpo su cui sperimentare le sue curiosità omicide.
La produzione di The End of the F***ing World 2 è di Murray Ferguson, Ed Macdonald, Andy Baker, Charlie Covell, Dominic Buchanan e Jonathan Entwistle.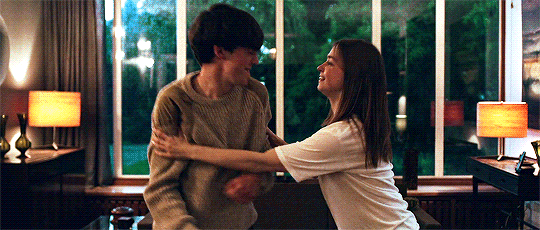 Netflix ancora non ha reso nota la struttura della stagione, da quanti episodi sarà composta e la data di uscita.
In attesa di scoprire qualche notizia in più potremmo fare un velocissimo rewatch per entrare di nuovo nell'atmosfera giusta!