Premessa: spoiler per chi non ha visto il finale della prima stagione di The Crown
Non so se è successo solo a me, e se così fosse vi chiedo scusa, arrivo anche con molto ritardo. La conclusione della prima stagione di The Crown mi ha proprio lasciato l'amaro in bocca. Tutto sembra essere andato alle ortiche, tutto sembra rovinato senza possibilità di recupero. Soprattutto il rapporto tra le due sorelle regali, Elisabeth e Margaret. Secondo me è proprio questo aspetto a essere meritevole di un approfondimento. Ho deciso di provarci qui.
Portare una corona sopra la testa non è mai facile. The Crown ce lo mostra in maniera forte e chiara. Essere il sovrano dell'Inghilterra intera è un peso che non tutti sono in grado di reggere con fermezza. Elisabeth, fin dalla sua ascesa al trono, ha sempre avuto il polso fermo nel voler costantemente attuare un giusto equilibrio tra giustizia e il bene del suo paese. Sebbene questo intento, spesso, abbia portato a scontentare le persone a lei più care: suo marito Filippo, in primis, e l'adorata sorella Margaret. Il taglio dato a questa Serie Tv è proprio quello personale, intimo, che va ad approfondire la quotidiana lotta di una persona che non è solo la Regina. Lei è anche una donna, una moglie, una figlia, una sorella. Riuscire a tenere tutto insieme equivale a camminare sui carboni ardenti.
Ma cosa emerge maggiormente dalla prima stagione di The Crown?
Purtroppo, avere un ruolo così importante disintegra persino il rapporto tra sorelle. Quel patto non scritto di guardarsi sempre le spalle verrà calpestato. Elizabeth non riesce a mantenere la promessa fatta a Margaret in merito al possibile matrimonio con il Colonnello Townsend. La questione molto spinosa fu, all'epoca, sulla bocca di tutti. La giovane Principessa era innamorata follemente di un uomo divorziato, ma non poteva sposarlo, per via delle leggi imposte al suo ruolo. La portavoce delle disposizioni in merito era sempre una: la Regina. Proprio lei, in qualità di rappresentante dello Stato e della Chiesa inglese. Il conflitto tra rapporto di sangue e rispetto della giustizia sarebbe emerso prima o poi.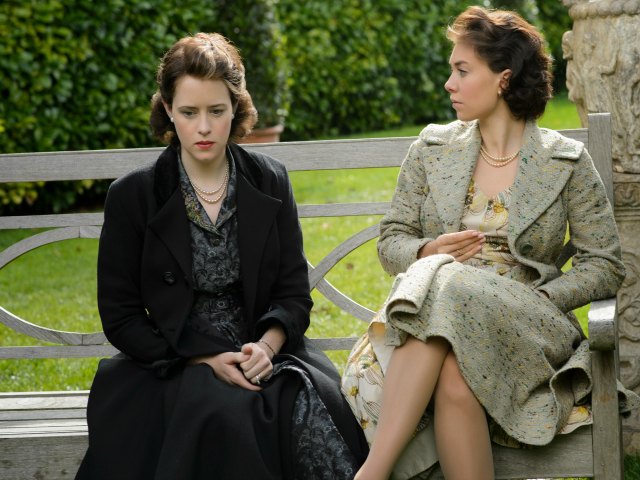 Mentre Elizabeth prova e riprova a trovare un modo di dare alla sorella quello che vuole, tutte le figure che le ruotano attorno la convincono del contrario. Il senso di responsabilità è troppo forte nella Regina per ignorarlo. Andrà avanti a costo di sacrificare la fiducia riposta in lei dalla sorella minore. Eppure il compianto Re Giorgio le aveva già avvertite. Ci viene mostrato in un flashback bellissimo dell'ultimo episodio:
Voglio che mi promettiate una cosa: non mettete niente o nessuno davanti a voi due. Siete sorelle prima di tutto. E non dovete mai deludervi. Capito?
Elizabeth è purtroppo finita a fare gli stessi errori dello zio. Lui, abdicando per seguire un amore negato, ha scaricato tutte le responsabilità sul fratello minore. Lei, impedendo un matrimonio scomodo, ha incrinato in maniera irreparabile il rapporto con la sorella minore. Staremo a vedere cosa ci riserverà la seconda stagione di The Crown. Non vediamo l'ora di tornare alla corte della Regina d'Inghilterra!
Leggi anche – The Crown: com'è nato