Ormai mancano pochi giorni alla distribuzione di The Crown 3. La nuova stagioni infatti sarà disponibile su Netflix a partire dal prossimo 17 novembre e, come anticipato, il primo episodio sarà disponibile anche per chi non è abbonato al colosso dello streaming.
Peter Morgan, il creatore e sceneggiatore della serie, si è lanciato in un interessante confronto tra il personaggio di Elisabetta II, interpretata da Claire Foy nelle prime due stagioni (da The Crown 3 avrà invece il volto del premio Oscar Olivia Colman) e niente meno che Tony Soprano.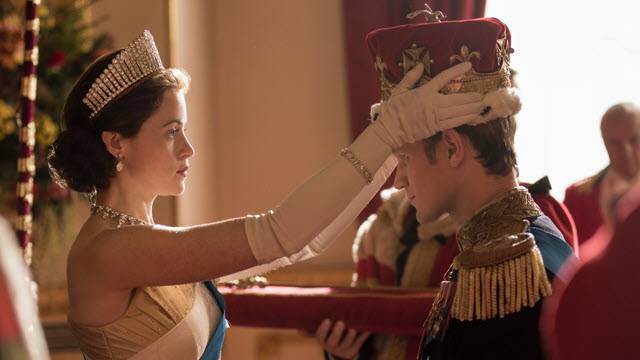 Cosa hanno in comune questi due personaggi fuori da comune? La regina d'Inghilterra e il boss mafioso più amato del piccolo schermo? Verrebbe da dire nulla, almeno per rispetto di Sua Maestà. Ma secondo lo showrunner Peter Morgan la centralità dei due personaggi nella gestione delle rispettive storie è molto più che una lontana similitudine. Questa loro presenza fattiva nello sviluppo delle vicende che gli ruotano attorno fa si che non possano mai essere messi troppo in disparte, lontani dal centro della scena.
"Vediamo primi ministri, governi, crisi, guerre, altri membri della famiglia reale. Ci sono mille strade che si potrebbero percorrere. Perché c'è bisogno costantemente di concentrarsi sempre solo su questa silenziosa, taciturna e diligente donna di mezza età? Non è facile far ruotare tutto lo show attorno a un personaggio".
Proseguendo nella sua intervista ha sottolineato le difficoltà avute nel corso della prima stagione quando ha cercato di girare episodi che non vedessero la regina dominare la scena:
"Dev'essere successo lo stesso a David Chase [creatore de I Soprano, ndr.] quando ha cercato di scrivere qualche episodio de I Soprano senza Tony Soprano. Gli sarà sembrato strano e subito avrà deciso di riportarlo davanti alla macchina da presa per un paio di scene. Mi è successo, in sala montaggio, di realizzare di dover rimettere Claire Foy al centro della storia e quindi di voler riscrivere qualche scena per farla ruotare attorno al suo personaggio".