Gillian Anderson, attrice statunitense naturalizzata britannica, è nata nel 1968 ed è nota soprattutto per il ruolo di Dana Scully in The X-Files, serie tv tra poliziesco e paranormale andata in onda su Fox dal 1993 al 2002 e oggi disponibile su Amazon Prime Video. Figlia del proprietario di un'azienda che si occupava di post-produzione cinematografica, la Anderson ha avuto fin da piccola uno stretto contatto – anche se indiretto – con il mondo dello spettacolo. Con la famiglia si è trasferita dagli Stati Uniti a Porto Rico e poi a Londra, per tornare poi nello Stato del Michigan dove ha frequentato la City Middle/High School di Grand Rapids, senza perdere mai il suo accento britannico.
Dopo un'adolescenza decisamente ribelle durante la quale ha mostrato una certa insofferenza per le convenzioni sociali e sperimentato diverse droghe, Gillian Anderson ha iniziato a studiare teatro all'Università DePaul di Chicago, dove si è laureata nel 1990. Proprio nel teatro esordisce con un ruolo nella commedia Abstent Friends del drammaturgo inglese Alan Ayckbourn, per il quale vince il premio come miglior esordiente del Theatre World Award. Si è trasferita poi a Los Angeles per tentare la fortuna nel cinema, ma non riuscendovi si è rivolta alla televisione: da questo momento è arrivata all'apice del successo abbastanza rapidamente.
Per la serie The X-Files, Gillian Anderson ha ottenuto la parte, pur essendo un volto nuovo, solo grazie alla determinazione del produttore Chris Carter, e per la stessa serie si è cimentata anche nei ruoli di sceneggiatrice e regista. Dopo qualche altro film importante ha deciso, all'apice del successo, di lasciare Hollywood e ristabilirsi in Inghilterra.
Sono stati proprio i recenti ruoli in due serie britanniche, Sex Education e The Crown, – entrambe originali Netflix -, a riaccendere la fiamma del suo successo.
In Sex Education, Gillian Anderson interpreta la sessuologa Jean Milburn, madre del protagonista Otis, interpretato da Asa Butterfield. Quello di Jean è il personaggio tramite il quale la serie, che si pone come prodotto educativo rivolto ad adolescenti e giovani adulti, divulga pillole di educazione sessuale in modo ironico e originale. La recitazione della Anderson, che risente della sua formazione teatrale, risulta particolarmente calzante. Jean è infatti una donna piuttosto istrionica: elegante, sfavillante, versatile e sicura di sé è senza peli nella lingua, spesso fonte degli imbarazzi del figlio Otis che invece vuole rendersi il più possibile anonimo per timidezza. Abbiamo parlato in questo articolo dell'importanza che il ruolo in Sex Education ha avuto per la Anderson, dopo che il personaggio di Dana Scully in The X-Files, proprio per via del grande successo che ha avuto la serie, ha frenato le sue possibilità di interpretare un ruolo fresco – come del resto accade a molti attori che partono "col botto", come Matthew Fox in Lost e James Van Der Beek, eterno Dawson Leery.
Gillian Anderson è tornata in pista più forte che mai con la sua Jean Milburn, senza mai perdere l'umiltà e l'ironia che contraddistingue il suo modo di comunicare con i fan attraverso i canali social. Dopo Sex Education, ha dato prova delle sue grandi abilità recitative con il ruolo di Margaret Thatcher nelle ultime due stagioni della serie The Crown, ideata e creata da Peter Morgan. Il ruolo le è valso infatti un Golden Globe come miglior attrice non protagonista nel 2021, il secondo dopo quello per miglior attrice in una serie drammatica in The X-Files nel 1997. Per il ruolo di Margaret Thatcher, Primo Ministro britannico dal 1979 al 1990 soprannominata the Iron Lady, l'attrice ha dichiarato di essersi dovuta distaccare da preconcetti e pregiudizi di stampo politico per calarsi a fondo nelle sue motivazioni, nei suoi sentimenti. La Anderson ne ha studiato le movenze, la camminata nelle scarpe scomode e con le gambe strette dalle calze di nylon, la cadenza, i discorsi trasmessi dalla televisione fedelmente riprodotti dalla serie.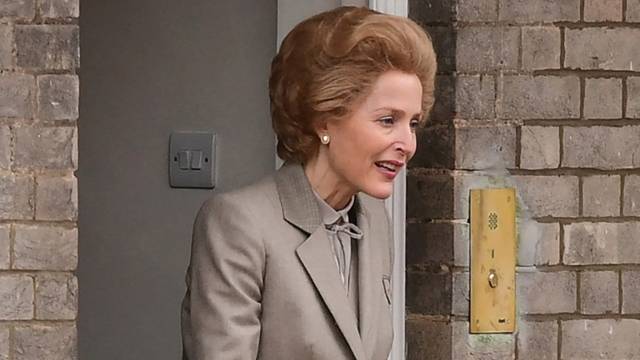 In quello che è il ritratto proposto da The Crown, al ruolo politico si intreccia e sovrappone quello di moglie e madre. Come accade per Elisabetta II, è difficile immaginare la Thatcher in situazioni ordinarie, con un grembiule addosso mentre cucina per i suoi figli: Gillian Anderson è riuscita, con la sua interpretazione, a cucire insieme Lady di ferro e una Margaret che rivela il suo lato più intimo e umano, ma mai radicalmente opposto a quello di Primo Ministro, di cui la Anderson salvaguarda i tratti caratteriali nel passaggio da una scena all'altra. Insomma, un ruolo studiato a fondo e interpretato con maestria che le è valso il plauso della critica e l'apprezzamento del pubblico.
Scrittrice, attivista e femminista oltre che attrice, è impegnata in diverse campagne, come quella di Survival per salvare la tribù degli Awá, la più minacciata della terra. Queste attività, insieme ai tre matrimoni alle spalle – e altrettanti divorzi – contribuiscono a costruire l'immagine della tipica star di Hollywood vecchio stampo, diva che non si guarda mai indietro e si gode la vita, il successo, la fama e la libertà e utilizza la propria visibilità a favore di cause che le stanno a cuore. A coronare quest'immagine iconica, dal 2018 ha contribuito la stella dedicatale lungo la Hollywood Walk of Fame, per il suo grande contributo all'industria televisiva.