The Crown 4 ha colpito i suoi spettatori dritto al cuore, portando sulla scena una famiglia disgregata, le difficoltà di Lady D e l'ascesa in politica dell'Iron Lady. A tal proposito, soffermiamoci sull'interpretazione di Gillian Anderson, che ha rivelato cosa ha provato interpretando questo ruolo. La sua Margaret Thatcher sembra impeccabile, anzi lo è! Ma in una stagione che ha rivelato un lato decisamente controverso della famiglia reale, perché mai si è deciso di adagiarsi comodamente solo sulla rappresentazione sputata che il mondo aveva e ha della donna di ferro? Senza andare oltre? L'idea di The Crown durante le puntate mira a distruggere il quadro di perfezione in cui si inserisce la Corona, è evidente il desiderio di ridurre i reali a dei semplici uomini addirittura antipatici e schivi, allontanando l'immagine pubblica di famiglia esemplare che per secoli loro hanno cercato di difendere.
Quindi, perché di questo svelamento, non per forza negativo, non ne ha fatto parte anche l'Iron Lady di Gillian Anderson?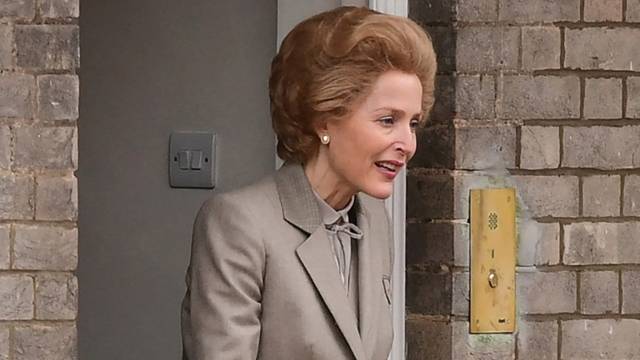 La Thatcher di The Crown 4 resta ancorata al mito politico creato per gli elettori negli anni '70.
Il personaggio è impenetrabile anche nella serie tv, nonostante qualche occhio lucido mostrato strategicamente in televisione anche all'epoca.
Chiaramente questa interpretazione è un'arma a doppio taglio, poiché se da un lato è la prova che Gillian Anderson sia capace di vestire personalità totalmente diverse dalla propria, dall'altro lato c'è un ma. Una virgola fuori posto derivante paradossalmente da una rappresentazione sì perfetta del personaggio politico, ma non autentica.
L'attrice e con lei anche gli sceneggiatori sembra si siano voluti soffermare solo sul ruolo pubblico che l'Iron Lady aveva costruito per se stessa. Ne deriva così una sorta di commedia nella commedia in cui la Anderson interpreta un personaggio già interpretato dalla stessa Thatcher. Citando la scrittrice Marina Pierri:
Io non credo che la Anderson ricercasse alcuna verità nell'immedesimazione; credo, invece, che tenesse molto a costruire una caricatura.
Dunque giunti alla puntata delle sue Idi di marzo cosa ci è effettivamente rimasto della Thatcher di The Crown 4 che non conoscevamo già?
Sarebbe stato ancor più sconvolgente portare in scena, (come è stato fatto per gli altri protagonisti, perché la Thatcher è da considerarsi una protagonista al pari di tutti coloro che ruotano intorno alla regina) il suo essere ancora inedito.
Dunque un agire che continuasse a raccontare della sua dedizione alla politica e al lavoro, come è stato fatto, ma che mostrasse anche l'imprevisto, il guizzo in quell'agire calcolato e in quei capelli mai fuori posto. Insomma lo sforzo effettivamente compiuto dal personaggio per percepire ciò che lei stessa racconta di aver vissuto prima e durante la carica di Leader del Partito. Tutto, invece, resta distante anche nelle scene che tentano di mostrare un crollo.
Ecco che dopo aver finito The Crown 4 ci chiediamo, pensando a Meryl Streep e alla sua interpretazione dello stesso personaggio politico nel film del 2011 (The Iron Lady), chi tra le due attrici abbia consegnato meglio l'essere di Margaret Thatcher.
Al contrario della via percorsa in The Crown 4, The Iron Lady ricerca un maggiore equilibrio tra l'emotività e la fermezza racchiuse nella Thatcher.
Sono sincera rivelandovi che il film non mi ha entusiasmato, probabilmente perché le mie aspettative erano davvero molto alte. Alla fine invece mi hanno leggermente deluso sia la regia sia il filo narrativi che, essendo basato sui deliri di una donna anziana attraverso cui lei ripercorre i momenti importanti della sua vita, realizza un'atmosfera eccessivamente cupa e deprimente. In questa mia piccola delusione ho comunque trovato interessante la contrapposizione tra periodo d'oro e periodo decadente, tra gioventù e vecchiaia, specialmente grazie all'espressività dell'attrice protagonista.
E guardando nel particolare l'interpretazione di Meryl Streep, posso dire che la straordinaria attrice abbia portato sullo schermo due Margaret ed è questo il dettaglio che mi fa preferire lei alla Anderson. La Streep è capace di mostrare l'evoluzione, il prima e il dopo la carica di Primo Ministro. E ciò non accade perché il film è incentrato su di lei o perché si è deciso di mostrare presente e passato, che tuttavia ha il suo vantaggio nella narrazione, ma perché l'interpretazione di Meryl Streep evidenzia una emotività sincera, una pars destruens – già in atto quando il film inizia – e una pars construens. Quest'ultima è mossa dal fatto che la Thatcher sia davvero una donna di ferro, modello di determinazione anche nel momento di umanità, di naturalezza e autenticità, che ci viene mostrato.
Meryl Streep non sceglie di indossare una maschera preconfezionata dal pubblico. Lei interpreta due Margaret diverse con tante altre sfaccettature inedite in modo tale che il pubblico capisca come e quando nacque l'Iron Lady che tutti pensano di conoscere.