Sono passati poco più di sette mesi dalla puntata finale di The Big Bang Theory e dalla fine delle strambe avventure dei nostri affezionatissimi nerd.
12 stagioni composte da 279 puntate han fatto di The Big Bang Theory la sitcom multi-camera più longeva nella storia della televisione nonché una delle comedy più amate e di successo dell'ultimo anno, e anche del decennio appena concluso.
Abbiamo riso molto e pianto – per fortuna – molto meno, in un'escalation di gag che han portato la serie ad affermarsi nella storia delle serie tv oltre che per la sua ironia mai scontata soprattutto per aver portato sul grande schermo personaggi iconici e non convenzionali.
Chi avrebbe mai pensato che ridere con questi 4 cervelloni sarebbe stato così semplice?
Tra una battuta di Sheldon con riferimenti troppo aulici e la costruzione di un marchingegno di cui ci è difficile cogliere il senso, l'intelligenza dei nostri protagonisti va di pari passo con la loro inadeguatezza alla vita facendoli scivolare spesso e volentieri in situazioni grottesche al limite della legalità.
Ecco tutte le volte in cui i nostri protagonisti si sono cacciati in guai seri – rischiando addirittura la prigione – ma uscendone inspiegabilmente illesi.
1) Povero Stuart e povero negozio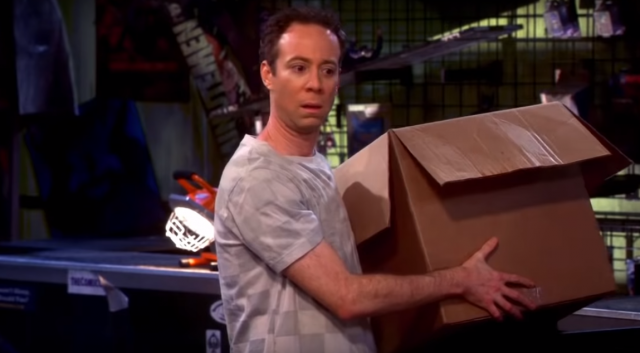 Gestore e proprietario del negozio di fumetti Comic Center, Stuart Bloom non ha mai goduto degli effetti della buona sorte. A causa dei pochi introiti del locale non può permettersi di pagare un affitto e così bivacca nello stanzino del negozio che diventa la sua unica vera casa.
Che al peggio non c'è mai fine questo Stuart lo sa bene e infatti, nell'ultima puntata della settima stagione, quello che ci viene presentato come un incendio accidentale arderà la sua attività e casa lasciando il nostro protagonista senza un posto dove vivere. Ma soprattutto, senza la sua più grande passione.
Come in seguito racconterà a Sheldon, l'incendio è stato scaturito da una piastra che prendendo fuoco ha poi arso tutto il negozio lasciato incustodito creando un danno talmente ingente da lasciar dubitare anche la compagnia assicurativa della veridicità di questa storia. Se così fosse il rischio galera sarebbe alle stelle ma per fortuna così non è stato e anzi, l'infausto evento è stato per Stuart uno snodo di svolta positivo per la sua vita e salute mentale.