The Big Bang Theory è alle sue battute finali. Dal lontano 2007, le avventure di quattro giovani nerd – Leonard, Sheldon, Raj e Howard – hanno appassionato milioni di spettatori in tutto il globo. L'arrivo della bella e frizzante Penny ha sconvolto il loro mondo fatto di fumetti, videogiochi e Dungeons and Dragons. A lei poi si sono aggiunte la dolce ma temibile Bernadette e la controparte femminile di Sheldon, Amy. In queste dodici stagioni abbiamo visto tutti i protagonisti cambiare ed evolversi, vivendo molte esperienze formative, imparando da loro stessi e dal contatto con il mondo reale. The Big Bang Theory ha reso "cool" l'essere un nerd e ha portato alla ribalta il mondo della scienza, dell'ingegneria, della fisica e delle loro tante specializzazioni.
Purtroppo nemmeno The Big Bang Theory è esente da errori. C'è un grosso buco nella trama che non è mai stato chiarito. Sto parlando dell'ascensore nel palazzo di Leonard, Sheldon e Penny.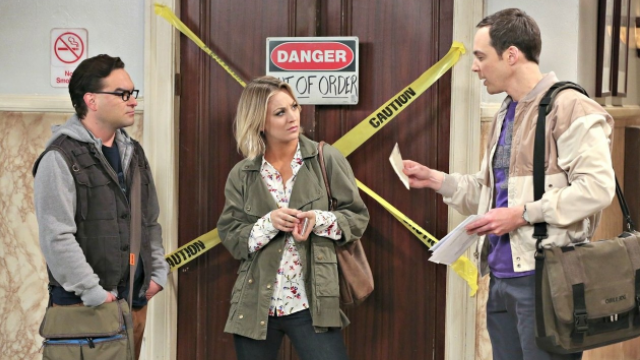 Da quando The Big Bang Theory è iniziata l'ascensore è sempre stato rotto. Delle leggende metropolitane (e alcuni flashback) narravano di come un tempo questo mezzo di trasporto funzionasse perfettamente. Il suo essere rotto è la caratteristica che ha reso l'ascensore una vera e proprio icona della serie tv. Sembra che il fatto che non funzionasse abbia in qualche modo amplificato le interazioni tra i vari personaggi di The Big Bang Theory, obbligandoli a prendere quotidianamente le scale. Per i nostri geniali nerd è forse l'unico momento della giornata in cui praticano qualche attività fisica! Alcuni fan hanno addirittura ipotizzato che, se l'ascensore fosse stato funzionante, Leonard e Penny non sarebbero mai diventati una coppia.
In questo modo le scale sono diventate un vero e proprio set in cui le varie trame e sottotrame dello show si sono sviluppate, dove si parla, si discute e ci si conosce.
Tutto questo solo perché l'ascensore non funzionava. Ma quindi come si è rotto?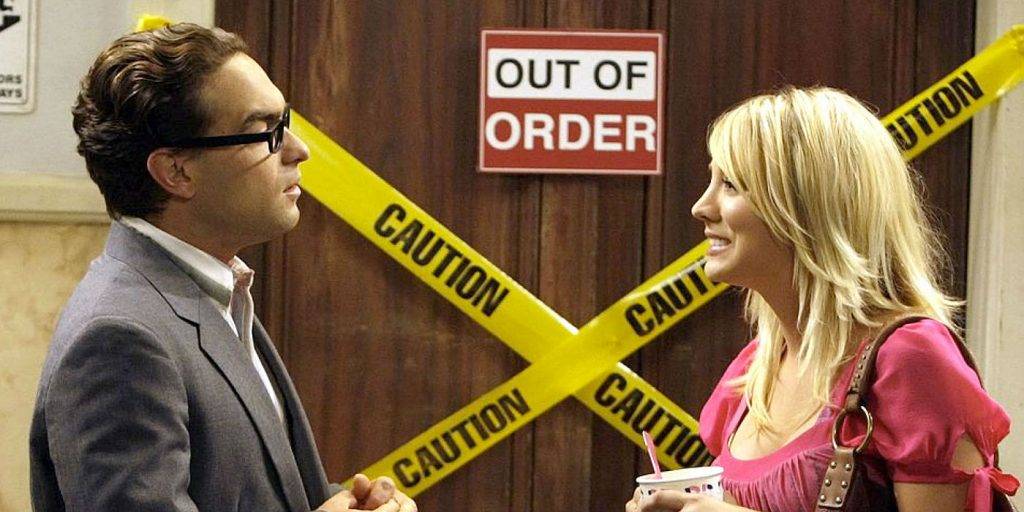 Esistono due versioni della storia. Per la prima dobbiamo tornare all'episodio quattordici della prima stagione. Leonard compra la macchina del tempo del film "L'uomo che visse nel futuro" in un'asta online. Pensando che fosse semplicemente un modellino, offre impulsivamente ottocento dollari e, non potendoselo permettere, decide di dividere la spesa con i suoi amici. Quando però la macchina del tempo viene consegnata a Leonard, i quattro amici scoprono un'amara verità: non è un modellino ma una riproduzione a grandezza naturale. Il problema adesso è come portare su questo enorme oggetto. Howard suggerisce di smontare il disco gigante dietro la macchina e caricarla sull'ascensore. Ma Leonard risponde:
"Sì, peccato che l'ascensore sia rotto da due anni"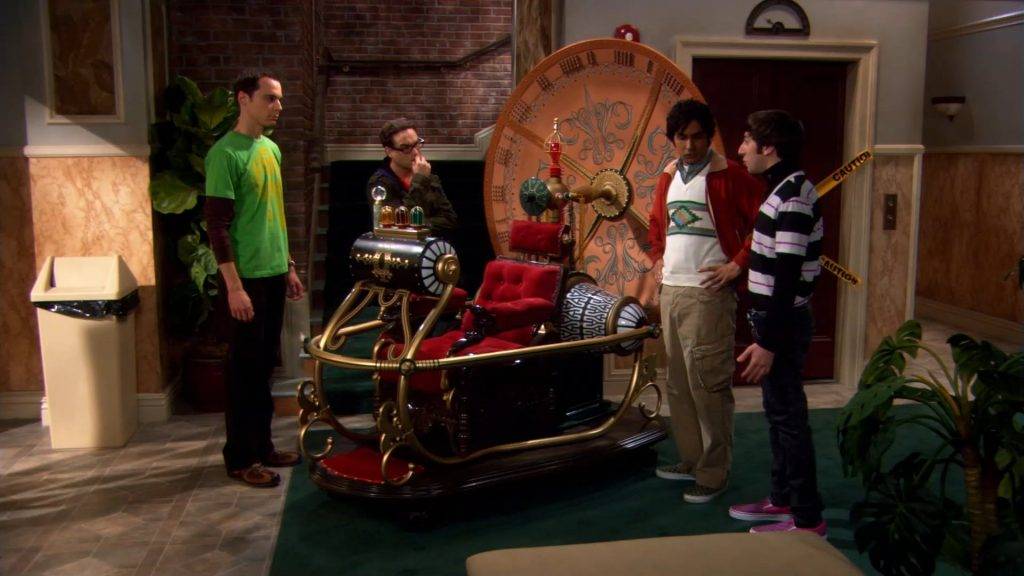 La seconda versione è raccontata nel penultimo episodio della terza stagione.
In questa puntata Leonard e Sheldon hanno una brutta lite. Il primo vorrebbe alzare la temperatura dell'appartamento di un grado ma Sheldon glielo impedisce. Infuriato, Leonard si reca da Penny chiedendole se può passare la notte sul suo divano. La ragazza acconsente e gli domanda come mai sia andato a vivere con una persona così fastidiosa come Sheldon. A quel punto Leonard racconta a Penny del suo primo incontro con il fisico teorico. Sette anni prima Leonard era in cerca di una casa. Dopo essere stato avvertito dall'ex coinquilino di Sheldon di scappare, arrivò all'appartamento (salendo sull'ascensore). Qui Sheldon lo sottopose a una serie di domande per vedere se la loro convivenza sarebbe potuta funzionare.
Altri flashback ci mostrano la firma del contratto tra coinquilini e l'ingresso di Howard e Raj nel gruppo. Questi ultimi due e Leonard decisero di compiere un esperimento: far decollare un modellino di razzo usando del carburante apposito che Leonard aveva nel suo appartamento. Purtroppo la formula non andava bene e Sheldon cercò invano di farlo notare al suo coinquilino. L'esperimento stava per esplodere nelle loro mani ma Sheldon lo chiuse nell'ascensore, rompendolo ma salvando i suoi amici da un disastro colossale.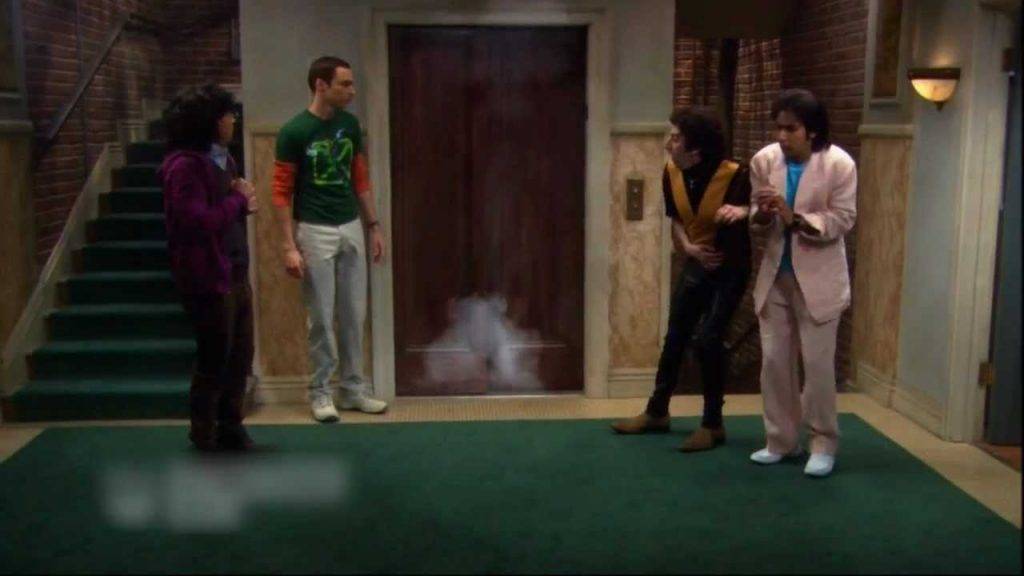 Di conseguenza le parole di Leonard si contraddicono: la prima volta afferma che l'ascensore si è rotto da due anni, mentre nella seconda che non funziona da ben sette anni. Magari questo mezzo di trasporto si è rotto due volte ma allora perché non dirlo? Un fisico dal Q.I. elevato come quello di Leonard non dovrebbe dimenticare una cosa così banale!
Ma questa non è l'unica incongruenza che riguarda questa faccenda. Ce n'è un'altra che riguarda Howard. Come già detto in precedenza, è lui a suggerire di caricare la macchina del tempo nell'ascensore non sapendo che fosse rotto. Inoltre si vanta di essere un ingegnere con la I maiuscola:
Riparo satelliti a distanza praticamente tutti i giorni, risolvo i problemi nelle operazioni di carico dello shuttle. Quando il Mars Rover cominciò a tirare verso sinistra, io ho eseguito un allineamento elettronico da più di 100 milioni di chilometri di distanza.
Eppure si limita a schiacciare il bottone per chiamare l'ascensore, aspetta tre secondi per dare una diagnosi affrettata e che chiunque poteva dare. Si arrende praticamente subito senza nemmeno provarci sul serio. Ma nella seconda versione Howard ha partecipato all'esperimento che ha fatto esplodere l'ascensore. Quindi sapeva esattamente che cosa era successo.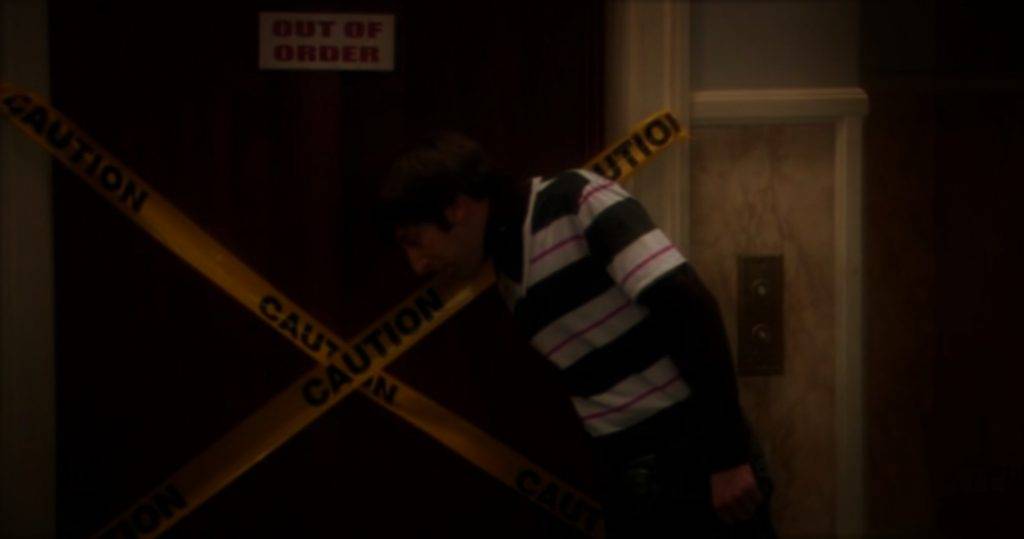 Probabilmente non scopriremo mai il vero motivo per cui l'ascensore si è rotto. O meglio, non sapremo quale delle due storie sia quella vera. Ma non è importante perché non è certo questo buco di trama a rovinare The Big Bang Theory.
Quello che i fan si chiedono è se l'ascensore verrà mai riparato dopo tanti anni. Non è facile dirlo ma sarebbe un modo perfetto per concludere degnamente una delle comedy più seguite negli ultimi anni: l'ultima scena con l'ascensore che riparte e la serie tv che finisce sarebbe un momento estremamente significativo.
Non ci resta dunque che attendere il 16 maggio per scoprire come le avventure dei nostri nerd preferiti si concluderanno e che ruolo avrà l'iconico ascensore nel finale!