All started with a big bang!
Da alcune settimane è cominciata la nona stagione di The Big Bang Theory, che sta ricevendo pareri contrastanti da parte dei fan.
Sono stati trasmessi solo otto episodi, ma sembrano già abbastanza per poterla considerare una stagione piuttosto sottotono: personaggi troppo snaturati, situazioni piuttosto ripetitive ed episodi troppo "sheldoncentrici".
Ed in effetti ormai è lui a sostenere sulle sue spalle quasi tutte le gag ed i grandi cambi narrativi che dovevano infiammare questa stagione (il matrimonio di Leonard e Penny e la separazione di Sheldon ed Amy) non hanno sortito gli effetti sperati. Sebbene questi ultimi due episodi trasmessi sembrino aver dato una maggiore vivacità a questa stagione, tuttavia la serie non è più la stessa.
In parte condivido queste critiche, ma il cuore mi spinge a continuare a guardare le avventure dei nostri nerd preferiti, apprezzando comunque gli episodi più belli.
Bisogna ammettere però che dalle prime stagioni i personaggi hanno subito una vera e propria evoluzione, che ha raggiunto l'apice in questa stagione. Ammiriamo come appaiono in questi episodi dunque i quattro nerd ed i loro amici.
KRIPKE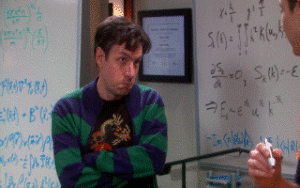 Iniziamo da lui, lo scienziato Kripke, che è diventato un vero e proprio tappabuchi. Viene inserito talvolta per dare vivacità alla trama e dopo viene nuovamente gettato nel dimenticatoio. E' per questo, sicuramente, che il suo personaggio è rimasto sempre uguale a se stesso. Il più negativo dei vari ragazzi: estremamente antipatico,saccente e fastidioso. Si oppone costantemente a Sheldon, dando vita ad esilaranti battibecchi. In queste puntate infatti lo abbiamo visto insegnare la scherma ai quattro scienziati e ricattare Leonard e Sheldon per dargli dell'elio, senza contare il fatto che ha invitato Amy ad uscire, il che ce lo rende ancora più detestabile. 5
STUART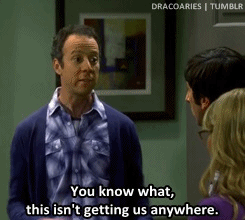 Nel corso delle ultime stagioni ha conquistato un ruolo man mano sempre più importante. Tutti ci ricordiamo che Stuart prima era chiuso dietro il bancone della sua fumetteria e che di tanto in tanto si lamentava della sua vita o diventava il rivale amoroso di uno dei ragazzi. Il personaggio ha subito un'escalation intrufolandosi pian piano nella casa e nella vita di Howard (e di tutto il gruppo di amici).
In questa serie Stuart è diventato un vero e proprio personaggio fisso, ma la sua trasformazione in un regular si è risolta in un risultato molto deludente. E' andata a finire che Stuart continua a lamentarsi da sette episodi della sua triste vita e le sue battute che prima potevano essere carine, ascoltate di tanto in tanto, adesso risultano un po' pesanti! Poteva essere sfruttato meglio e soprattutto sarebbe stato interessante vedere gli svolgimenti di una sua relazione con la cugina di Howard. Gli sceneggiatori invece si sono limitati ad affibbiargli il ruolo di "single sfigato"che prima era di Raj.  4