Molti appassionati di serie tv amano seguire i profili social dei loro attori preferiti per sbirciare cosa pubblichino e farsi un'idea di chi siano nella loro vita privata. La sottoscritta non fa eccezione e spulciando qua e là tra i profili instagram degli attori di The Big Bang Theory ho notato il peculiare approccio all'utilizzo della piattaforma di uno di loro. Oggi vi parlo di un aspetto poco noto dell'attività social di Kunal Nayyar aka il Raj di The Big Bang Theory. Un aspetto che rende chiaro il perché l'attore meriti l'appellativo di "Life Coach di Instagram".
Sul suo profilo, infatti, campeggiano un'infinità di post dal tono estremamente motivazionale, quasi come se nel tempo libero Kunal Nayaar si desse al Life Coaching. Le didascalie che scrive per le sue foto, dunque, tradiscono un carattere assolutamente sensibile e profondo con una spiccata propensione all'ottimismo. Queste caratteristiche dell'attore indiano sono pienamente rinvenibili nel personaggio che lo ha portato alla ribalta. Anche Raj infatti è un ragazzo sensibile e dolce, che mostra di avere sempre una parola di incoraggiamento per gli amici, come in The Big Bang Theory.  Vediamo dunque alcuni post che fanno di Kunal Nayyar il life coach di instagram.
15 GENNAIO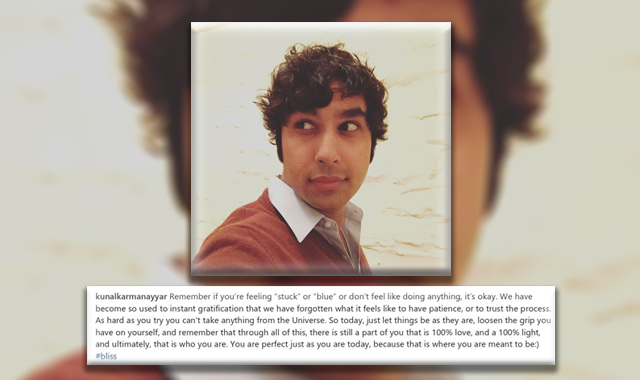 Se vi sentite bloccati o malinconici o sentite di non voler fare nulla, è ok. Ci siamo così abituati alle gratificazioni immediate che abbiamo dimenticato cosa significhi avere pazienza e affidarsi al corso degli eventi. Più duramente ci provate, più non riuscirete a ottenere nulla dall'universo. Quindi oggi lasciate che le cose siano quelle che sono, mollate la presa su voi stessi e ricordate che nonostante tutto c'è una parte di voi che è al 100% amore e al 100% luce. E alla fine questo è ciò che siete, siete perfetti già come che siete oggi. Perché siete dove dovreste.
1 GENNAIO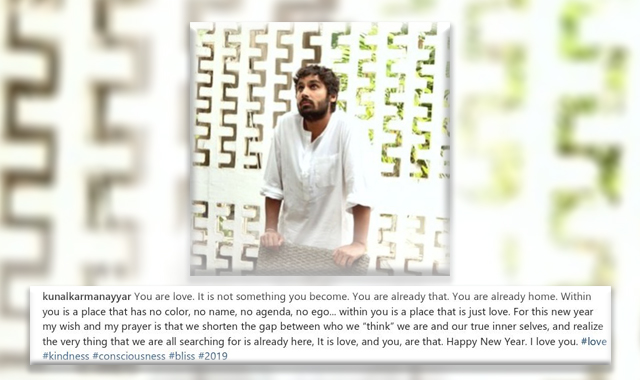 Voi siete amore. Non è qualcosa che si diventa. È qualcosa che siete già. Siete già la vostra casa. Dentro di voi c'è un posto che non ha colore, non ha nome, non ha un'agenda e non ha ego. Dentro di voi c'è un posto che è fatto solo per l'amore. Il mio augurio e la mia preghiera per questo nuovo anno sono che tutti noi possiamo accorciare il gap tra chi pensiamo di essere e chi siamo realmente. E capire che tutto quello che cerchiamo è già qui. È l'amore. E voi siete amore.
10 DICEMBRE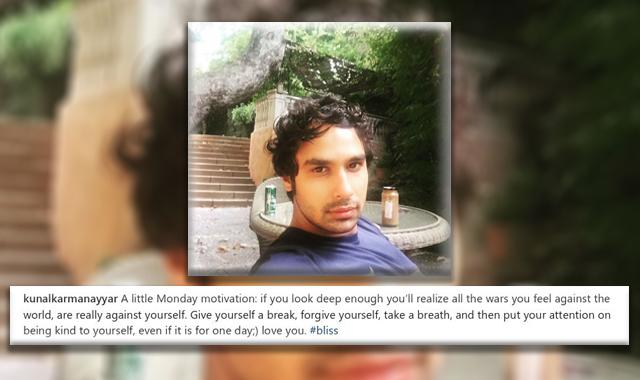 Una piccolo incoraggiamento per il lunedì. Se guardate bene nel profondo di voi stessi, vi renderete conto che la guerra in cui sentite di essere contro il mondo, in realtà, è una guerra contro voi stessi. Prendetevi una pausa, perdonatevi, fate un respiro e poi fate attenzione ad essere gentili con voi stessi. Anche solo per un giorno.
22 NOVEMBRE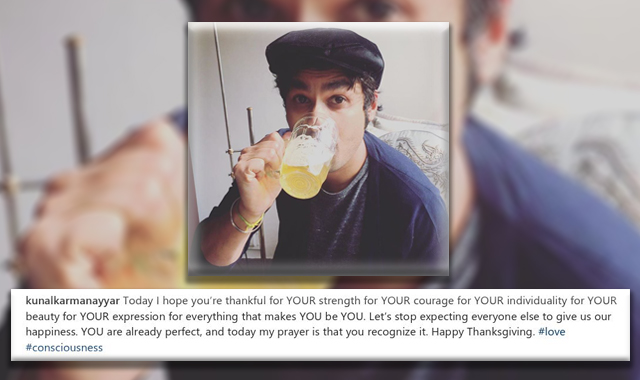 Oggi spero che voi siate grati per la vostra forza, per il vostro coraggio, per la vostra individualità, per la vostra bellezza, per i vostri modi, per tutto ciò che vi rende voi stessi. Smettiamo di aspettarci che la nostra felicità possa arrivare da qualcun'altro. Siete già perfetti e oggi la mia preghiera è che ve ne rendiate conto.
26 SETTEMBRE
Lasciatemi dire che voi siete già perfetti. Per un giorno cessate la guerra con voi stessi. Sventolate la bandiera bianca e arrendetevi. Ricordatevi che abbiamo una vita e faremmo meglio a passarla diffondendo gentilezza, amore e gioia. E inizia facendo tutte queste cose per voi stessi.
4 SETTEMBRE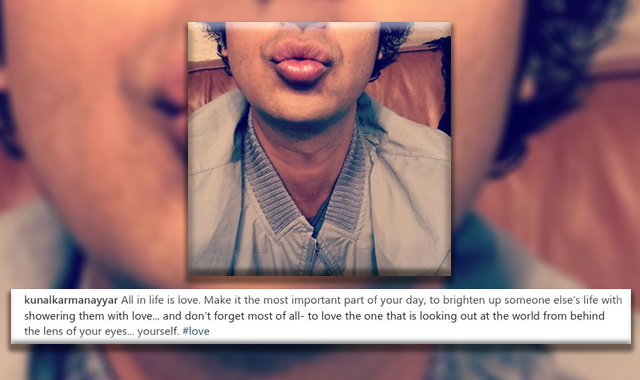 L'amore è tutto nella vita. Rendiamolo la parte più importante della nostra giornata per illuminare la vita degli altri inondandoli di amore. E non dimenticate soprattutto di amare chi guarda il mondo da dietro i vostri occhi…voi stessi.
Questi concetti così genuini e sani, che sono solo apparentemente ripetitivi, sono frutto di un evidente lavoro su se stesso che Kunal Nayyar ha intrapreso da tempo. La meditazione è lo strumento con il quale l'attore ha raggiunto tali forti consapevolezze. Questi sono i capi saldi della sua vita che lo arricchiscono sotto il profilo emotivo e tramite i quali lui vuole arricchire i suoi follower. In The Big Bang Theory vediamo spesso Raj dedicarsi alla meditazione e ora sappiamo bene che Kunal Nayyar ha messo un po' di se stesso nel suo personaggio più famoso e, forse, anche per questo, così riuscito.