Avete presente quando al mattino vi svegliate con un fastidioso mal di gola? Sarà capitato a molti di recente, siamo a Gennaio d'altronde. Bene, in momenti come questi l'unica cosa che si desidera è una caramella. Alla menta, o di quelle ripiene di sciroppo balsamico possibilmente. Nient'altro che una piccola caramella da tenere in bocca per qualche minuto, giusto il tempo necessario a lenire il fastidio e aiutarci a ritrovare il benessere. Ecco, le sitcom hanno tutte più o meno la stessa funzione: aiutarci a stare bene. Sono l'equivalente di ciò che rappresenta la favola della buona notte per i più piccini. The Big Bang Theory in questo ha pochi eguali, tanto da essere stata, ed essere ancora, la caramella preferita da molti di noi.
A volte ci affidiamo a Sheldon per riempire un momento morto, altre volte avvertiamo il bisogno della sua compagnia dopo una dura giornata. Il bisogno di spaparanzarsi sul divano o di affondare nel letto, mettendo su una puntata per scacciare via lo stress e allontanare tutti i pensieri per una manciata di minuti.
Negli ultimi anni The Big Bang Theory ha diviso più volte i propri fan: c'è chi dice che la Serie non abbia più nulla da dire, chi auspica una continuazione con un ritorno alle origini, chi si augura una celere e degna conclusione.
È indubbio che, arrivati all'undicesima stagione, la Serie accusi una fisiologica stanchezza. Probabilmente il motivo per il quale non ha ancora chiuso i battenti è che molti non sono pronti a lasciare andare i propri beniamini. Gli ascolti non più eccezionali ma ancora buoni sono lì a testimoniarlo. Cerchiamo di capire però in cosa è cambiato negli anni The Big Bang Theory e soprattutto cosa conviene non aspettarsi più dallo show da qui alla sua fine.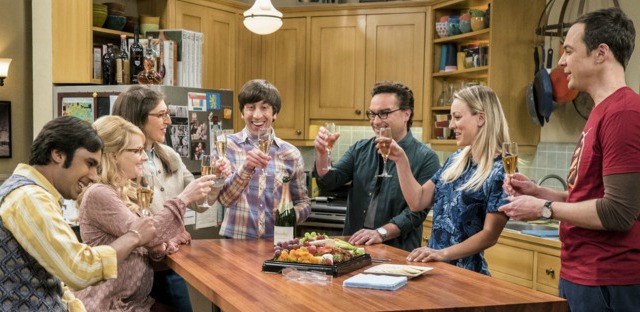 Innanzitutto va detto che The Big Bang Theory è stata la Serie giusta al momento giusto.
Chuck Lorre, creatore e indiscusso Re Mida delle sitcom (Dharma e Greg, Due uomini e mezzo, Mom tanto per citare alcuni dei suoi successi) intuì perfettamente come il nerdismo fosse stato ormai positivamente sdoganato in America e nel mondo. Dopo quasi 25 anni da La Donna Esplosiva, era il momento giusto per riproporre una sitcom con scienziati imbranati alle prese con turbe d'amore e difficoltà nelle convenzioni sociali. Nel panorama della serialità, l'appartamento di Leonard e Sheldon sembrò un'oasi nella quale molti di noi si sono sentiti finalmente rappresentati.
Il desiderio di accettazione a cui tutti aspiriamo veniva soddisfatto come non mai in questo show con personaggi imperfetti e pieni di debolezze. Personaggi certo positivi e simpatici, a loro modo cool e di successo, ma molto simili a noi e con le nostre stesse lacune emotive. Abbiamo rivisto nei continui dubbi di Leonard le nostre stesse insicurezze, il nostro timore di parlare alle donne nel mutismo selettivo di Raj. Il coraggio altresì di buttarsi, andando incontro a figuracce nella sfrontatezza di Howard, la paura di un futuro insoddisfacente e di un presente non realizzato nelle ansie di Penny. E sì, ognuno avrà rivisto persino le proprie manie e stranezze nella triplice bussata a ritmo o nell'ossessione per il proprio posto di Sheldon.
Ciò detto, un errore da non fare sarebbe quello di sopravvalutare la Serie eccessivamente. Siamo tutti affezionati a Sheldon, Leonard, Penny, Howard, Raj, Amy e Bernadette, ma bisogna riconoscere che lo show ha da sempre avuto dei limiti piuttosto chiari.
Non è mai stata una Serie che ha brillato per originalità, soprattutto per quanto riguarda lo sviluppo della sua trama orizzontale. Certo, i primi episodi e le prime stagioni sono spassose, le portiamo nel cuore, ma le storyline di ogni personaggio si sono sempre evolute con i ritmi blandi tipici di ogni sitcom. E va benissimo così, intendiamoci. Chi oggi si lamenta dell'eccessiva prevedibilità della cosiddetta "storia lunga", cioè non quella di ogni puntata ma dell'intera annata, dovrebbe tenerlo a mente.
Nelle prime stagioni ad essere notevolmente più ispirate erano le storyline di contorno alla principale sotto-trama, ossia il tentativo di Leonard di entrare nelle grazie (e nell'appartamento) di Penny. Erano le vicende con al centro Sheldon, mattatore e impareggiabile comic relief, Howard e Raj a rendere il tutto più piacevole e divertente. Senza fare eccessivi spoiler, dopo il matrimonio tra Leonard e Penny il punto focale di ogni stagione si è spostato verso il rapporto a dir poco disfunzionale tra Sheldon ed Amy, e non si può dire che lo show ne abbia tratto giovamento.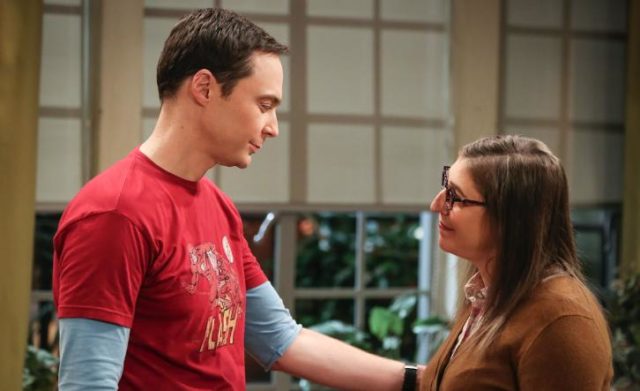 Ormai The Big Bang Theory è cambiato. Non aspettatevi più una Serie con riferimenti al mondo nerd in primo piano (e qui già ne parlavamo). Sono i rapporti umani adesso al centro dello show.
L'evoluzione di ogni personaggio ha condotto inevitabilmente la Serie su binari più vicini alla soap che alla sitcom. Ormai la trasformazione definitiva dei protagonisti, da scienziati semi-disadattati ad amorevoli mariti e padri di famiglia socialmente realizzati, è quasi compiuta. Al momento manca solo Raj all'appello, e quanto prima aspettiamoci di vederlo sistemato con una donna in carne e ossa, con buona pace di Cannella. A farne le spese di questa evoluzione sono state ovviamente le stravaganze e le gag conseguenti dei quattro amici. Preparatevi dunque a sentir parlare sempre più spesso di babysitter e pannolini piuttosto che di playstation e robot wars.
Non sempre tra l'altro le evoluzioni dei personaggi sono state del tutto convincenti e coerenti col proprio background costruito nelle prime stagioni. Facile puntare il dito su Amy in questo senso. Presentata inizialmente come clone al femminile di Sheldon, il suo carattere è  via via mutato in forme differenti con contorni mai definiti a sufficienza. La sua maturazione da eccentrica un po' infoiata delle prime uscite con Penny e Bernadette a saggia bussola morale di Sheldon, tanto per fare un esempio, non è mai stata chiarita a dovere nei suoi passaggi fondamentali. Al contrario, l'evoluzione e la conseguente normalizzazione di Sheldon, nonostante qualche incongruenza qua e là, sembra ben più conforme al susseguirsi degli eventi e alle positive influenze che hanno avuto i suoi amici su di lui.
Anche per quanto riguarda il ritmo, è inutile aspettarsi scossoni o filotti di puntate indimenticabili.
Troppi episodi viaggiano su frequenze piatte e flemmatiche; sono il senso del già visto e la noia a farla da padrone nella maggior parte delle ultime stagioni. Non ci rimane ormai che goderci quelle poche puntate riuscite, visto che ancora ne viene sfornata qualcuna di livello che garantisce un ottimo intrattenimento. Sa un po' di goccia in un oceano di mediocrità, ma tanto vale farsela bastare.
È fisiologico che dopo ben undici anni le idee degli autori siano ormai ridotte all'osso, avendo esplorato ogni possibile situazione ed espediente comico. Vien da sé che ci sia anche un riciclo di battute, vicende o interi episodi cambiati ad arte il giusto, ma con dinamiche fin troppo simili. Che le grida di Halley riprendano il tormentone dello starnazzare della compianta madre di Howard è solo l'esempio più lampante. Aspettatevi episodi con al centro la gelosia per motivi futili tra partner, in cui a turno si alterneranno le coppie e a loro volta gli uomini e le donne. Vicende tutte ovviamente risolte in poco tempo a tarallucci e vino. Gelosie tra amici non mancheranno, come nel caso ricorrente di Howard e Raj, con il classico queerbaiting abusato sempre e solo in superficie, senza ulteriori scomodi sviluppi.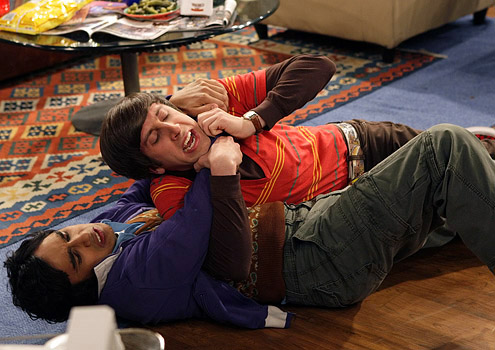 Putroppo un'ultima cosa da non aspettarsi per non rimanere delusi è che The Big Bang Theory termini con una degna conclusione.
I fan di Due uomini e mezzo hanno ancora i brividi ripensando al finale della Serie. Chuck Lorre in quel caso preferì prendersi una rivincita personale su Charlie Sheen, egoisticamente a discapito della resa dello show stesso. Il malumore dei fan fu un plebiscito di gran lunga superiore a quello celeberrimo intorno al finale di How I Met Your Mother, giusto per rendere l'idea. Il timore che possa accadere qualcosa di simile anche a Sheldon e soci per fortuna è ancora lontano. Meglio però tenere gli occhi aperti sulle pretese economiche di ogni attore in fase di trattativa, in modo particolare quando la Serie verrà rinnovata per l'ultima volta. Per ora è andato tutto liscio, e speriamo che sia solo una lontana eventualità che non arrivi mai. Poi però nel malaugurato caso, non diteci che non vi avevamo avvisato.
Anche prescindendo da futuri litigi o da ipotetiche negoziazioni arenate, non sarà facile trovare il modo consono di congedare alcuni tra i più iconici e popolari personaggi della serialità degli anni duemila. L'unica cosa che ci resta da fare con The Big Bang Theory è abbassare sensibilmente il livello delle nostre aspettative. Goderci quanto ci resta da qui alla sua conclusione senza più aspettarci che ci sorprenda o diverta come un tempo. Finché sarà capace anche solo con qualche battuta di raddolcirci la giornata, resterà ancora una delle nostre caramelle preferite.