# #
"Il subtext gay rende tutto più bello" ha dichiarato Quentin Tarantino qualche tempo fa e numerosi autori di film, saghe cinematografiche e Serie Tv sembrano averlo preso alla lettera. Perché sì, il subext gay affascina gli spettatori sia appartenenti alla comunità LGBT, stanchi di doversi immedesimare sempre – o quasi – in personaggi ed eroi strettamente eterosessuali, sia semplicemente sensibili agli argomenti LGBT. Ora, questo subtext gay ha i suoi vantaggi ma anche i suoi svantaggi. Non a caso ha contribuito alla creazione di un vero e proprio fenomeno di marketing, denominato queerbaiting.
# #
Questa parola deriva dall'inglese queer, termine usato – spesso in modo offensivo – per indicare una persona omosessuale, e baiting, dal verbo bait, adescare.
Quindi, in pratica, è un'esca per gli omosessuali o in senso più lato per la comunità LGBT.
# #
In cosa consiste questo fenomeno? In pratica, abbiamo il queerbating quando in una serie (o in un film o in una saga cinematografica) viene inserita una tensione omoerotica tra due personaggi, sottintendendo però che questa attrazione, spesso sia sentimentale che fisica, non sfocerà mai in una vera ed esplicita relazione sullo schermo.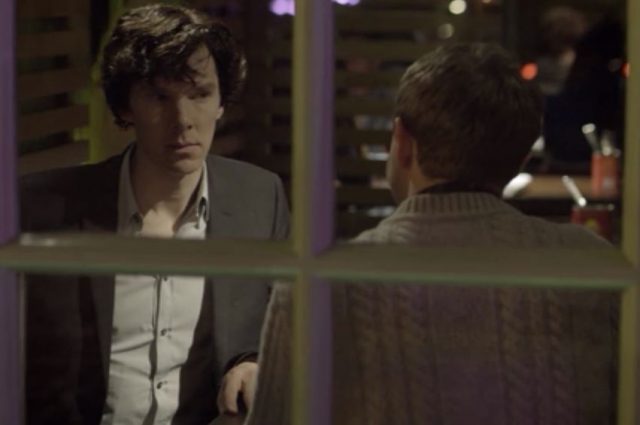 La tensione tra i due personaggi viene volontariamente costruita sia in maniera esplicita, con battute che sembrano riferirsi a una bisessualità o a un'omosessualità dei personaggi in questione, sia in maniera implicita, tramite setting e inquadrature, trope romantici e parallelismi con altre coppie – rigorosamente canon ed etero – presenti nella serie.
In pratica, si finisce a fare battute sull'omosessualità che non solo rischiano di far passare il messaggio che l'omosessualità sia qualcosa da schernire, ma anche che due personaggi maschili e femminili non possano essere innamorati in una serie solo perché questa non è a tematica LGBT.
Perché al momento, nonostante ci sia una certa rappresentazione della comunità LGBT negli show, questa è quasi sempre limitata o a serie definite LGBT perché raccontano le storie e i problemi di personaggi omosessuali (o bisessuali o trans o intersessuali, ecc.), come ad esempio Queer as Folk o le più recenti Looking e Faking It, o ai personaggi secondari.
Sono pochi i casi in cui questi 'limiti' vengono superati, come avviene in How To Get Away With Murder, dove non solo una delle principali storyline vede due personaggi omosessuali, ma nella seconda stagione viene rivelata con molta naturalezza la bisessualità della protagonista, Annalise Keating. Ciò non cambia il genere della serie che resta comunque il legal drama/thiller.
Tornando al queerbaiting, vediamo che in alcuni show ci sono delle scene che sembrano dei veri e propri coming out che i personaggi fanno come omosessuali o bisessuali.
Prendiamo ad esempio Sherlock BBC, dove nella prima puntata è presente questo dialogo tra i due protagonisti:
JOHN
So, you don't have a girlfriend then?
SHERLOCK
A girlfriend? No. Not really my area.
JOHN
Oh. Oh, right. Do you have a boyfriend? Which is fine, by the way.
SHERLOCK
I know it's fine.
JOHN
So you've got a boyfriend then?
SHERLOCK
No.
JOHN
Right. Okay. Unattached. Like me. Fine, good.
SHERLOCK
… John, you should know, I consider myself married to my work, and while I'm flattered by your interest I'm really not looking for any kind of —
JOHN
No, no, I wasn't asking you out, no! I'm just saying, it's all fine!
Da tener presente, inoltre, che questo dialogo avviene a cena dopo che John e Sherlock sono già stati scambiati per una coppia gay da Mrs. Hudson, Mycroft e dal proprietario del ristorante.
Questo gioco continuerà anche nelle puntate successive. Ad esempio, nel secondo episodio:
SHERLOCK
I need to get some air to the brain. We're going out tonight.
JOHN
Actually, I've got a date.
SHERLOCK
What?
JOHN
It's where two people who like each other go out and have fun.
SHERLOCK
That's what I was suggesting.
Quindi in pratica nel primo episodio viene detto chiaramente che a Sherlock non interessano le ragazze e nel secondo che pensa che uscire con John a prendere una boccata d'aria equivalga a un appuntamento.
Ma Sherlock non è l'unico caso in cui avviene una cosa del genere.
Prendiamo Teen Wolf e il personaggio di Stiles, che nella 3×16 sembra fare coming out come bisessuale:
STILES
I tought you liked girls.
CAITLIN
I do like girls. Do you?
STILES
Absolutely.
CAITLIN
Great!
STILES
So you also like boys?
CAITLIN
Absolutely. Do you?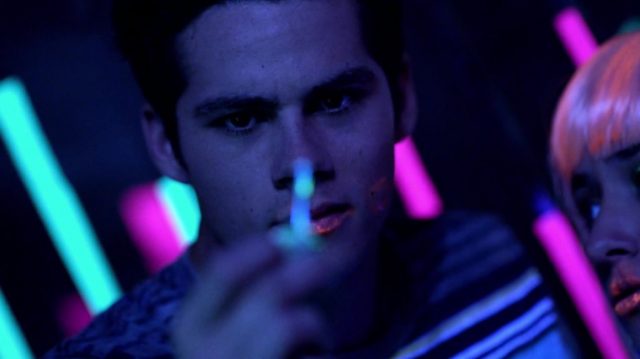 Qui vediamo il parallelismo, anche nel linguaggio utilizzato, tra Caitlin, una ragazza bisessuale, e Stiles, che non replica di non essere interessato ai ragazzi, in quanto la conversazione viene interrotta da un bacio tra i due. Senza contare che in altre puntate (1×03, 1×05) Stiles chiede se i ragazzi sarebbero attratti da lui.
Altri esempi molto noti di queerbaiting sono tra Dean e Castiel in Supernatural, tra Merlin e Arthur in Merlin, tra Emma e Regina in Once Upon A Time.
Altra caratteristica del queerbaiting, che di fatto è – come accennavo prima – un fenomeno di marketing, è che né gli autori né spesso gli attori smentiscono le voci sull'omosessualità dei personaggi, anzi spesso contribuiscono ad alimentare le speranze dei fan.
Ad esempio, Jeff Davies (autore di Teen Wolf) ha dichiarato che Stiles potrebbe essere bisessuale, Moffat, Gatiss e Freeman hanno più volte parlato di 'love story' in riferimento a Holmes e Watson (prima di negarlo decisamente qualche mese fa), Adam Glass (sceneggiatore di Supernatural) ha affermato su Twitter che non è sua competenza definire il rapporto tra Dean e Castiel, perché i personaggi appartengono ai fan.
Insomma, il punto è che con queste allusioni continue si cerca da un lato di tenere viva nel pubblico LGBT o simpatizzante la speranza che nella stagione successiva le cose cambino, e dall'altro si cerca di non alienarsi le simpatie del pubblico più conservatore (e in alcuni casi omofobo), che viene continuamente rassicurato dall'inserimento di relazioni eterosessuali che vedono coinvolti uno o entrambi i personaggi. Tutto questo senza far smettere loro di relazionarsi in una maniera che potrebbe essere definita 'ambigua'.
Insomma, il queerbaiting è un fenomeno che sta diventando sempre più diffuso
Non sempre, tuttavia, è 'colpa' degli autori dello show, alle volte può rispondere a direttive che vengono dalla Rete, altre può dipendere dal fatto che l'attore che interpreta quel determinato personaggio potrebbe non sentirsi a proprio agio nell'interpretare un personaggio LGBT.
Di sicuro, questo è un argomento molto complesso e delicato. Voglio concludere dicendo che non tutti vedono il queerbaiting nella stessa maniera, per cui quello che per me è queerbaiting potrebbe non esserlo per un'altra persona. E proprio perché si basa su interpretazioni alle volte personali di scene e situazioni, che il queerbaiting è così insidioso.