"The Big Bang Theory" era nata con lo scopo di rendere i nerd interessanti e divertenti. Con lo slogan "Smart is the new sexy" la sit-com ha mostrato la rivincita degli sfigati! I quattro ragazzi, infatti, grazie alla loro intelligenza, sensibilità, gentilezza o proprio grazie alle loro stranezze sono riusciti a farsi notare dalle ragazze e ad avere delle relazioni (leggete qui l'importanza del mondo nerd in The Big Bang Theory)
Prima "The Big Bang Theory" era piena zeppa di citazioni di fumetti, film o Serie Tv e questo ci permetteva di identificarci di più nei personaggi, che condividevano le nostre passioni. Adesso però la situazione sembra davvero essere cambiata!
Me ne sono resa conto dopo aver guardato l'episodio dedicato all'evento che nessun nerd vorrebbe mai perdersi, il Comic-Con di San Diego.
Mi sono chiesta: ma i protagonisti di "The Big Bang Theory" sono ancora dei nerd?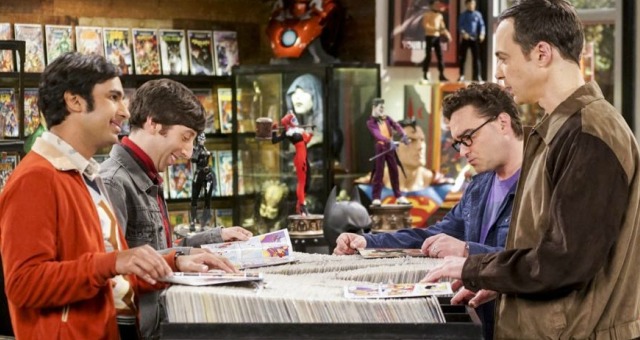 Piccola avvertenza: la recensione potrebbe contenere degli spoiler per chi non ha ancora visto il nuovo episodio. Quindi andate avanti a vostro rischio e pericolo!
Il diciassettesimo episodio di "The Big Bang Theory" ruota interamente intorno al Comic-Con di San Diego, di cui sta per aprirsi la prevendita dei biglietti. Raj vorrebbe comprare assolutamente un biglietto, ma da quando ha deciso di essere indipendente dal padre è sommerso dai debiti. Ha chiesto quindi a Sheldon di controllarlo e di impedirgli di spendere denaro per cose inutili e di limitare le sue spese pazze (come ad esempio adottare un pinguino!).
Sheldon non gli permette di comprare un biglietto per il tanto atteso Comic-Con e per questo Raj deve escogitare altri modi per trovare i soldi. Vende i suoi oggetti da collezione a Stuart, ma ricava poco denaro. Allora comincia a lavorare in fumetteria, facendo i lavori più buffi. Dobbiamo ammettere però che vederlo vestito da Aquaman, come i vecchi tempi, ci ha fatto venire molta nostalgia delle prime stagioni (leggete qui la nostra recensione della prima stagione)
Anche Leonard ha un problema riguardo il Comic-Con: Penny vuole accompagnarlo. Quello che tempo fa lo avrebbe fatto stare al settimo cielo, adesso invece lo turba. Teme, infatti, che Penny si annoi ai panel e che non le piaccia la fiera, finendo così per rovinarla anche a Leonard e ai suoi amici. Così fa di tutto per convincerla a non accompagnarlo. Le descrive le lunghe file che dovranno fare, le numerose partite a D&D a cui dovrà partecipare, la grande folla di persone che troveranno lì. Penny incredibilmente però non desiste dal proposito di accompagnarlo.
Quello che Leonard non sa è che Penny in realtà non vuole affatto andare al Comic-Con e se sostiene il contrario è solo perché non vuole deluderlo. È pronta a sopportare tutto, pur di far felice Leonard ed avvicinarsi alle sue passioni. A risolvere il loro problema ci pensano Sheldon ed Amy. I due ragazzi, infatti, si intromettono in un litigio della coppia e spiegano loro come stanno davvero le cose. Leonard non vuole che Penny vada e Penny non vuole andare: problema risolto! A volte basta dirsi la verità per risolvere tutto.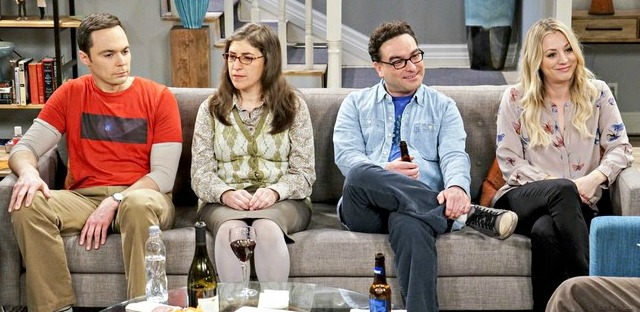 Howard, dal canto suo, è intenzionato ad andare a tutti i costi a San Diego con i suoi amici, anche a costo di lasciare sua moglie da sola con la loro figlia piccola per cinque giorni. Ne parla con Bernadette chiedendole il permesso allontanarsi per tanti giorni e la moglie glielo concede, ma ad una sola condizione: dovrà darsi da fare in casa al suo posto. Possiamo quindi vedere Howard con il grembiule, che per la prima volta si occupa della casa. È davvero divertente guardarlo lavare il forno, spazzare il pavimento e cucinare. È disposto a fare tutto, pur di poter andare al Comic-Con.
L'unico dei quattro nerd che non ha alcun problema ed è solo molto entusiasta di andare all'evento è Sheldon, che ha già deciso di realizzare il cosplay di Albus Silente. Alla fine gli amici si incontrano a casa di Raj ed è qui che Bernadette ed Howard fanno un gesto molto generoso: offrono a Raj del denaro per ricompensarlo di tutte le volte che si è occupato di Halley. Con quel denaro non solo potrebbe comprare il biglietto per il Comic-Con, ma anche mantenersi per un po'. Raj però lo rifiuta, sostenendo che si è occupato della piccola spinto dall'affetto che prova per lei e non vuole nulla in cambio. Decide allora di non andare al Comic-Con per una volta e anche Leonard fa lo stesso. Howard prende la stessa decisione, sostenendo di essere divenuto ormai adulto e di avere delle responsabilità verso sua figlia.
L'unico che comprerà ugualmente il biglietto è Sheldon, che però è alla ricerca di un amico che la accompagni. Molto esilarante la scena finale in cui Sheldon cerca di convincere Amy ad accompagnarlo al Comic-Con con quello che ha nei pantaloni, ovvero la lista degli ospiti!!
Questo episodio di "The Big Bang Theory" ci aveva ingannato!
 All'inizio abbiamo rivisto i nostri quattro amici in fumetteria, li abbiamo sentiti nuovamente parlare di Comic-Con… Insomma ci sembrava che lo show volesse tornare alle origini. Invece "The Comic-Con Conundrum" è terminato rinnegando quello che la sit-com è sempre stata.
Già da tempo Leonard, Sheldon, Howard e Raj non erano più i nerd di una volta! Erano sempre di meno le occasioni per stare insieme da soli e per poter fare delle maratone cinematografiche o delle partite a D&D come ai vecchi tempi. Il fatto che i quattro amici abbiano rinunciato ad un'altra occasione per poter stare un po' insieme e poter fare quello che un tempo amavano, mostra sempre di più quanto siano cambiati.
Leonard, Sheldon, Howard e Raj sono diventati adulti e si sono omologati al noioso mondo delle persone cool. La loro evoluzione era inevitabile, ma sarebbe dovuta accadere al termine della sit-com e non adesso. "The Big Bang Theory" sta snaturando sé stessa. In realtà l'episodio è anche divertente, ma la scelta di Leonard, Howard e Raj ci ha spiazzato e messo l'amaro in bocca. I quattro nerd ormai non esistono più.