The Big Bang Theory è stata la sitcom che ci ha intrattenuto per anni, introducendoci meglio di qualunque altra serie nel mondo dei nerd.
I quattro scienziati protagonisti hanno reinterpretato ogni cliché legato al bistrattato universo dei secchioni, riproponendocelo nell'età adulta con ironia e sarcasmo e mostrandoci anche cosa ha riservato il futuro a tutti quei geniali ragazzini che passavano i pomeriggi con il naso chino sui libri mentre il resto di noi giocava ai Pokémon o a imitare Sailor Moon.
Come se la passava, invece, chi con questi genietti doveva dividerci casa?
I fratelli, le sorelle, ma soprattutto le madri di questi ragazzini dalle ambizioni precoci e dalle capacità promettenti?
The Big Bang Theory ha risposto anche a questa domanda, grazie alla presenza nello show di Beverly Hofstadter e Mary Cooper.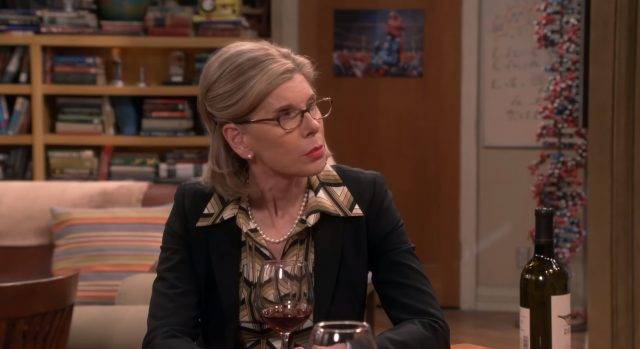 Interpretate dalle grandiose Christine Baranski e Laurie Metcalf, due attrici venute dal mondo del cinema che hanno saputo dare alle figure genitoriali di Leonard e Sheldon la graffiante personalità che meritavano.
Fautrici in parte – volontariamente o meno – del successo in età adulta dei figli, queste due donne non potrebbero essere più differenti e non è un caso infatti che in alcuni episodi gli autori dello show abbiano giocato proprio sul contrasto che la diversità tra le due madri generava.
Cinica, analitica e ferocemente sincera una, compassionevole, devota ed eccessivamente premurosa l'altra.
Le gag messe in piedi da queste due straordinarie attrici hanno reso gli episodi di The Big Bang Theory di cui sono protagoniste davvero indimenticabili.
Tuttavia, anche se da spettatori non possiamo non amarle da ipotetici figli possiamo immaginare che non sia proprio stata una pacchia averle come madri.
Nel caso della devotissima Mary Cooper anche anche, dopotutto non la si può non definire una madre protettiva e amorevole. Anche se la sua incrollabile fede e il suo istinto moralizzatore si sarebbero rivelati decisamente indigesti se Sheldon fosse stato un figlio più ribelle e trasgressivo nel corso della sua adolescenza.
Fortunatamente per Mary Cooper l'unico scoglio che ha dovuto aggirare nella crescita di Sheldon è stata la sua insopportabile spocchia.
Discorso diverso per quanto riguarda l'anaffettiva Beverly Hofstadter.
La spigolosa madre di Leonard avrebbe trovato pane per i suoi denti solo con un figlio "stimolante" come Sheldon, costantemente proiettato verso l'eccellenza e perfettamente sincronizzato sul suo stesso livello di anaffettività.
Possiamo solo immaginare quanto sia stato difficile per il timido e insicuro Leonard relazionarsi con una madre simile.
E se fosse però stato proprio il continuo disappunto e la costante denigrazione di ogni successo prodotto dal giovane Hofstadter a portare la sua versione adulta verso la realizzazione professionale?
Nonostante i tentativi della madre (e le taglienti battute del suo dispotico coinquilino) di sminuire la credibilità di Leonard, in realtà non si può dire che il ragazzo non abbia conseguito il successo in vari aspetti della sua vita.
Un ottimo lavoro, un percorso di studi più che lodevole e una relazione con una bellissima e ironica ragazza la cui concorrenza è riuscito a sbaragliare proprio grazie alla sua personalità sensibile, a tratti nevrotica ma sicuramente più concreta di tutti gli altri pretendenti.
A un primo sguardo è facile pensare che l'atteggiamento di Beverly abbia solo danneggiato suo figlio ma forse, se siamo davvero il prodotto di ciò che i nostri genitori nel bene e nel male ci trasmettono fin dall'infanzia, anche Beverly con il suo continuo spingere Leonard al limite deve aver contribuito al suo successo da adulto.
Noi comunque continuiamo ad amarle entrambe senza dimenticarci dell'altra madre del gruppo che non smetteremo mai di rimpiangere. La logorroica e indimenticabile compianta signora Wolowitz.